Building level is an indispensable tool for those who started repairs, doing brickwork, roofing, floors, pulling pipes or installing a kitchen set. Equipment of such a plan allows minimizing vertical and horizontal errors.
There are a lot of similar devices on the market today. And if experienced specialists have long identified interesting options for themselves, then beginners shrug their shoulders and ask questions: "What building level is better to buy and what to pay special attention to so as not to miscalculate with a purchase?" Moreover, each area needs its own tool. We will just analyze all these problems in our article.
So, let's try to find out which building level is better to choose in this or that case. Consider the types of devices, areas of application, and also give as an example some of the most successful models, taking into account the reviews of professionals.
Types of levels
In repair and construction, three types of tools are used - water, bubble and laser. Each species has some of its own distinctive features.To find out which build level is best, consider them all.
Water level
Devices of this kind are designed to work on surfaces that are impressive in terms of area. The water level is similar to a regular water hose, where at each end there are flasks with appropriate markings. The length of such a tool can reach 25-30 meters.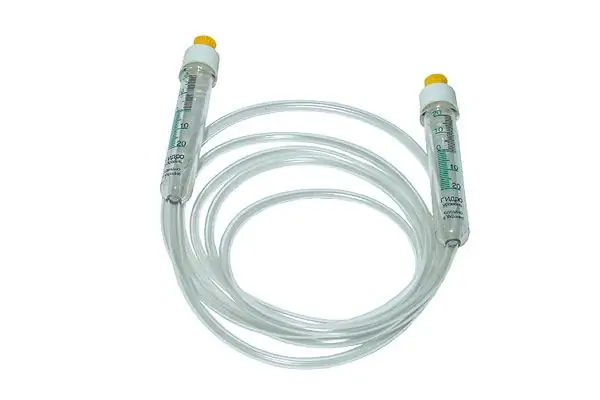 Naturally, in the conditions of an apartment, such devices are completely useless. It is also worth noting that almost all models are extremely sensitive to low temperatures. The water freezes in them, and the effectiveness of the tool is noticeably reduced.
Bubble level
This is the most popular device in the construction market. The body of the tool looks like a regular bar made of plastic or metal. The design includes one or more flasks with liquid, where small bubbles can be seen.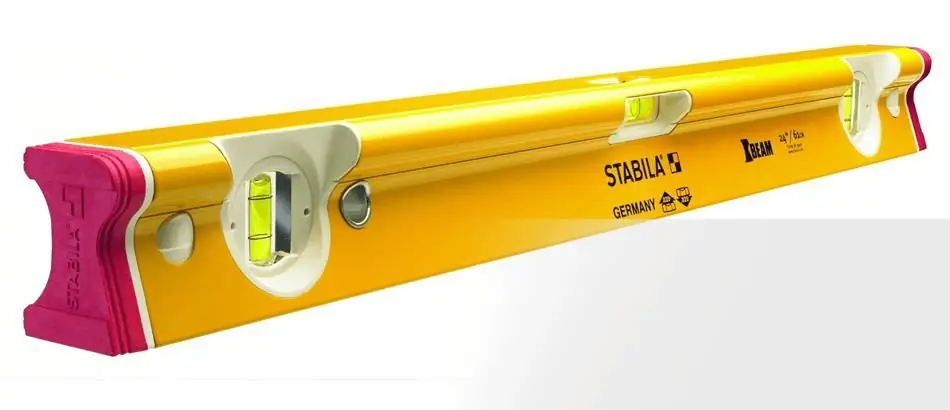 With the help of the latter, the horizontal or vertical error is determined. Such tools can be additionally equipped with specific markings, magnetic mounts and other useful functionality for the builder.
Laser levels (electronic)
These are the best building levels in terms of accuracy, but also the most expensive. The devices are compact in size and can cover a large area (usually up to 100 meters). Such tools are used in professional and some specific areas where exceptional accuracy is required.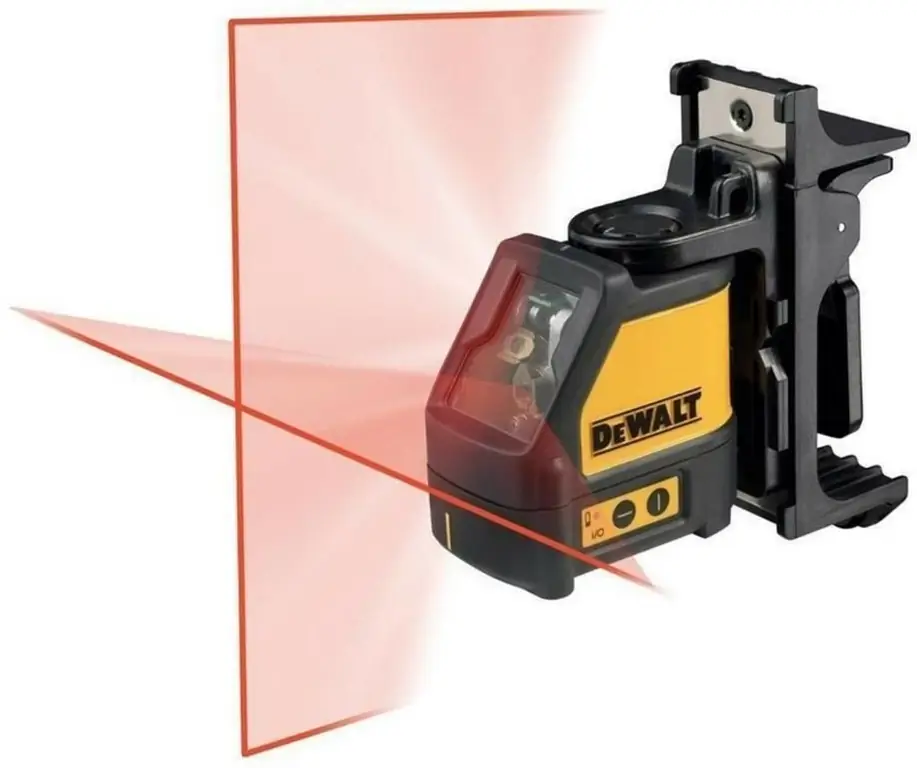 For home use, such equipment is simply impractical. To align furniture or lay tiles in the bathroom, the capabilities of the bubble model are enough. It is the latter that we will just talk about, because they are the most practical.
Which building bubble level is better to choose?
Before you buy a tool of this kind, you need to weigh a number of critical characteristics. Particular attention should be paid to the material of the case. Judging by the reviews of professional builders, the device should be heavy. In this case, his readings will be noticeably more accurate.
The best option is metal or thick plastic. Obviously, a magnetized base and rubberized handles for greater comfort will be useful. To understand which building bubble level is better to buy, you should also focus on the following parameters.
Flasks
Each flask is responsible for one plane - vertical, horizontal and diagonal (corners). Good building levels have at least two liquid ampoules. A more "advanced" tool allows you to check corners as well.
It is also worth paying attention to the fixation of the flasks. They should not walk or get out, but sit clearly in their places. Separately, it is necessary to mention the control strips. They must be applied to the inside of the flask. Otherwise, the strips will wear off quickly.
Tool length
It all depends on the type of work being done. If you are laying tiles or installing furniture, it is best to consideroptions with a length of about 50 cm. More bulky models will cling to the edges of interior elements.
If we are talking about some serious work (for example, laying bricks in the country), then you need to look after good building levels with a length of 1 meter. It is worth noting that the longer the device, the more accurate its readings will be.
Additional features
Some models are equipped with some additional functionality. This can be a telescopic base, mounting on vertical walls, flask lighting, etc. Here you need to decide which additional functions you really need. Because each such "chip" costs a lot of money.
How to check the tool?
To understand whether you got a good building level or whether its accuracy leaves much to be desired is very simple. To do this, put the device on any flat surface and mark the position of the bubble with a marker (erasable).
Then flip the level 180⁰. If this is a calibrated good building level, the bubble will be exactly on the same mark. All these actions are best performed immediately before buying in the store.
Which company's construction level is better?
If we look at the market for such equipment, we will see that the leading positions are occupied by three brands - Kapro (Israel), Stabila (Germany) and Stanley (USA). Worthy solutions are also offered by Bosch and ADA Instruments.
In the assortment of these companies you can find devices of different price categories and for various purposes.Product reviews are mostly positive, and manufacturers do not allow any critical shortcomings due to serious competition.
Let's take a look at the most popular and the best, according to reviews, building levels.
Bosch GLM 80 + R 60 Professional
This is a laser type tool from a famous German brand. Judging by the reviews of experts, this is the best professional building level in its segment. Here we have two devices in the kit at once - a laser gadget and a classic bubble ruler.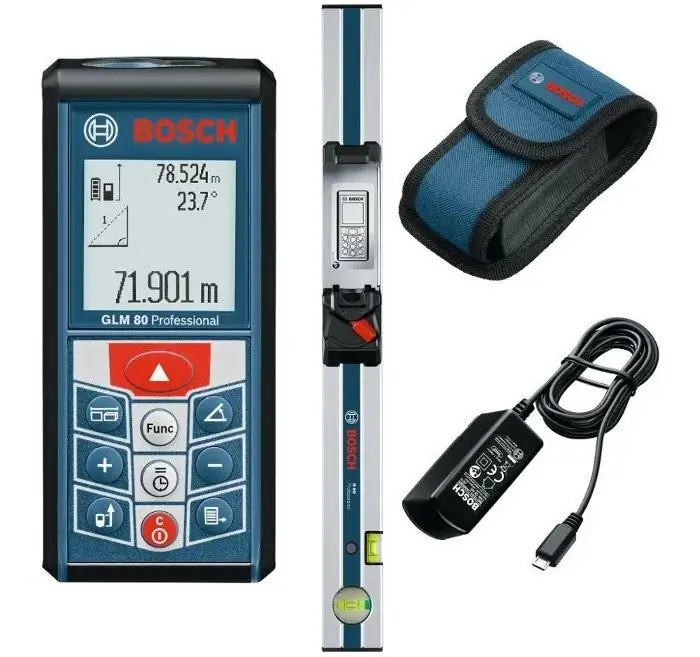 The model can be called universal, because it will be useful in any construction industry. The accuracy of the device is at the highest level. Moreover, it is maintained over the entire measurement range, and this is up to 80 meters without a reflector.
Also pleased with the build quality. The model received a durable aluminum housing that meets the IP54 protection class. The ergonomic part is also in order. It is convenient to use the tandem both together and separately. But for exceptional quality and accuracy, you will have to fork out well. The cost of the device fluctuates around 12-13 thousand rubles.
Model benefits:
exceptional precision;
great build quality;
reinforced body protection;
ease of use;
long warranty period.
No deficiencies identified.
Stanley FatMax XL 0-43-672
This is one of the best bubble building levels in its price segment. The device works well withmeasurement of deviations in three main planes - horizon, vertical and angles. 180 cm length is enough for almost any type of work, from domestic household to professional measurements.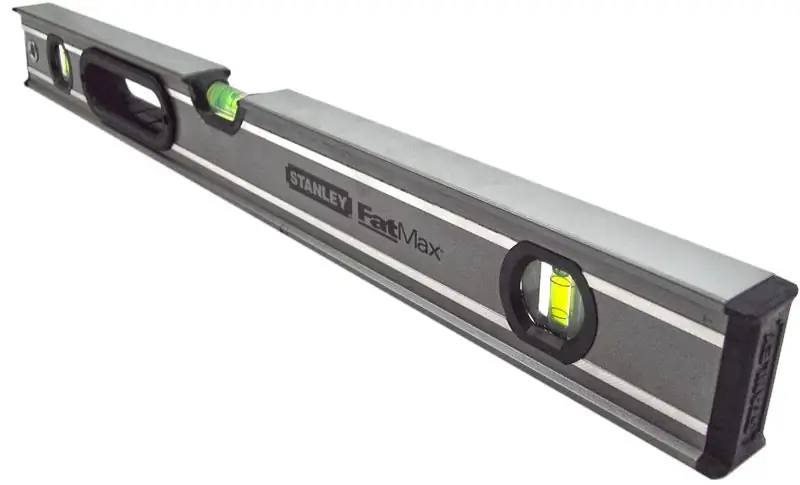 The design has a box section, which greatly increases the reliability of the level. Judging by user reviews, it can be safely dropped on concrete. He will adequately survive all physical impacts. Naturally, without fanaticism, and it is not worth hammering nails into them.
The device received a pair of vertical and one horizontal capsule. They are securely fixed in acrylic blocks. Ergonomics are added to the device by rubberized handles and a magnetized base. The cost of the building level fluctuates around 4000 rubles.
Model benefits:
maximum (for bubble instrument) measurement accuracy;
strong and durable design resistant to physical impact;
reinforced acrylic flask blocks;
comfortable design;
highly visible scales.
No deficiencies identified.
Kapro Plumbsite Genesis 781-40-60RM
This is a professional construction level of medium length - 60 cm.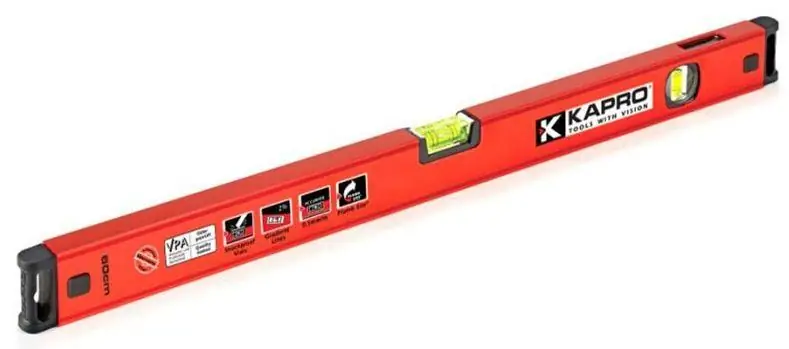 The model is equipped with three ampoules to work with the horizon, vertical and angles. Pretty internal notcheslarge and well distinguishable even behind a pile of dust, putty and other building mixtures. The error of the instrument is only 0.029 degrees, which is an excellent result for a bubble instrument.
It is also worth noting that the model received good protection, and the flask filler calmly survives low temperatures down to -20 ⁰С. Judging by user reviews, the device will be an excellent assistant when leveling walls, floors, wallpapering and working with engineering systems. The cost of the level is around 2500 rubles.
Model benefits:
high precision;
durable construction;
perfectly distinguishable notches on flasks;
neodymium base magnets;
rubber sidewalls.
No deficiencies identified.
Stanley FatMax Level 1-43-572
The 180 cm level is equipped with three flasks, two of which are vertical. One of the noteworthy qualities of the device is the presence of Dual View technology, which contributes to improved visibility behind the horizontal capsule.
Users speak very warmly about this model. It weighs noticeably more than analogues, due to the extended body (9 mm). This adds to the device not only stability, but also reliability. With the ergonomic part, the model is in perfect order. Rubberized handles and sidewalls add comfort. The model can often be seen in domestic hardware stores for 2500 rubles.
Model benefits:
high level accuracy;
durable aluminum construction;
rubber grips;
improved horizontal scale with excellent visibility;
wide body and increased weight.
No serious deficiencies identified.
Stabila 02290 (type 70) 150 cm
This is one of the most popular levels in the domestic market. They buy it mainly for amateur needs, but professionals also do not disdain them. The 150-cm device is made of high-quality aluminum alloy, so it can boast of high reliability. You can safely drop it, but don't hit it with a hammer.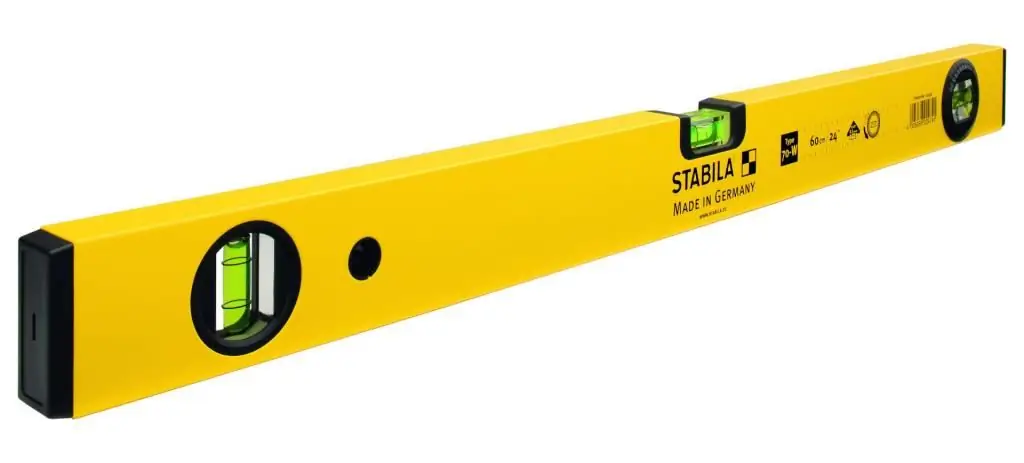 For added protection, the structure is treated with a technologically advanced powder coating. The latter avoids abrasion and also protects the case from scratches and other environmental influences.
The level received two flasks for measuring the horizon and vertical. They are securely fixed in the case without a hint of backlash. The only thing that users sometimes complain about in their reviews is the lack of screws for calibration. The device is a frequent guest in Russian stores, where you can buy it for a thousand and a half.
Model benefits:
good measurement accuracy;
quality powder coating;
design reliability;
rubber sidewalls.
Flaws:
missing screws for calibration;
light weight.
Stabila 17768
This is a pocket version of the building level. The model will come in handyeveryone. Small dimensions (70 x 20 x 40 mm) greatly simplify transportation, but most importantly, the device can be used in the most difficult to reach places. Judging by the reviews, professionals are willing to buy the model as an auxiliary level to the main tool.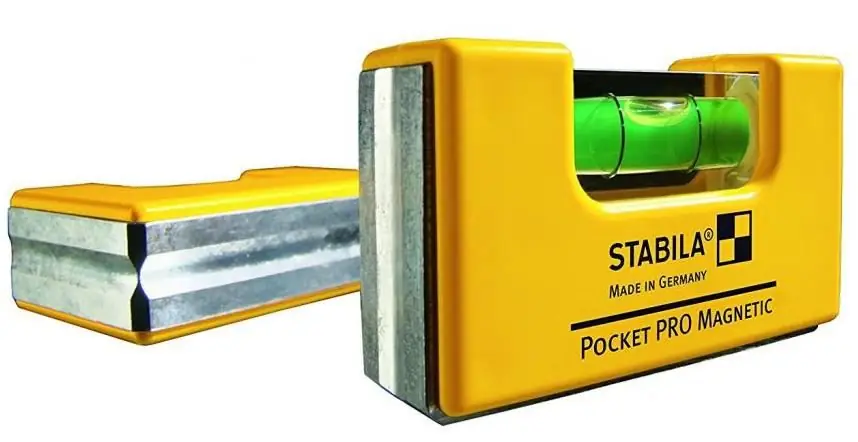 Despite its modest size, the device can not be called a toy. The local metal has undergone a full-fledged hardening procedure, so the level of protection here is no worse than that of other professional models. The tool is reliably protected from physical impact and temperature extremes. Naturally, the design contains only one horizontal flask. But it is also highly accurate.
The model is additionally equipped with a high-quality magnet, which allows you to safely mount it on inclined metal surfaces. Also, users were pleased with the presence of a special clip in the delivery set for attaching the device to a belt. There are no critical flaws in the tool. The device can rarely be found in stores due to its specific dimensions, but on the web resources of the brand's official distributors you can buy it without problems in the region of 1000 rubles.
Model benefits:
small size allows you to work in a very limited space;
acceptable measurement accuracy;
powerful magnet at the base;
large and clear scale;
Belt clip included.
No defects found.