European style was not created as an independent direction. It is a kind of combination of interiors that are popular in European homes. A striking example of European-style interiors are studio apartments, which are now very popular. Previously, such a layout was created for low-income European students who lived together in the same apartment. Now many invite well-known designers to develop individual design for such housing. This article is about the European interior style. You will find photos of different rooms and tips on decorating the rooms below.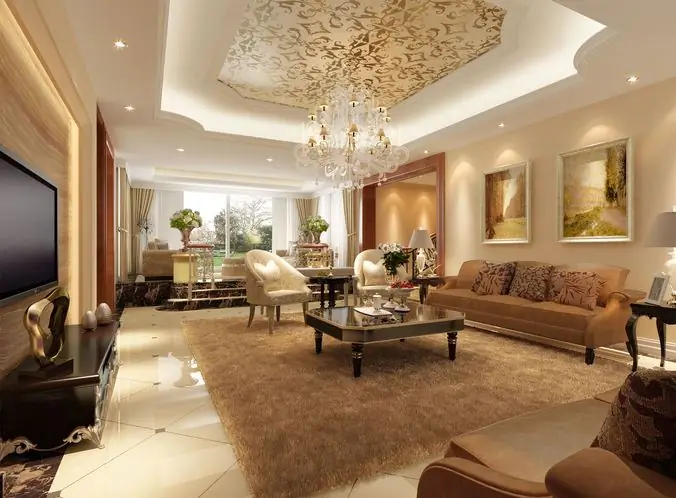 Features of the European interior
Many modern Europeans do not have their own housing and live in rented apartments for a long time. Women, too, are not eager to become exemplary housewives, but preferbuild your career. Therefore, they do not surround themselves with massive household items, they prefer minimalism in the interior so that moving to another apartment does not take much time and effort.
Open and free layout has become one of the main features of the European-style apartment interior. This includes not only studio apartments, but also cottages that do not have walls and partitions, but are divided only into floors. The space is expanding not only by the absence of walls and partitions. Panoramic windows and French balconies are very popular, which open up a maximum of light.
Another feature of European-style interiors is the conciseness of architecture. No complicated and intricate shapes, only right angles, flat surfaces, high ceilings in the appearance of the apartment.
All functional details (pipes, wires), as well as dishes and other household items are not put on display, but are carefully masked. The European style is still distinguished by restraint, although it has been influenced by recent trends that come from the East.
Furniture
When creating a European-style interior design, the use of bulky headsets is not welcome. Different pieces of furniture are carefully selected to create the effect of a harmonious and cozy space. The main criterion for selecting furniture is convenience. All items should not only decorate the interior, but also create an atmosphere of comfort.
Mandatory elements that should be emphasized are a soft cozy sofa and armchairs with legs. They may be classic.with high backs and curved armrests, as well as more modern straight lines.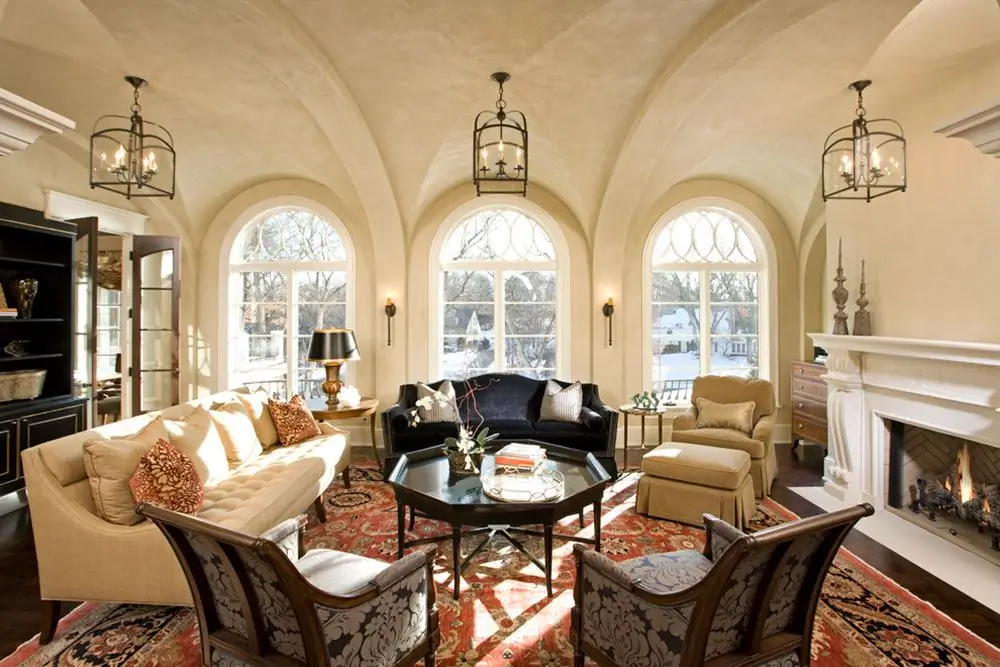 Lighting
In modern European-style interiors, it is customary to use several lighting options: daytime, work and evening. There is always a large overhead chandelier and a few different fixtures.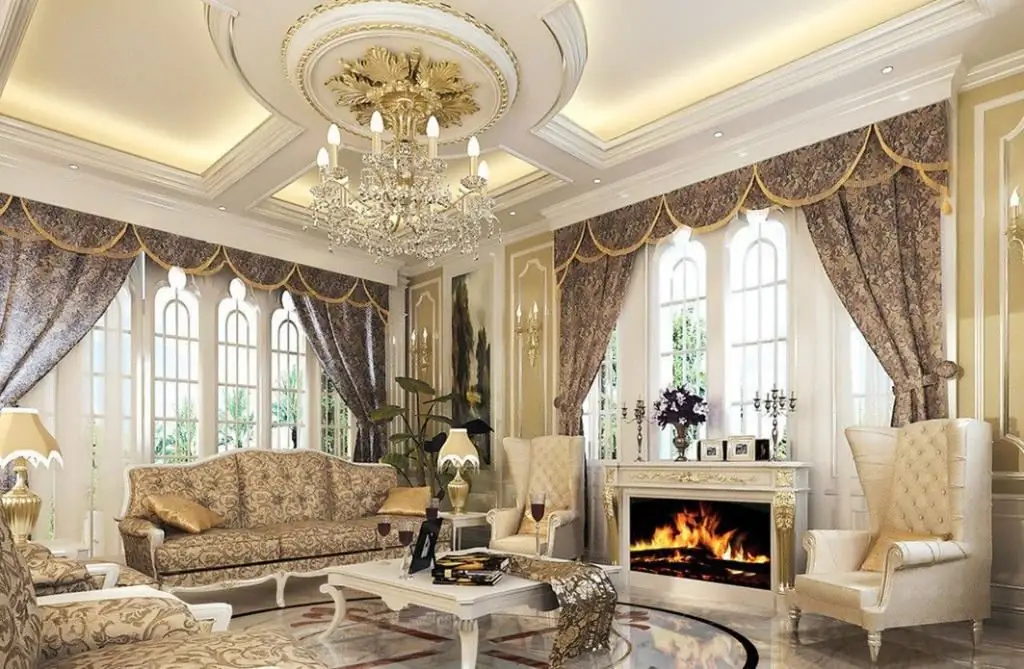 Sconces are installed in the large living room to emphasize a certain area. For reading, a floor lamp is placed next to the sofa or armchair. To work at the desk, a table lamp is installed. Evening lighting is made using decorative LED or neon lighting, which is equipped around the perimeter of the ceiling.
Fireplace lighting plays a special role in European-style interiors, creating a soft and subdued light. From its combination with the glare of live fire, the atmosphere of the room becomes even more comfortable. Fireplace lighting is turned on when all other lights are off.
Finishing materials
When choosing finishing materials, Europeans prefer a reasonable compromise between price and quality. Inexpensive natural wood is used from beech, birch, pine, aspen, linden. Not everyone can afford furniture made from expensive hardwoods, so wood imitation is often used - parquet board or laminate. Artificial stone is also popular in wall decoration, textile wallpapers are often used.
Ceiling
Colour palette in ceiling decorationcalm, muted, bright and contrasting tones are not used here.
The ceiling can be plain with wide cornices around the perimeter. Hanging structures with original spotlights built into them or with a mirror surface are popular.
Walls
Architecture can use arches, various columns. The walls in the European interior are mostly painted or wallpapered. Often used decorative plaster in pastel colors, gypsum moldings.
The materials are dominated by wood, glass, decorative stone. The walls can be decorated with mosaics, hang paintings, mirrors. Small rooms are visually enlarged with the help of mirror panels. Doors and windows are decorated with embossed platbands, matching the design with ceiling cornices.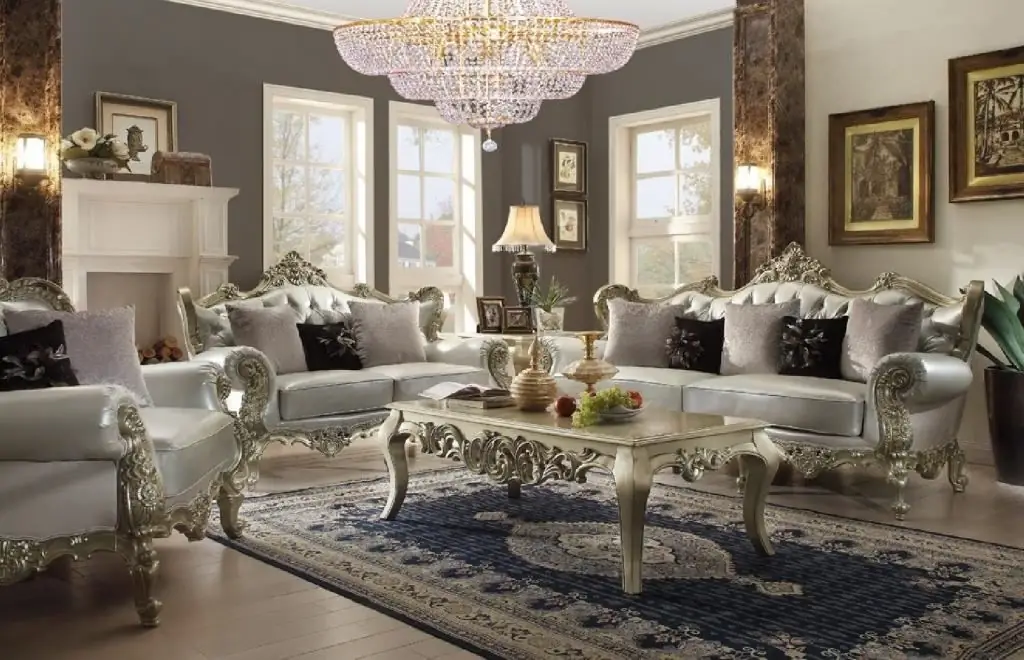 Fireplace
This item in the European interior has not lost its relevance, although it does not now perform the function of heating the room. Fireplaces are installed to maintain a cozy atmosphere in the house. They allow you to diversify the interior and satisfy the aesthetic tastes of the owners of the house.
Real fireplaces are equipped only in private homes, since their installation requires the construction of a chimney and the construction of a stable foundation for the product itself. This needs to be foreseen at the design stage of the house.
Now there are many varieties of fireplaces that can be installed in apartment buildings. Glass and steel products of unusual geometric shapes,biofireplaces, which are built not only into walls, but also into furniture. These products are safe and easy to use. Modern technologies allow you to reliably reproduce the entire cycle of fireplace heating (flame, smoldering coals). In the interior of the room, such products look stylish and attractive.
Gender
The most advantageous option for flooring is parquet board, and for the kitchen you can use natural stone (granite, marble). In this room, all the decoration is exposed to humidity, high temperature.
A high-pile carpet can be laid on the floor of the bedroom, it will create a cozy and homely atmosphere, which is so necessary for a restful sleep. Acrylic, sisal tapestries are used in the lounge area or living room.
Accessories
The European-style interior decoration uses living plants. A bouquet of flowers in a glass vase will decorate the dining table. Pots with indoor plants are placed on windows or hung from the ceiling.
Large floor flowerpots with palm trees or succulents will perfectly complement the interior. Also, large clocks or shelving with nice trinkets are placed on the floor. Candlesticks and various porcelain figurines are placed on the mantelpiece.
Color design
European style in the interior of the house is characterized by lightness and discreet color scheme. Pastel colors (beige, peach) or achrome colors (white, gray) are popular. A light spring mood can be created with a delicate light green color.
So that the interior is not boring and dull, asaccent objects of bright, saturated color are used. These can be lamp shades, figurines or any other decorative items.
The use of accent items is good because they can be replaced at any time and create a completely different overall mood. To do this, you do not have to make repairs or spend money on a significant interior update.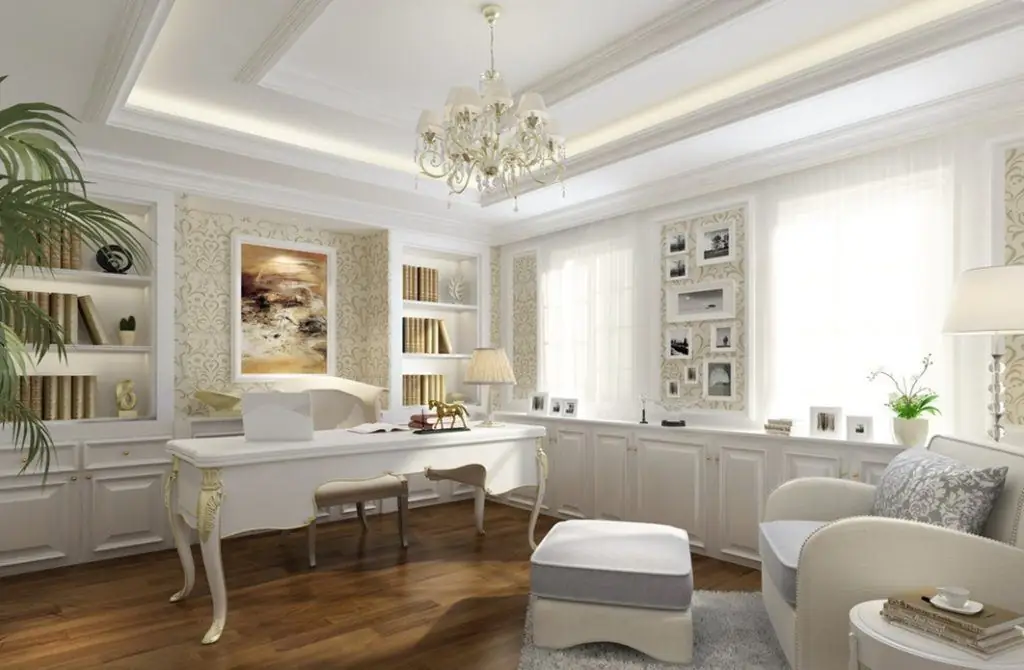 Living room
Simple recommendations will help to design the interior of a living room in a European style. For connoisseurs of natural beauty, panels made of bamboo or cork are suitable. These natural materials are highly valued in European homes.
The fireplace niche is trimmed with natural stone. If wallpaper is pasted on the walls, then monochromatic materials or with a discreet pattern in pastel colors are chosen. The floor can be decorated with a carpet, products with a high pile or, conversely, smooth knitted fabrics are especially popular. For the ceiling, it is recommended to choose a stretch fabric in soothing colors.
Concise roller blinds are suitable for the windows of the living room, which do not clutter up the space of the room. Lovers of the classics will appreciate the blackout curtains on the grommets. They look very elegant.
The color scheme in the design of the living room should be calm, pastel colors are suitable here. The accent in the interior can be made on several objects and popular natural colors can be used: green, blue, chocolate.
Trends in the choice of furniture in the classical style persist, but excessive decorations (moldings, ornate handles and other decor) have gone intopast. For modern people, asymmetric or intricately shaped furniture may be interesting, but the main thing is that it should be as functional as possible.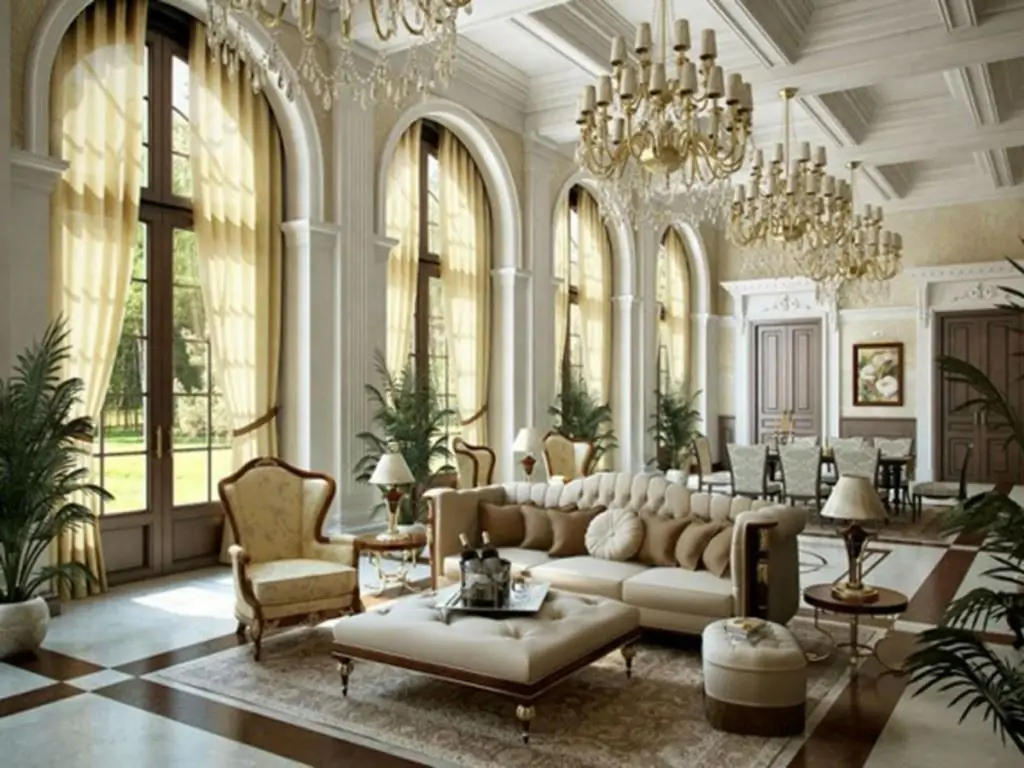 Bedroom
Here European style looks very convincing. The secret is simple. Practicality, convenience, calm colors - this is what you need for a room where people relax. Often, European-style bedrooms are decorated with multi-level ceilings with a wide variety of lighting. The floor here should be at a comfortable temperature, so natural wood is chosen or a "warm floor" system is equipped.
For a restful and he althy sleep, it is very important that the light from the window (day or street lighting) does not enter the room. In the bedroom, night curtains made of thick fabric are needed. You can choose classic curtains, but to make them more expressive, fix them on a beautifully shaped metal or wooden cornice. Young people often choose roller blinds. They are made of different materials, the option with dense fabric is also provided.
If a discreet background is chosen as the main one, then the walls can be pasted over with wallpaper with a floral or floral pattern. Then choose furniture that will look expressive against the background of the walls.
It is very important to choose the right textiles for the bedroom. In European homes, preference is given to high-quality natural materials. Colors close to white: baked milk, pearls, vanilla. For lovers of bright and outrageous textiles with a three-dimensional 3D pattern are offered. It looks impressive andmodern.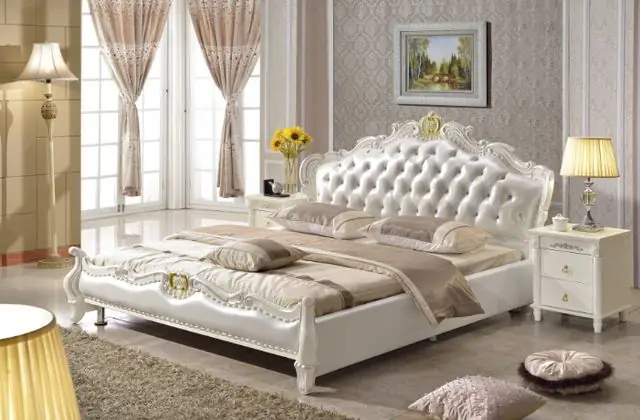 Kitchen
The interior of the European-style kitchen is filled with light. There are always large windows, light decoration. The feeling of purity and freedom should reign in everything. Used light finish, artificial lighting. There are not many cabinets, extra items and kitchen utensils here, which is confirmed by the photo below. The interior of the European-style kitchen, as you can see, is not cluttered, the room looks fresh and original.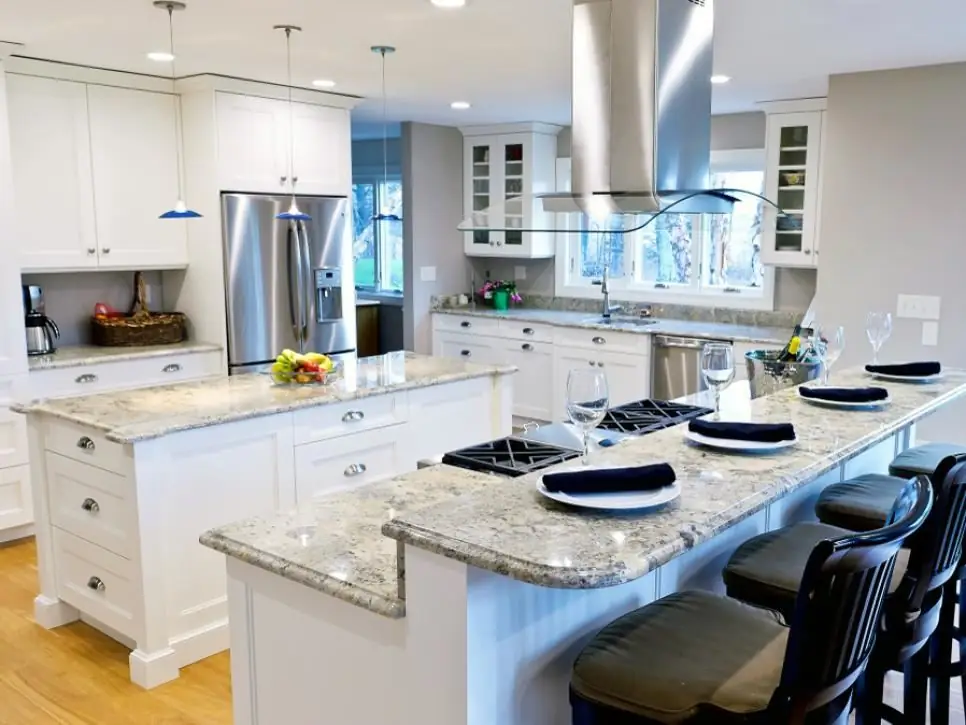 Multifunctional household appliances can become the embodiment of European practicality. You can create a free layout by combining the kitchen with the living room. The studio apartment is always lighter and more spacious, it is easier to place everything you need here, but at the same time save free space. The emphasis is on some large object: a dining area or a closet. The design uses natural materials or their good imitation.