The screen under the bath is a sliding panel, the task of which is to create additional storage spaces and decorate the space under the bath. In addition, its presence allows you to provide access to the water drain system at any time. The design device is simple, so it makes sense to familiarize yourself with the question of how to install a screen on an acrylic bath with your own hands.
System Benefits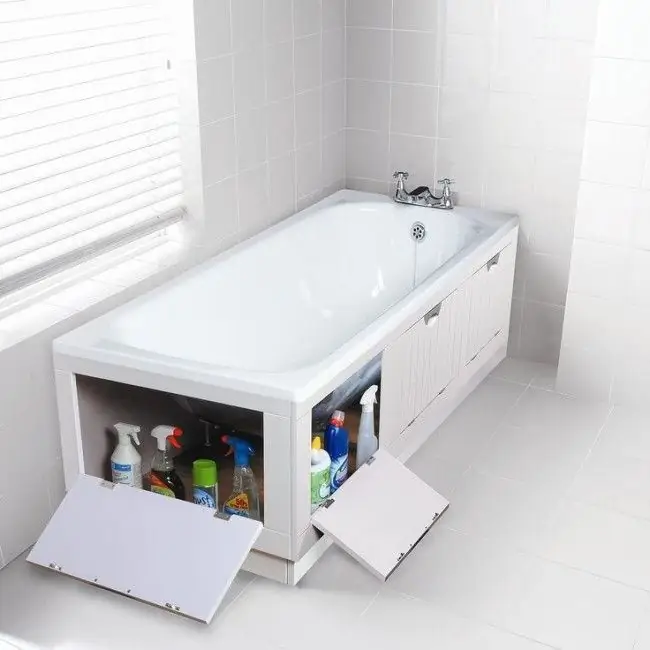 Before you install the screen on a corner acrylic bath or other container, you need to familiarize yourself with the advantages and disadvantages of this device.
Firstly, a person far from construction and design will be able to mount it - it's very simple. Secondly, the variety of materials suitable for creating a screen significantly expands the range of its cost. Each owner can easily choose the best value for money. Thirdly, to dismantle the structure quickly and easily,when necessary, for example, when repairing pipes. Fourthly, with the help of a special device, you can create additional storage compartments in the bathroom, for example, detergents. In addition, sliding doors save space in the room.
Flaws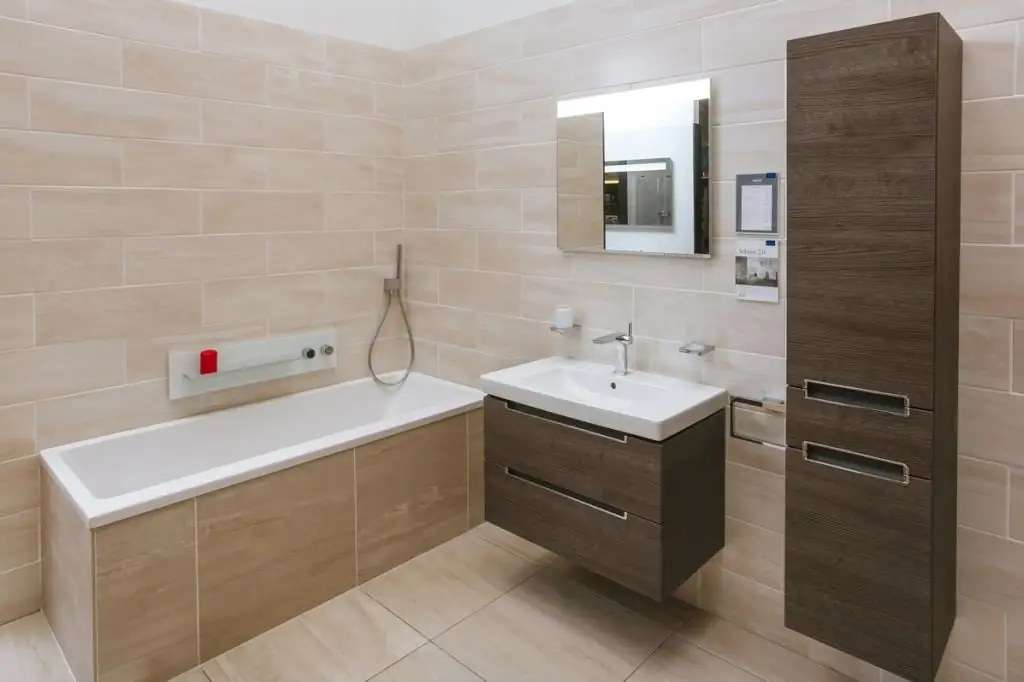 Installing the screen on an acrylic bathtub is carried out using plastic guides, because metal, even chrome-plated, is subject to corrosion. But any plastic after 2-3 years can be deformed, which will not allow the doors to close and open easily and effortlessly. This is the main drawback, there are no others in principle.
Types of structures
Before you install the screen on an acrylic bath, you need to familiarize yourself with all types of these products. Not only the width and height are important, but also the material of manufacture, the presence of doors and other functions. There are several types of devices:
Simple design - no doors. It is a framed panel of the required size.
Frame with adjustable length. Usually such a product is made of aluminum and is suitable for any size bath.
The screen can be single only for the side wall, and sometimes complete with end parts. Such a product closes the bath along the perimeter.
The panel may just be for the end of the bath - this is rare, but it is possible.
Frame
You can install the screen under an acrylic bathtub or under a regular one on the frame. So it will be easier to strengthen it, and it will hold onmore reliable. Especially if the screen is made of thin plastic.
A frame is made from a wooden beam or a metal profile used for mounting drywall partitions.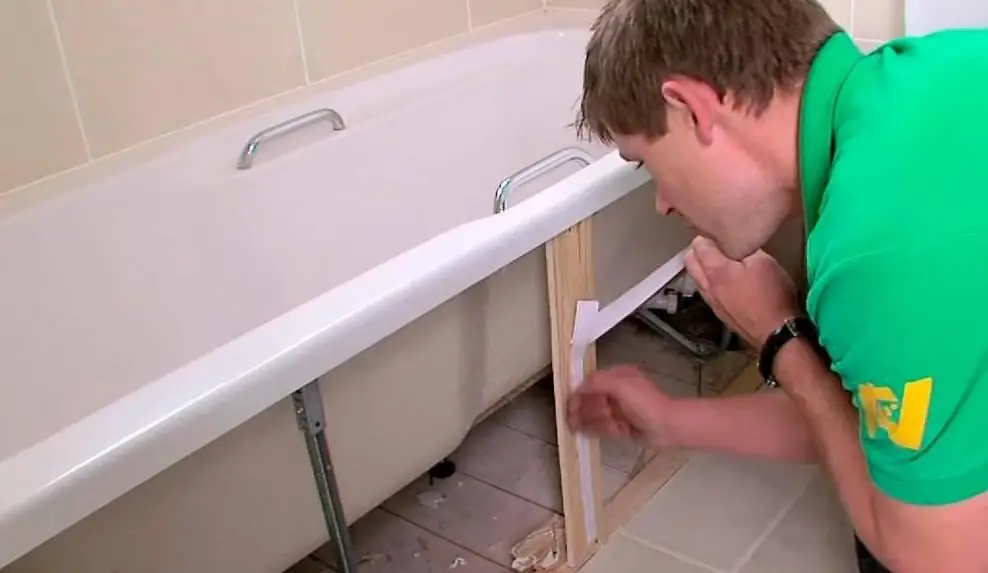 A long beam is installed under the side of the bathtub and supported from the edges with supports to the floor. They are not fastened in any way, it is enough just to choose their length so that they fall into place in the thrust. To strengthen the structure, you need to add two more stops along the long part of the bathroom and two at its end - in the corners.
After the frame is made, guides for the screen can be glued or attached with screws to the upper and lower parts of it, which can be made of any material - plastic, plywood, plexiglass. The frame and rails will firmly hold the shield. For ease of use, the design may consist of two parts installed with a slight overlap on each other in the closed state. This will allow one or both sides to slide as needed.
MDF panels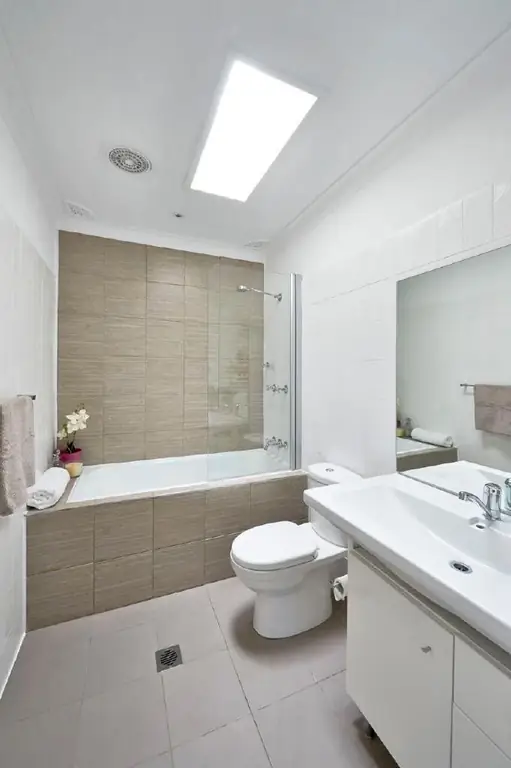 You can install a screen for an acrylic bath without a frame, while the materials for the screen must be dense and moisture resistant. These are MDF boards. In fact, this is a particle board familiar to everyone, which differs from chipboard in smaller fractions of wood and resistance to moisture due to modern glue.
MDF is almost twice as thin as chipboard, it cuts well, so it is great for building a screen for an acrylic or regular bath.
Main screen differenceMDF from thin plastic is the way to open it. Due to the thickness of the plates, they cannot be made sliding - the storage spaces under the bathroom open like in a regular cabinet (through a hinged door). However, this feature gives the structure a monumental and expensive look. At the same time, installing a screen under an acrylic bathtub differs little from a simple device in time. MDF structures are sold ready-made with standard sizes. They can be made on site using a jigsaw and door fittings - hinges, handles, edging.
MDF is not afraid of moisture, so it will work for many years without deformation and destruction. This screen is easy to clean with ordinary detergents. This device has only one drawback - it is much more expensive than a thin plastic screen.
Acrylic screen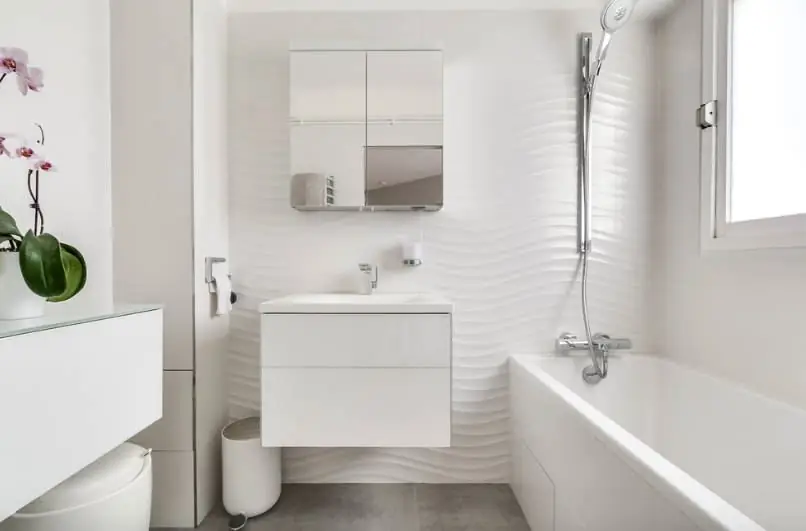 There is a certain type that is only for plastic structures. How to install the screen on an acrylic bath, sellers can tell, since such products are sold as a kit. That is, the design emphasizes the color, creating a single composition.
This screen is made of thin plastic coated with colored acrylic. Due to its flexibility, the material easily takes the desired shape and bends, so it can be installed on bathtubs of any shape and size.
When buying a modern bathing container, a person rarely has the question of how to properly install the screen under an acrylic bath. After all, it is included in the kit, and professionals are engaged in the installation of equipment.
InstallationDIY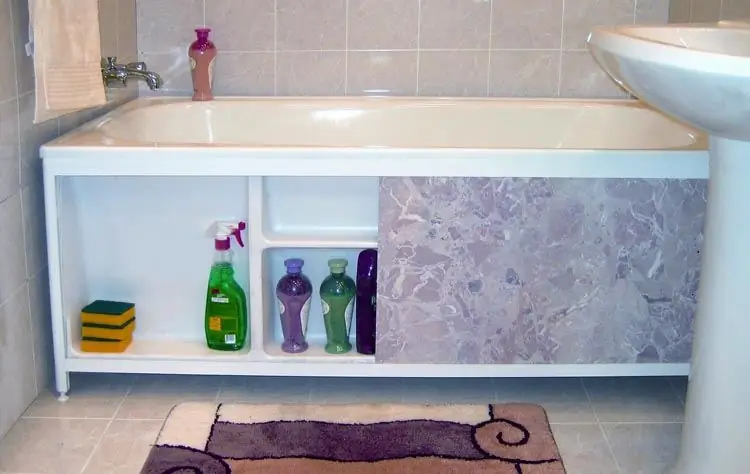 If the acrylic screen was purchased after buying a bath, then it becomes necessary to install it yourself. You don't need to be afraid of it. It mounts easily, although it differs from installation under a regular bathtub.
How to install a screen under an acrylic bath? This can be done in several steps:
To begin with, it is important to make the correct markup and transfer it to the bath. For this, the middle of the structure is mathematically calculated - its length is divided by two. Further along the ruler, the found value is postponed and marked with a marker on the side of the bathtub.
Using a special attachment, a hairpin with a corner is installed.
The panel is slipped under the edge of the bathtub rim and reinforced with self-tapping screws screwed into the previously installed fixing bracket.
The heads of the screws are closed with special decorative caps.
Mirror and transparent designs
Screens made of transparent and translucent glass or mirrors are quite expensive and rare. Undoubtedly, a bath with such a design looks extravagant and expensive, but it is very difficult to find a finished mirror or glass product. It is possible to make it, but it is better to entrust this matter to a professional, as cutting and fitting of thin material will be required.
This type of screen is not susceptible to moisture, but it is very fragile and requires constant care. Indeed, on glass surfaces smudges of water and s alt accumulation are especially noticeable. When installing such structuresyou need to make sure that the surface is covered with a film that does not allow small fragments to scatter.
Despite the complexity of installation and operation, such designs are finding more and more buyers. Indeed, with the help of mirrors, you can visually change the geometry of the premises, you just need to slightly change the angle of reflection.
Photo screens
Having understood how to install a screen on an acrylic bathtub, it is natural for a person to look for new design solutions. One of them is covering the panels with drawings. And it does not matter what material the screen is made of - MDF, plastic, glass or acrylic. Stickers with 2D or 3D drawings are equally suitable for any planes. It also doesn't matter if the screen is sliding or not, whether it has doors or not. The film with a pattern in the case of doors is simply cut at the junction of the panels.
Alternative ways to decorate your bathtub
Installing a screen on an acrylic bathtub as a design element is not the only way to decorate. A lot of people like the way the container on the legs looks. It reminds them of the Middle Ages, when the bathtub stood in a large room and was already a decoration of the room.
To enhance the effect of antiquity, you can decorate the legs themselves, giving them the shape of animal paws or hooves. These pads can be found in hardware stores. But more often they come across on specialized sites.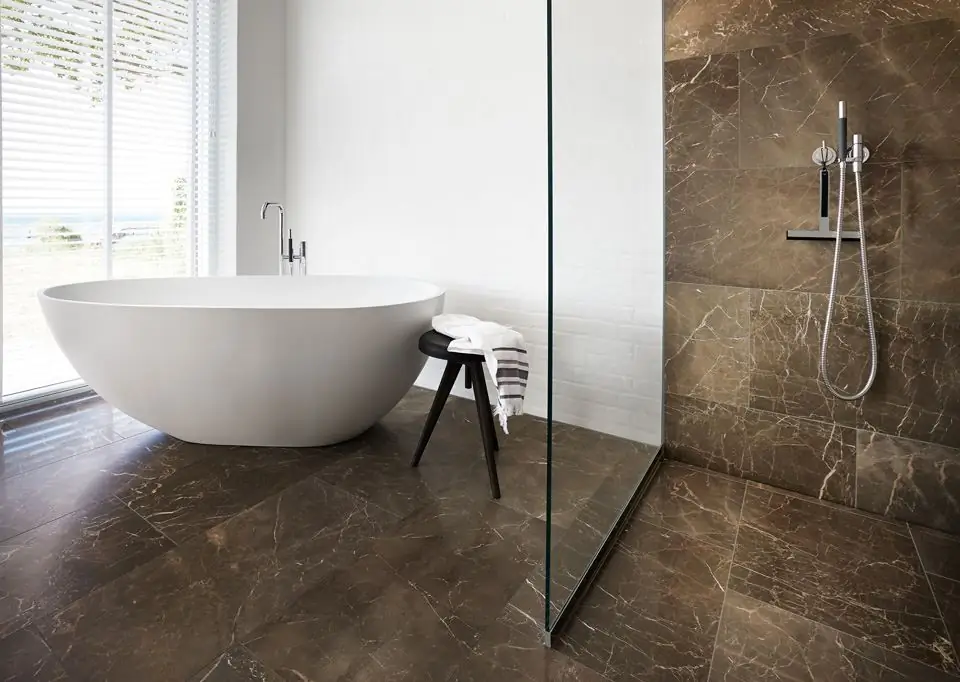 In addition, acrylic bathtubs are now made in almost any shape and color, sonothing prevents a person with a delicate taste from ordering it without legs at all. From the side it will look like an outlandish vase standing on the floor.
How to choose the right screen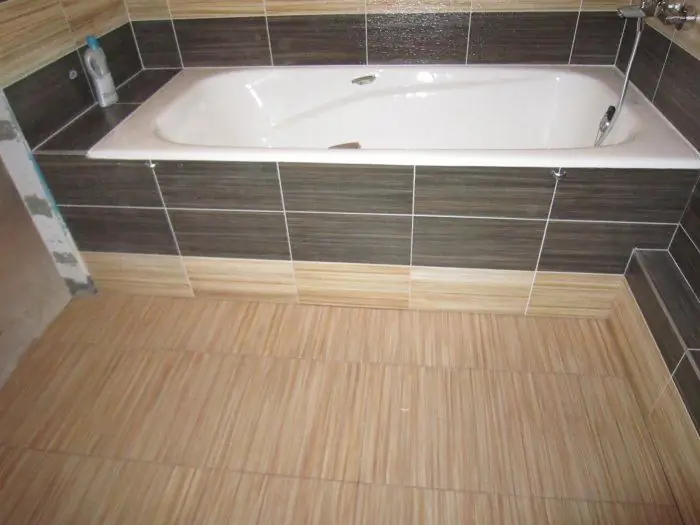 There are several things to consider when choosing a screen for your bathtub.
First, you need to consider the area of ​​the room. After all, if a bathtub in a small room has a screen with opening doors, they will make it difficult to use. In a tiny room, sliding panels are best. You also need to understand that fragile glass and mirror screens are not the best choice for an apartment where small children live.
Before going to the store for a ready-made screen or material for its manufacture, you need to very carefully measure the dimensions of the bath itself: its length, height, width. If you need a sidebar, then you should also know its intended dimensions.
When buying a ready-made structure, you need to check whether the rollers on the guides are working, whether the screen legs are adjustable in height. How the joints are made on plastic panels. All this is important, because a pleasant appearance is what a person aspires to.
You need to understand that if there is no good exhaust in the bathroom, then the wooden frame under the screen made of chipboard and MDF will sooner or later deform and collapse from the moisture accumulated over the years of operation. Therefore, the hood must be taken care of in advance or moisture-resistant materials should be used.
Before installing with your own hands, you should think over the design in detail - its functionality and appearance.Only then should you get to work. In this case, the result will please the owner for many years.