The Skovo pan is an indispensable tool in the kitchen. Sturdy and comfortable, it can last for years. Food on it does not burn and does not lose its beneficial properties. Cooks quickly with minimal oil. The dishes are made of safe material and meet all the necessary quality requirements.
Product range
Company "Skovo" offers consumers a huge range of frying pans. Among them:
Non-stick models.
Dishes with a ceramic bottom.
Saute pans.
Crepes.
Wok pan.
In addition to the above products, the company produces cauldrons and braziers, pans of various sizes. There are buckets and boilers, vegetable cookers and pressure cookers. The range includes trays, trays, glass lids, cutlery, bakery products, summer preparations and leisure products. A wide selection of goods will not leave indifferent any buyer, because for each client there is a suitable dish.
Non-stick Products
Frying pans in this category have different sizes. Their diameter varies from 16 to 28 cm. They can be sold with or without a lid. There are models with a removable handle. This category includes grillware.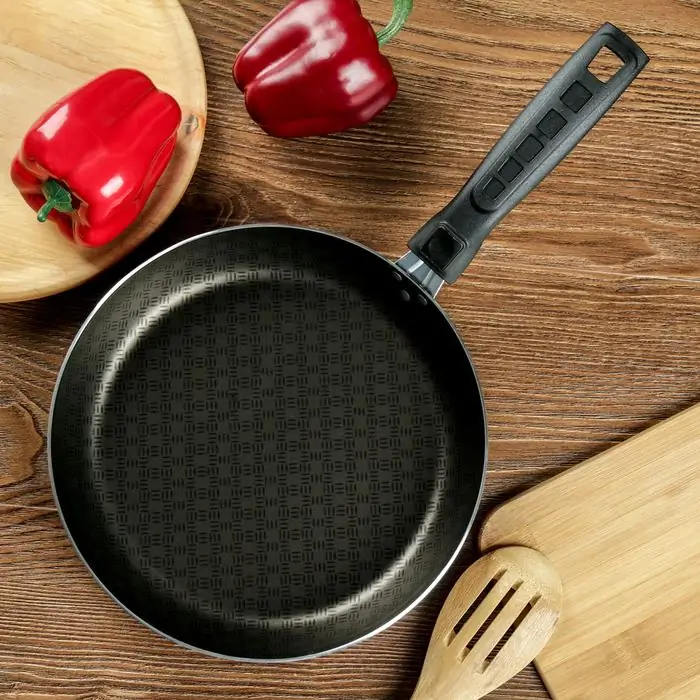 Frying pans are made of high quality aluminum, which contributes to a uniform and rapid distribution of heat over the surface. The coating inside is characterized by non-stick qualities, which helps to make a great roast. The ergonomic handle does not slip in the hands and does not heat up. Cookware is suitable for glass-ceramic, electric and gas stoves. Can be washed in the dishwasher. Does not contain lead and cadmium.
The Skovo Safari frying pan has earned particularly good reviews. People say it lasts a long time. It has excellent non-stick properties and a beautiful appearance. Cooked with minimal oil. Washes well. Food does not burn or stick during cooking.
Skovo pans with non-stick coating reviews are different. People who were satisfied with the purchase of dishes say that with proper handling, they can last a long time and without complaints. Another category of buyers notes that this dish is of disgusting quality. After a few months of use, the food in it begins to burn. And even with careful handling, scratches and chips appear on the surface. In some cases, people had to throw away the pan after 5-6 months of use.
Dishesceramic coated
Reviews of the ceramic-coated Skovo pan say that this cookware is very fragile. It gets scratched easily. The outer surface fails especially quickly.
In addition to the minuses, users also note pluses. Among them is ease of use. According to them, nothing burns in it. It is easy to clean and does not allow the oil to scatter in different directions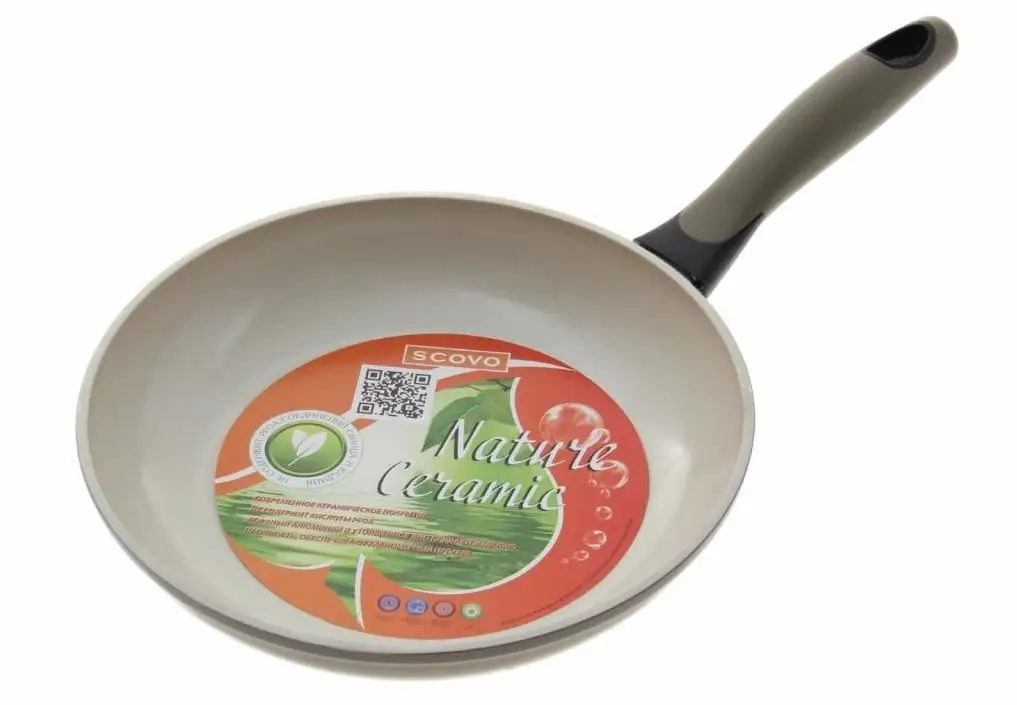 Skovo's dishes of this category are bright and beautiful. She is able to decorate any kitchen. It has an environmentally friendly ceramic coating. Equipped with a comfortable handle. The assortment includes models of different sizes, so you can easily prepare food not only for yourself, but also for friends.
Ceramic cooking containers are dishwasher safe. They are free of lead, cadmium and PFOA. Can be used for cooking on gas, glass-ceramic and electric stoves.
This category includes two collections Vitality and Nature Ceramic. The inner surface of the first is presented in red, the second in the shade of coffee with milk.
Uncoated options
Judging by customer reviews, you can buy an aluminum Skovo pan in any major online store. The dishes of this manufacturer are very popular in our country, because they are Russian and have a very reasonable price.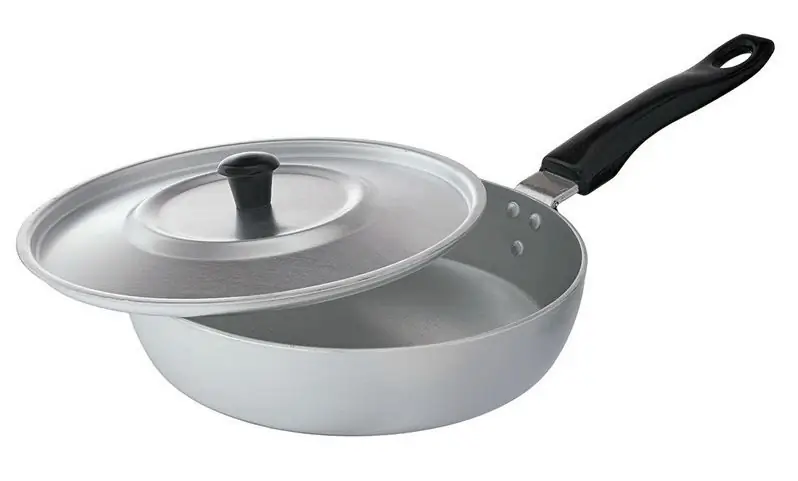 This category includes aluminum products. They are easy tocare, weigh little, quickly and evenly warm up. Damage resistant. When using them, you can use metal inventory. The dishes have a different size, matte surface, non-removable handle.
According to users, the aluminum pan heats up quickly and evenly, which reduces cooking time. But food in such dishes often burns, and cooking in it requires a lot of oil.
Is this dish harmful to he alth? Unknown. There are still disputes about this. The main thing, according to the manufacturer, is not to damage the oxide film that covers the inner layer of the product. Then it will be safe to cook in it.
Marble finish model
Reviews of the marble-coated Skovo pan say that this cookware is durable and of high quality. The food in it does not burn and does not stick, it is evenly fried from all sides. They note that the dishes have a good thickness of the bottom and a decent height of the sides, which allows you to cook a variety of dishes in this container.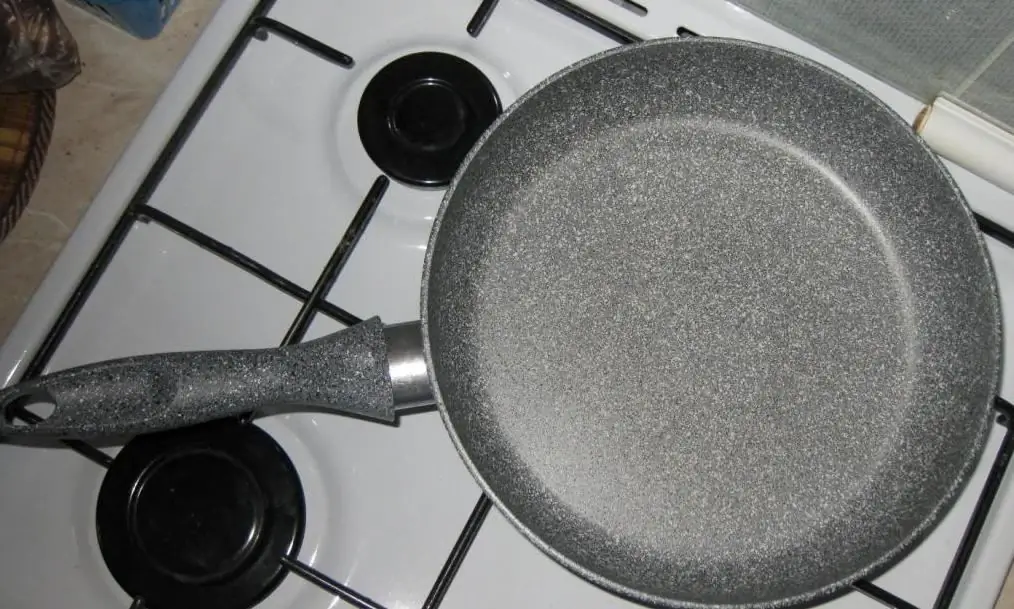 Products in this category belong to the Stone Pan line. The models have an exquisite design, are made of aluminum, and the coating is made of Quantum 2. It just gives the "marble effect". This material does not contain PFOA and is absolutely safe for he alth. The thickness of the pan is 3 mm. On it you can not only fry, but also stew.
Use this dish with care. During its operation, metal accessories should not be used, but only wooden and plastic ones. To care for such a container, do nothard brushes and abrasives are used.
Cost
Skovo tableware has an affordable price. The price depends on the material of manufacture, size, availability of the cover. Aluminum cookware can be purchased for 200 rubles, pans with non-stick coating for 350-800 rubles, products with ceramic coating for 500 rubles. The marble-coated model will cost the buyer 800 rubles.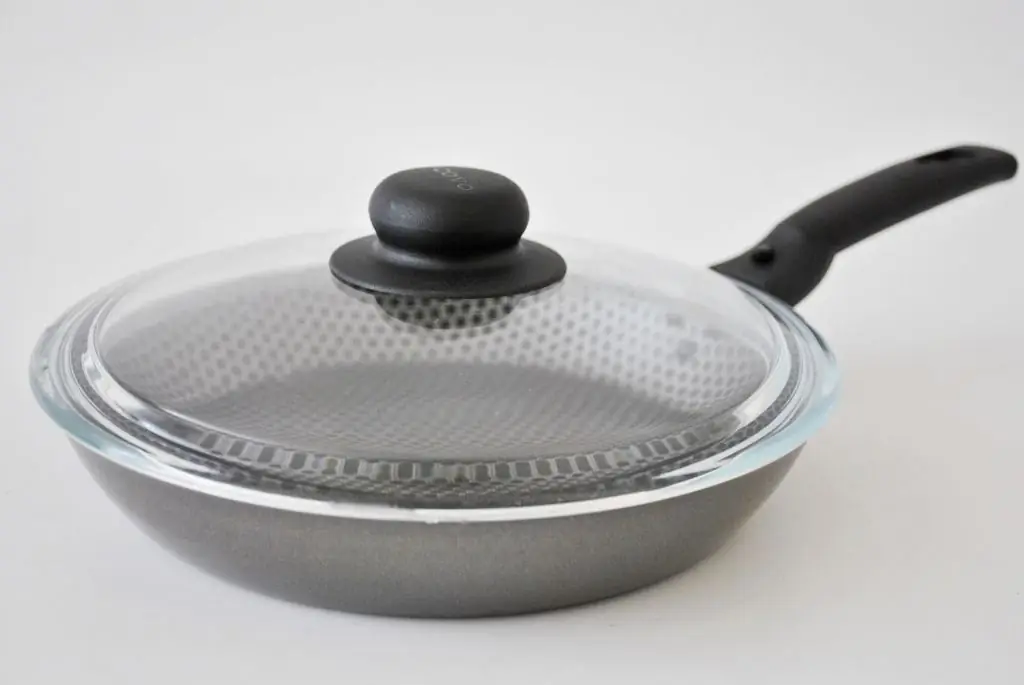 Skovo pan: user reviews
Opinion about the products of this company is very controversial. On the positive side, people note the low cost of dishes. According to users, pans are easy to care for and wash well. Food does not burn on them and is evenly fried. When frying, a pleasant crispy golden crust forms on the products.
The dishes do not require a lot of oil. It has a nice design and thick material. Many models of frying pans are very light, which greatly facilitates the process of cooking. Some have a detachable handle for easy storage.
Users really liked the marble effect saute pans. From their words, they are heavy, deep. They have a thick bottom and keep warm for a long time. The food in them does not cool for a long time. Such dishes have no complaints from users and, if properly handled, can last a long time.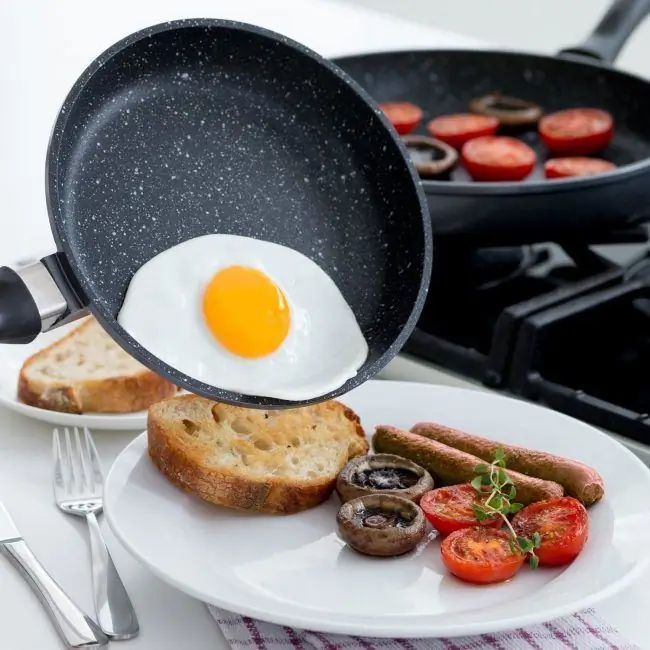 Frying pans "Skovo" user reviews are also negative. These people say that this dish should becherish. With careless handling, cracks and chips form quite quickly on it. In some cases, the outer side was worn out and peeled off. There are those who claim that after 1-2 months the non-stick coating loses its properties and the food starts to burn. For some, it partially peeled off, and small depressions formed on the inner surface. Because of this, the pan became unusable and had to be thrown away.
Many people don't like long handles. These people say that because of them, the product does not fit in the cupboard and oven, that is, where the utensils for cooking are stored. There were cases when the handles quickly became loose and had to be tightened.