Renovation is a serious and complex undertaking. To successfully complete it, you need to think through a lot of details at the planning stage. Currently, the construction market offers various cladding panels for interior wall decoration. How to choose such decorative materials that will be easy to install and safe to use?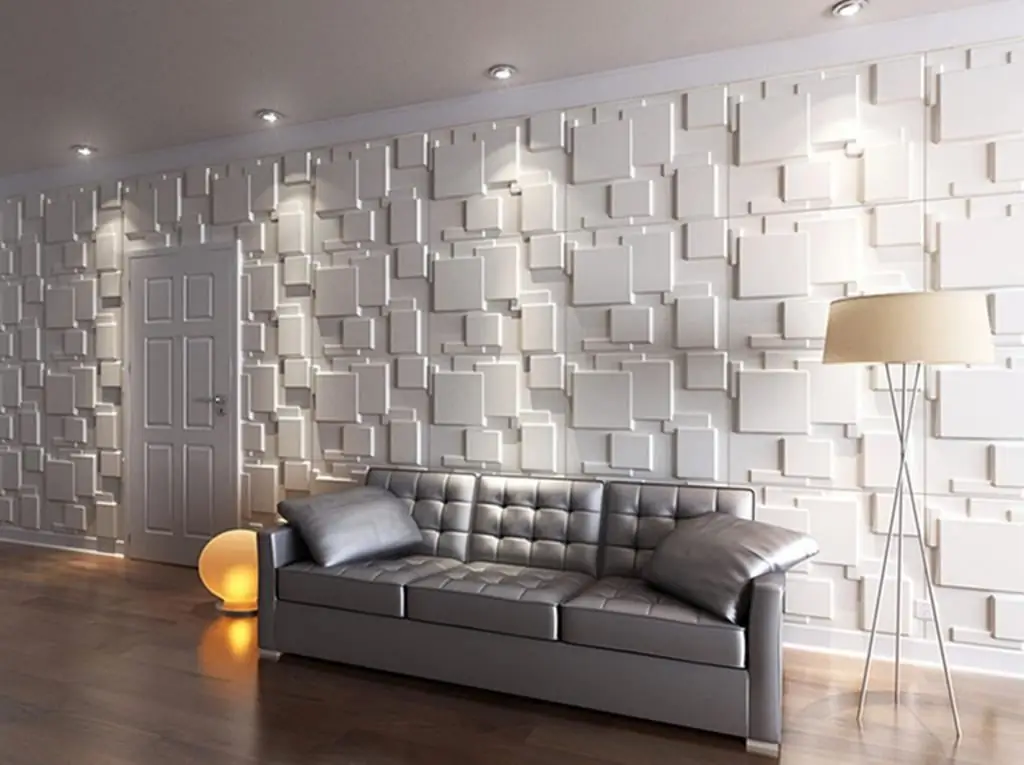 Features
Manufacturers offer cladding panels for interior wall decoration in three modifications. Materials differ in technical and operational characteristics. Each type is selected taking into account the characteristics of the renovated premises.
Facing panels for interior wall decoration are structural elements used to create walls and partitions. Thanks to the decoration with such materials, a standard room can be made warm and cozy.
Facing panels for interior wall decoration appeared on the construction market relatively recently, but have already managed to find their niche, find fans among property owners. Materials significantly speed up and simplify repair work, make it possible to create an original interior in the room. Let's analyze the main types of decorative panels that are presented on the modern construction market.
Rack type materials
This wall cladding panel has the following features:
length ranges from 2.4-3.7m;

width is from 12.5 to 30cm;

thickness reaches 10mm.
In the manufacture of rails, manufacturers use PVC, fiberboard, MDF, chipboard. Most often, rack panels are used in rooms with a significant number of external and internal corners.
Advice! To achieve high-quality installation of rivers, you can first make a crate from a metal profile or a wooden beam indoors, and then fix the finishing materials.
Slatted interior cladding panels add a touch of color to the room.
Installation is carried out in two ways:
thorn and groove;

groove.
Manufacturers offer additional elements, thanks to which you can hide the joints between the rails, give the wall an aesthetic look.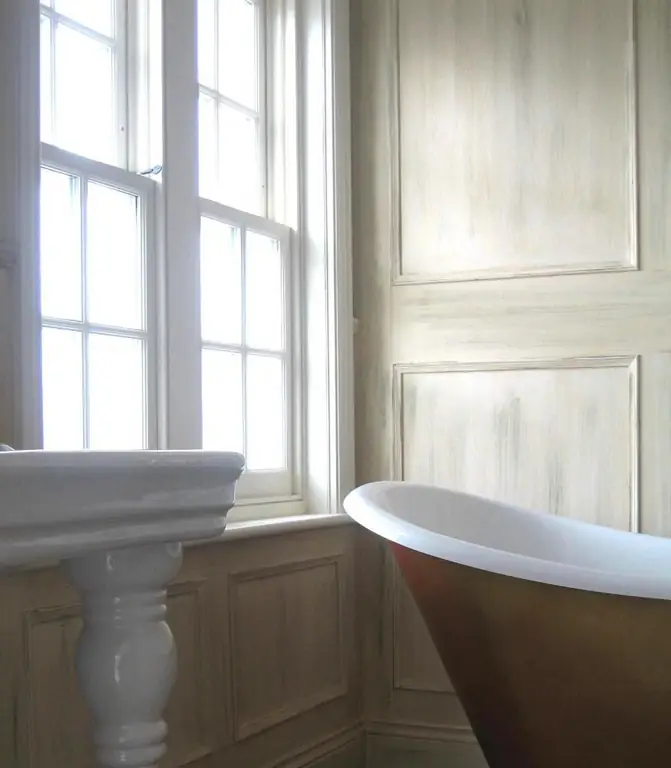 Sheet panels
Such facing panels forinterior finishes are large (length - 244 cm, width - 122 cm, thickness - 0.6 cm). They are made of fiberboard, PVC, pre-impregnating the base with polymer resins. Use this finishing material for decorating large areas. The product has a multilayer structure. The front surface is given some kind of pattern, imitating, for example, natural wood. Installation of products is carried out using special glue.
Finishing boards
Products are square in shape, available in two standard sizes:
With the help of plates, you can put into practice original design solutions. The combination of materials of different colors gives the interior of the apartment (house) a modern look.
Panels are fastened with clamps (metal strips with clips) to the crate or glued directly to the wall. The plates are interconnected in a special locking way, which gives the surface not only an aesthetic appearance, but also additional strength. The basis of this finishing material are: PVC, chipboard, MDF.
Advantages of decorative panels
Why do many craftsmen prefer to choose cladding panels for interior wall decoration? There are a lot of types of such materials on the construction market. Key Benefits:
long service life;

ease of maintenance;

security;

easy installation;

wide colorgamma;

universality of application;

reasonable price.
Flaws
Despite the rather impressive list of advantages, decorative panels also have some negative characteristics. Before applying them, it is advisable to keep them for some time in the room in which the finishing work will be carried out.
For example, wooden wall cladding panels that have been left in the room beforehand will have a longer service life. Ignoring such an action is a direct way to reduce the period of operation.
Tree
This material has long been used for interior wall cladding. At first, the panels were made from solid wood, so they had a high cost. These days you can get wood combo panels at an affordable price.
The decorative layer of such materials is made up of valuable wood species. The layer is applied on a spruce or pine base. Innovative technologies have made it possible to produce high quality cladding panels for interior wall decoration from woodworking waste (chips, sawdust).
Among the fashion trends of recent seasons, there is also an imitation of expensive wood species with the help of facing panels. Such decoration is appropriate in any room. Despite the fact that PVC cladding panels are offered on the construction market, many designers still prefer to use natural wood cladding for interior wall decoration, emphasizing the status of the property owner.
Fibreboard andChipboard boards
These decorative materials have a fairly low cost. Wood-fiber and chipboards bring heat into the room being designed, increase its sound insulation. What should I pay attention to?
In the manufacture of chipboard and fiberboard, manufacturers use formaldehyde resins, so these materials are not suitable for rooms with high humidity (kitchens and bathrooms). It is also not recommended to use them for decorating walls in a children's room.
MDF
Currently, quite often craftsmen use MDF cladding panels for interior wall decoration in residential premises. Phenol-formaldehyde resins in these materials are replaced by vegetable lignin. That is why MDF cladding panels for interior wall decoration are used even in children's rooms. Products differ in durability, long operational term, resistance to differences of humidity. They are easy to install, easy to maintain, safe for human he alth.
Manufacturers varnish such products, veneered with precious woods, laminate, cover with special water-repellent compounds. The material is able to withstand significant loads, so bookshelves and heavy paintings can be mounted on the walls. Currently, such decorative panels are more often used in office decoration, choosing more sophisticated decor options for home interiors. Installation of MDF fabric involves the use of additional planks, trim, corners, covered in tone with the panel itself.
Glass finishing
This optionfinishing materials is quite new in the construction market. Popularity brought him resistance to moisture and ultraviolet rays. Installing a glass panel in the bathroom is a stylish and practical solution. Some designers are lining the backsplash with glass panels to give the space a touch of originality.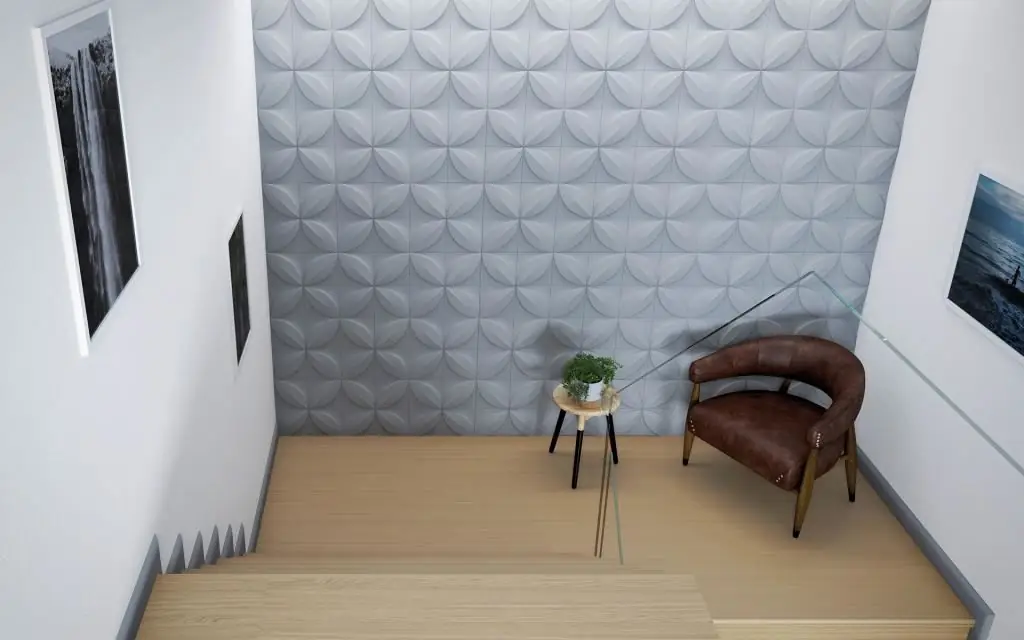 PVC
The cheapest materials are plastic cladding panels. The interior decoration of the walls of the bathroom, the corridor can be made from these products. A huge range of PVC materials of different colors and patterns is presented on the modern construction market. What are the distinguishing characteristics of PVC panels?
They are resistant to moisture changes, withstand ultraviolet radiation, are light in weight. Among the few disadvantages of plastic panels, one can single out their inability to pass air. Humidity rises in a room whose walls are decorated with PVC panels.
That is why designers recommend to refrain from using plastic panels in the bedroom, living room, choosing more natural and environmentally friendly materials as an alternative. An interesting solution would be a combination of PVC with other types of decor. Such cladding panels are suitable for interior decoration of kitchen walls.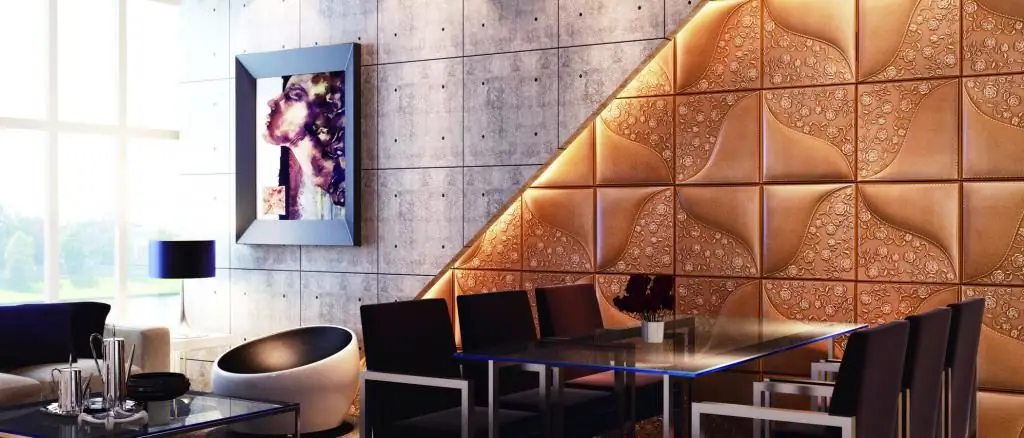 3D panels
This decor is considered the trend of the last season. With the help of a three-dimensional mosaic created on the basis of glass, plastic, gypsum, wood, the room can be givenelegant and unique look. The materials chosen by the manufacturer to create the 3D panel can be natural and therefore do not cause allergic reactions.
Finished coatings are easy to maintain, retain their original appearance for a long time. This finish is suitable for bedrooms, living rooms. 3D panels will help parents create the feeling of a real fairy-tale palace in the children's room.
Panels are resistant to moisture, do not deform during operation.
Advice. For the corridor, a brick-like facing panel would be an excellent solution. For the interior decoration of the walls of the kitchen, you can choose materials with ornaments.
Features of using wall panels
Professionals point out some of the pros and cons of using wall panels from various materials for interior decoration. Special attention should be paid to them before proceeding with the repair. Let's start with the benefits of these decorative items.
Many apartment owners prefer to use plastic wall panels to decorate the corridor. Facing materials of this type attract with their low cost, variety of patterns and colors, ease of installation, ease of maintenance during operation.
Due to the variety of textures, a variety of colors, the owner of the premises has excellent opportunities to implement the most unexpected design ideas. Among the advantages of wall panels, one can note the possibility of leveling walls with their help. Eliminates the need for time-consuming procedures associated withplastering.
What are the disadvantages of choosing panels for decorating walls inside a living space? If you plan to install rails (plates) on the crate, the area of ​​\u200b\u200bthe room will decrease. This is not essential for spacious rooms, but for small spaces, designers recommend choosing other decor options, or attaching panels directly to the walls (without a frame).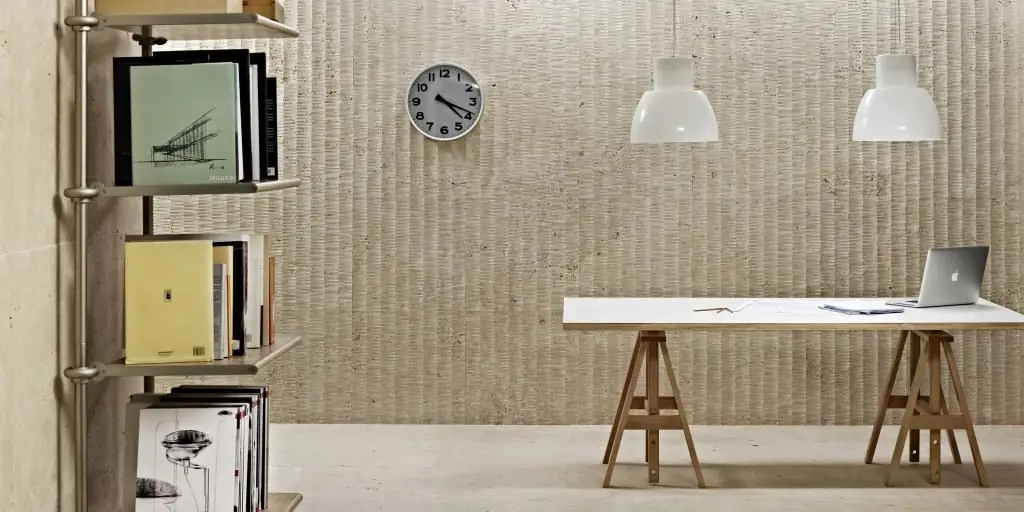 Bamboo products
They are used by designers to decorate living spaces in ethnic, African style. The craftsmen are attracted by the original appearance and lightness of the material. Among the distinctive characteristics of bamboo slabs, we note their resistance to moisture changes, unusual appearance.
Updating the living room
This room is the heart of the house, not only for many guests, but also for the household itself. That is why designers pay close attention to the selection of decorative materials for the walls of the living room. The design must match the style, size, to get a complete and harmonious image.
When choosing the color of the panels, the following parameters should be taken into account:
window size and natural light intensity;

furniture color, upholstery material;

chosen interior style;

room dimensions.
To design those living rooms whose windows face the sunny side, you can use voluminous MDF panels in turquoise or blue. When the windows are located on the dark (north) sideit is important to additionally fill the living room with warmth and light. Professionals offer to solve the problem with the help of MDF panels in yellow, red, orange colors. PVC is not suitable for wall decoration in the living room, plastic products are better for bathrooms and corridors.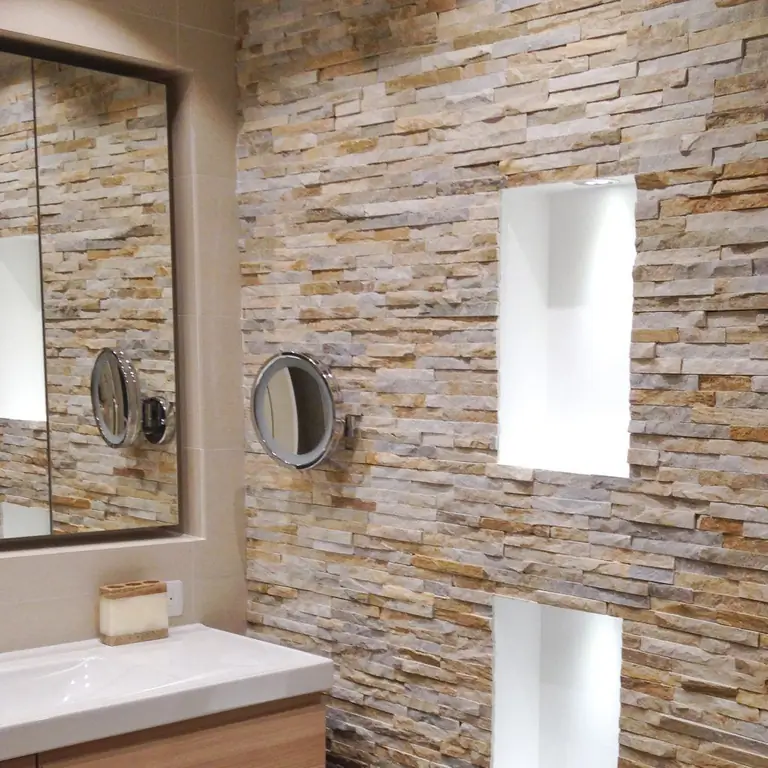 Bathroom decorating
This is a room with high humidity, so you need to take a responsible approach to the selection of materials for the walls of the bathroom. Natural materials are far from the best option for its repair. Professionals recommend PVC products that have not only excellent decorative characteristics, but also resistance to high humidity.
What is the reason for the popularity of PVC panels? This decorative material attracts with ease of installation, ease of maintenance, affordable cost. Thanks to PVC materials, you can create additional partitions, arches inside the bathroom, and perform space zoning. Let's dwell on several types of PVC products offered on the modern building materials market:
5-8 mm thick rectangular and elongated panels (with a locking structure, decorative seam, no visible transition);

PVC tiles of square or rectangular shape in different sizes (with connecting spikes, without a locking mechanism);

PVC lining.
Designers consider the second option to be an excellent alternative to ceramic tiles. They have a similar appearancebut much lighter and also cheaper than ceramic products.
PVC lining looks like natural wood panels. The length of the products reaches 6 meters. With the help of such materials, you can decorate the walls in the bathroom "under the tree", fastening the products together using a locking structure. These decorative materials are convenient for decorating long walls, and contribute to the visual expansion of the space in the sanitary room.
Designers often use cladding panels in their work. They perform the interior decoration of the bathroom walls with PVC sheet materials that have a texture that imitates tiles or mosaics. Manufacturers also offer models with plot illustrations, natural landscapes, "brick-like", "stone-like". A distinctive feature of such materials is the absence of locking systems, so the panels are glued butt-to-butt. Ease of installation, excellent aesthetic characteristics, speed of work - the advantages of using PVC panels.
Advice. If the bathroom has flat walls, the panels can be attached directly to the wall, saving space.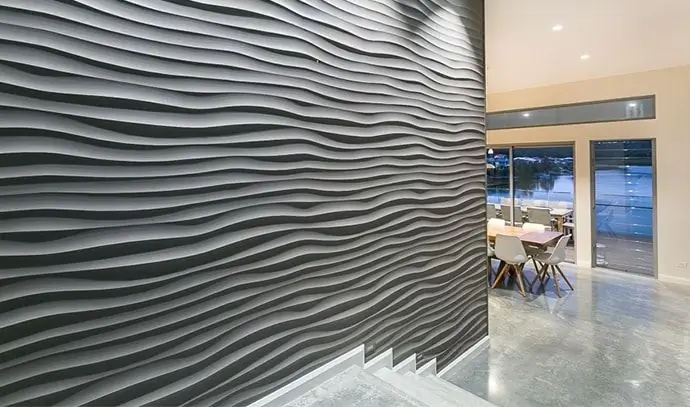 Summarize
A variety of decorative materials for walls are presented on the modern construction market. When choosing such products, you need to use not only personal preferences, but also the features of the premises, the chosen style, and material capabilities. Despite the fact that there are many differences between decorative panels, such products also have common features.
Depending on featuresmaterial, it is important to choose the right option for attaching it to the wall. For example, when using fiberboard or MDF panels, glue is used. It must be applied to the entire surface of the product, then you can apply the panel to the wall.
Professionals consider lathing far from the most reliable option for decorating walls. To increase strength, it is desirable to use additional mechanical elements or refuse to mount heavy objects on the finished surface.