When decorating an apartment, great attention should be paid to the choice of upholstered furniture. After all, it is most often used in everyday life. The sofa, firstly, should be beautiful, so that it pleases the eyes and gives pleasant emotions. Secondly, it is necessary to choose a comfortable and roomy model so that not only you can sit comfortably on the sofa. Where can you find the perfect upholstered furniture that will meet all the requirements? How about the company "ASM-Furniture"? Today we will just talk about it. In the article it will be possible to get acquainted with the assortment, and most importantly, with reviews, because they are a real indicator of quality.
Some information about the company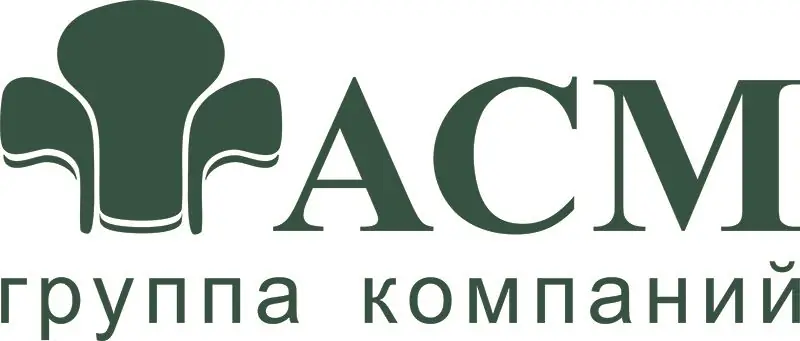 So, let's talk a little about the company "ASM-Furniture". This Russian factory for the production of household goods appeared in the city of Yekaterinburg in 2009. Now it is the largest supplier of furniture for residential and office premises in the Urals.
In total, there are 33 models in the company's assortment, but managers are constantly striving to increase the collection so that everyone, even the most picky buyer, can find the ideal model for themselves. Every year, the line gets 5-10 more models, usually new sofas are made in a classic or avant-garde style.
It is worth noting that the company "ASM-Furniture" uses only the highest quality materials in the production. After all, they have many partner companies that regularly supply the necessary fittings, foam rubber, independent spring blocks and other components. Thanks to operational work, orders are completed quickly and without loss of quality. In their production, they use advanced technologies and the latest details. All these qualities together helped to take a leading position in the sale and creation of upholstered furniture. Now the products of this company can be found in stores in most Russian cities, such as Moscow, Samara, Nizhny Tagil, Chelyabinsk.
Leather corner sofas
So, let's talk about models of corner sofas that are made using artificial leather.
Amadeus-M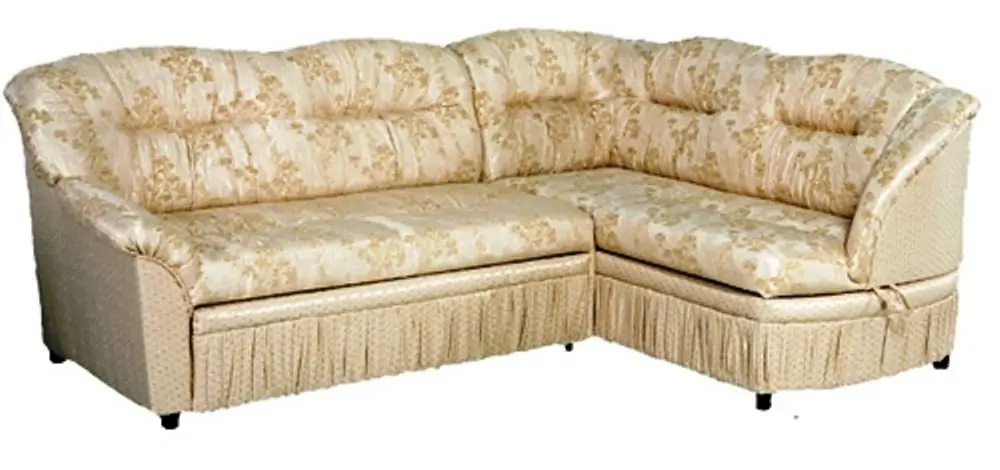 This sofa is a collapsible design, consisting of the main part and ottoman. Such a system makes it easy to transport and lift furniture to the upper floors. Thanks to several layers of high-quality polyurethane foam, the seats are soft and comfortable to sit on. The back and armrests create together a rigid and reliable framework. The model is presented in two shades:milk and dark chocolate. Reviews of ASM-Furniture say that Amadeus-M is ideal for office space decorated in a new style.
"Charlotte 1"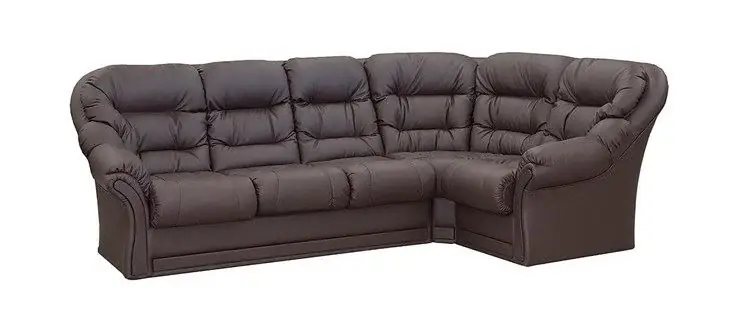 Classic corner sofa in leather, which has a collapsible mechanism that allows you to create 2 extra beds. In addition, this model has an increased back length. Reviews of "ASM-Furniture" say that "Charlotte 1" is a stylish and beautiful option that will fit perfectly into the interior of most living rooms.
Fabric corner sofas
This company also has various fabric corner sofas.
"M alta"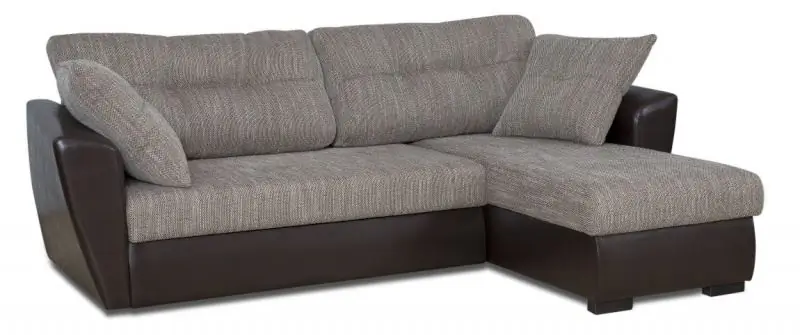 The main distinguishing feature of this model is a strict classic style, which involves a combination of two contrasting colors: coffee and asph alt. Due to its versatility, this sofa will perfectly fit into both a cozy home interior and any modern office. The berth is based on two frames, fastened together by a "book" transformation mechanism, the flooring is polyurethane foam sheet. In the reviews of ASM-Furniture employees, it is written that the M alta model has a rigid frame, the fabric is made of an innovative material that retains color and texture longer.
Versailles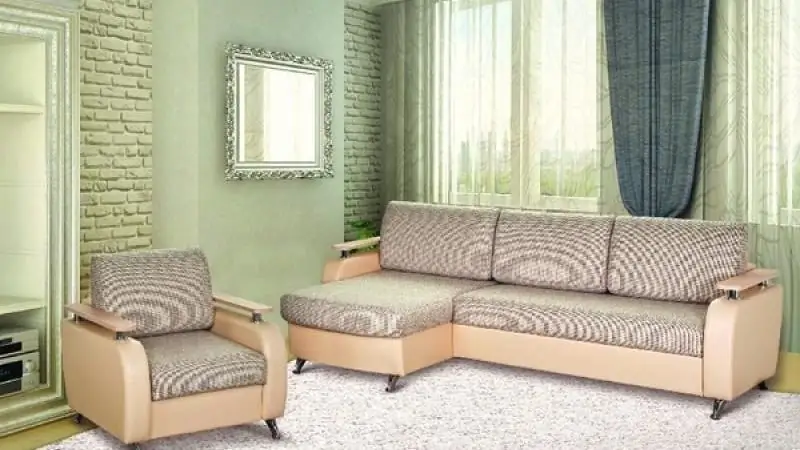 Concise and stylish model, made in delicate coffee-beige color. This sofa will perfectly fit into the bright interior of the living room, office or bedroom. ATreviews of ASM-Furniture, buyers said that the Versailles model slides apart smoothly, the structures are rigid and can withstand a lot of weight.
Standard leather sofas
It is also necessary to talk about standard sofas upholstered with artificial leather:
"Amadeus Lux". A classic model that will fit perfectly into the interior of an office or any office space. A pleasant light shade will not allow the sofa to clutter up the room. The model is equipped with a mechanism of transformation into a sleeping place - "dolphin". In reviews of the furniture factory "ASM-Mebel" they often write that the company produces sofas of excellent quality. And the Amadeus Lux model is an example of this. The sofa has a color on which stains and dirt are not too visible. What's more, upholstery leather is easy to wash and clean.
"M alta". A great option for lovers of lightness, tenderness and weightlessness. Beautiful milky-peach color makes the sofa miniature. Thanks to this, it looks great even in small spaces. Reviews of ACM-Furniture sofas say that the M alta model is comfortable: the skin is soft, easy to clean, the color is pleasant and versatile.
Standard fabric sofas
Next, let's talk about standard sofa models:
"Riviera". A small sofa, made in the form of a sofa on thick metal legs. The anatomical frame of the back allows you to maintain the spine in the correct position. The reviews of the Riviera sofa from ASM-Furniture say that this model is ideal for the bedrooms of young girls who love unusual optionsexecution.
Chelsea. A laconic and insanely stylish option, which is ideal for those buyers who prefer to use simple furniture in the interior without unnecessary decor. The seat is equipped with birch battens, a spring block, geofelt, polyurethane foam sheet. In the reviews of the Chelsea sofa from ASM-Furniture, it is said that this model is made in the perfect combination, which allows it to be used in any interior. Most buyers have only pleasant impressions.
Models of the largest sofas in the collection
This factory is engaged in the production of large sofas, which are usually used in office space or large living rooms. Let's take a look at them.
City
This is a luxurious gray suede sofa that fits perfectly into the interior of a light and airy living room. The model unfolds and forms two large beds. It is worth noting that in the corner of the sofa there is a convenient shelf on which you can store equipment or magazines. Reviews of "ASM-Furniture" say that the "City" model is incredibly comfortable, roomy and beautiful.
"Versailles 5"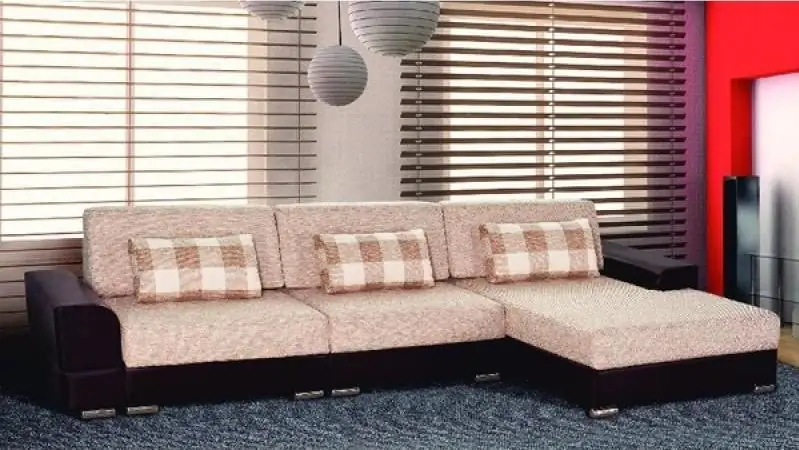 A large sofa that fits perfectly into any interior. It can easily accommodate up to 8 people.
Additional models
We conclude our review with a description of two more popular models.
"Sonata"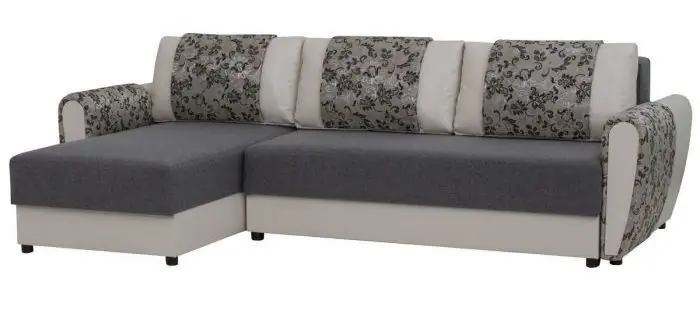 This sofa is the perfect solution for small bright living rooms whereshades of black and white. This model combines both leather and fabric inserts at the same time, which create texture and unusualness. In the reviews of "ASM-Furniture" it is written that this option is perfect for bold design decisions.
Rio
The presented model combines style, compactness, conciseness and chic. The sofa is made of dark leather in the shape of a sofa with thick legs. It will fit perfectly in both classic and loft style.
General positive and negative feedback about the company
To form the most complete opinion about the company, you need to talk about general reviews:
The lack of an extensive system of retail stores is one of the main disadvantages that buyers most often point out. They are of the opinion that it is better to choose furniture by seeing it live.
Great variety is a definite plus, which indicates that this company provides models for all buyers.
Low prices. The factory produces sofas at relatively low prices, which is very pleasing to most buyers.
Rude employees. Many buyers have experienced very impolite responses from operators.
Cheat with orders. There have been times when people simply did not receive their orders at the scheduled time. They had to contact support and demand a refund.
Problems with delivery and payment. The system does not work properly, so it is not always possible to pay for the order. In addition, couriers are often late for a week.