Paving slabs (paving stones) are designed for paving sidewalks, footpaths. It is also used in squares, parking lots. Paving slabs are made from durable varieties of natural stone: granite, bas alt, diabase.
It withstands high mechanical stress and is more durable than asph alt, as it is not afraid of adverse weather conditions and temperature changes.
Paving slabs are of several types. Chipped paving stones with uneven edges are more affordable. Sanded tiles cost more, but are ideal for walking. The choice of material depends on the location of the site. When installed correctly, paving slabs will last a long time.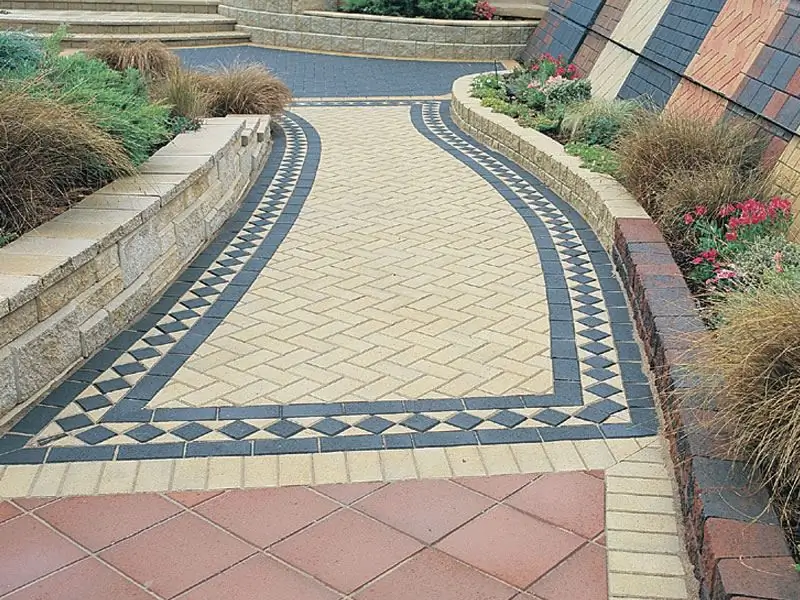 Layout schemes
With the help of paving stones, you can create a beautiful design for your backyard. Most popular paving patterns:
Mosaic. tilehexagonal shape laid out in a mosaic pattern. With the help of elements of different colors, it is possible to create any ornaments. You can choose a pattern in advance by practicing with a children's play set.
Herringbone. This pattern of laying paving slabs is the most common. Tiles are placed at right angles or 45 degrees to each other. This paving method is characterized by high strength, so it is often used in the installation of access roads. Professionals talk about some of the nuances of this styling method. If the tiles are placed at an angle of 90 degrees, the site is visually wider than with the 45-degree paving method.
Brick. Laying paving slabs using this scheme will save material. This is the simplest pattern, but if you alternate tiles of different colors, the coating will have a very original appearance.
Chess. Tiles placed in a checkerboard pattern look neat and beautiful. The method of laying with symmetrical squares will look spectacular in the design of garden paths of a strict form.
Diamonds. This pattern of laying paving slabs has several options. In this case, you can combine elements of different colors, as well as lay out any drawing on a spacious platform. The classic option is to lay tiles in burgundy, white and gray. This type of paving requires preliminary preparation of a schematic drawing and careful marking of the surface. It is this method that allows you to make a pattern with a 3D effect.
Circular patterns. Tiles are laid in circles, for each of whichelements of the same color are selected. This type of paving is used in large areas. They look especially impressive from a height.
Random order. In this case, you can use tiles of different sizes and colors. Paving is done in random order, but if the owner has abstract thinking and artistic taste, then the layout can turn out to be original and stylish.
Figure pattern. Pattern paving is not as easy as it seems at first glance. It is necessary to observe the drawing and color scheme of the drawing. The sample can be the most diverse: leaves, a star, a flower, an animal figure. You can use a sketch created on a computer. Proper laying of paving slabs using a template requires careful preparation and accurate marking on the site.
Under natural stone. The tile, which with its texture resembles natural stone, looks natural and beautiful on the paths of the garden plot. Paving is done in random order. The material can be combined with wood or pebbles. Stone imitation tiles are very appropriate if the facade of the house is decorated with the same material.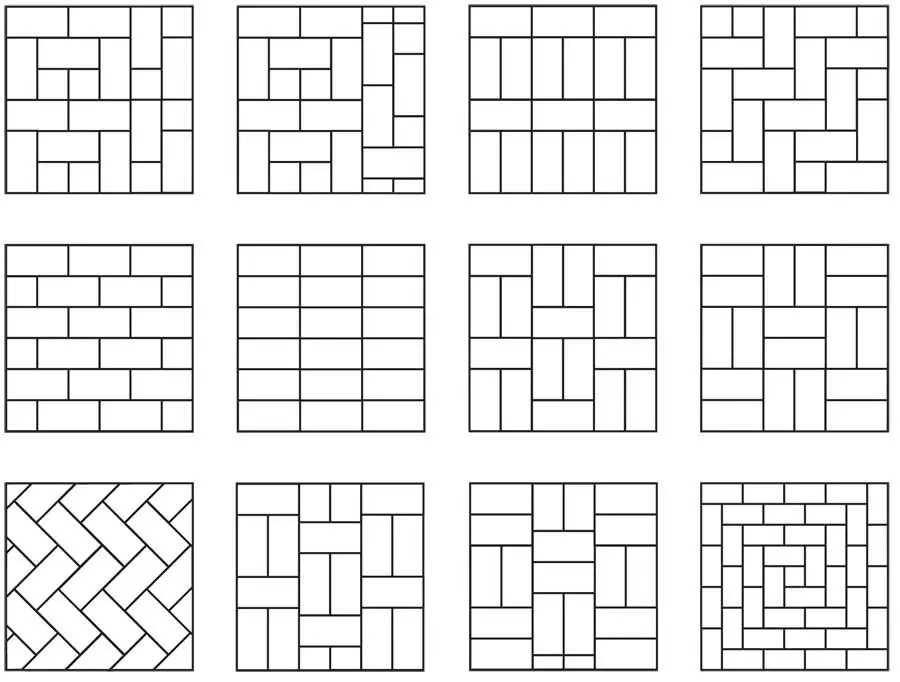 Finished forms for styling
You can buy similar products today at any hardware store. In this case, you need to choose a really high-quality form. They are made from a wide variety of materials, and their performance characteristics vary significantly.
Moulds are made from polypropylene, rubber, plastic, polyethylene, silicone,polyurethane. Care must be taken with plastic products, they are often made from recycled materials, so not all of them are of high quality.
Don't buy molds that have a rough surface and look unattractive. Chips and other flaws, lack of gloss also indicate the low quality of the material from which the products are made.
When buying, it is important to pay attention to the price of the form. Quality material cannot be too cheap. As a rule, the manufacturer does not provide a guarantee for such products.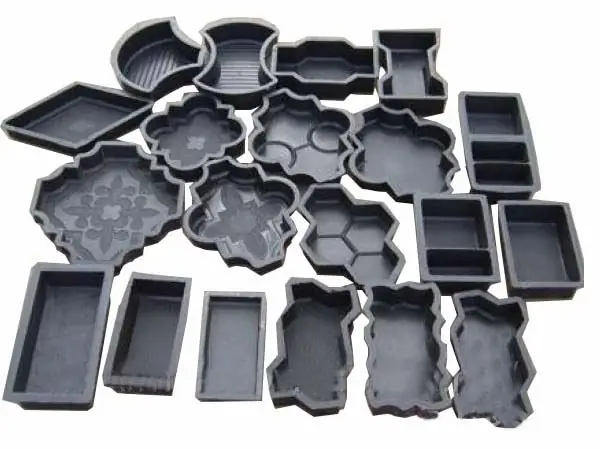 Let's consider the types of paving slab shapes that deserve attention.
Silicone
These are the most popular models, high quality and easy to use. The elastic material allows even small details of the pattern to be reproduced on the tile.
The only thing that hinders the introduction of silicone molds into mass production is the not very high strength of the material. As for home use for laying paving slabs in the country, here they are indispensable. The cost of silicone molds is quite affordable.
Polyurethane
Good quality products, strong and durable. Polyurethane molds are well suited for pouring paving slabs with your own hands. Their only drawback is their high cost.
From polystyrene
High quality molds are made from this material. They perfectly convey the texture and pattern of natural stone, are easy to use and durable. These forms do not need to be soaked after pouring, the tile is easily separated fromcontainers during operation. You need to be careful when buying so as not to get a fake. High-quality forms have a special film on the inside.
Fiberglass
Products made from this material are used for laying volumetric slabs in the garden. The fiberglass mold is used to make overall tiles for garden paths. It can be used in the manufacture of decorative figurines and decorations for country landscapes.
Working with such forms is not very convenient, since in this case pre-lubrication is required. This can lead to the formation of pores in the molded products, so the tile must be reworked after demolding.
PVC
PVC products with a thickness of at least 1.5 mm have the greatest strength. For containers filled with concrete, special supports and a place for drying are required. Keep the solution in the molds for at least two days until completely dry. Such containers can withstand up to 70 fillings.
There are PVC film molds. Their walls are thinner. These products filled with mortar must not be moved, otherwise they will be deformed. The containers are placed on a stand and filled with concrete.
After use, wash them immediately in soapy water and dry. This takes a lot of time, so they are not used for large volumes of work. But even the most careful care will not make these molds durable, after 20 fillings they need to be replaced with new ones.
ABS
This material is used to make large concrete elements for wide areas.A quality uniform will never be dark in color. This must be taken into account when buying. Dark plastic is usually made from recycled materials, so it can burst when deformed.
Rubber
Once such forms were popular when laying paving slabs in the country. With the advent of more modern materials, rubber products are used less and less. These forms are heavy, which will make them difficult to work with. In addition, their cost is now quite high when compared with plastic products.
Paving technology
Paving slabs are installed on the base in several ways. All of them are popular, and the choice depends on the characteristics of the territory, the composition of the soil and the financial capabilities of the owner of the site.
Laying on a concrete base provides the coating with the highest reliability and durability. This technology is used if a large load on the base is planned. This method is used when equipping parking lots and in places where large equipment is stored.
Dry mix mounting is used for pavements. This laying process is quite simple, but it requires patience and strict adherence to the technology.
Before laying paving slabs in the yard, it is necessary to carefully prepare the site. To do this, mark the boundaries of the track, dig a recess of 10-15 centimeters along the entire length. The bottom of the base is covered with a cushion mesh, it is necessary to protect the path from weed germination. Further, the work process depends on the method of paving.
On concretebase
Laying paving slabs on concrete mortar is more difficult than other technologies. However, it is this method that keeps paving stones in good condition for many years.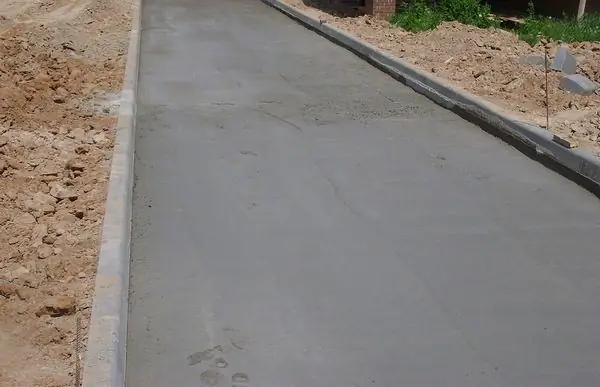 In addition to concrete, it is necessary to prepare geotextiles, sand and gravel for the construction of a pillow. A step-by-step instruction for laying paving slabs with your own hands using a mortar looks like this:
First you need to make a pillow. It can be laid in different ways. The first is to fill the base with sand, then with rubble, and then again with a layer of sand. The second is to make screenings from crushed stone, and then fill it with sand.
Each layer must be carefully compacted. Geotextiles can be laid between a layer of sand and gravel.
Then you need to prepare a concrete solution. You can make it yourself from sand and dry cement, but it's easier to buy a ready-made mixture in a store and dilute it with water in the proportions indicated on the package. Do not make a lot of mortar at once, as it sets quickly, and the process of laying paving stones is rather slow.
Concrete mortar is poured onto a path or platform. The recommended thickness is 2-3 cm. The mixture is leveled with a notched trowel.
The next step is the installation of curbs. They are of three types: road, garden and trunk. Depending on the place where the paving stones will be installed, a vibro-pressed curb stone, brick is used. Large paving slabs can also be used. A groove must be dug around the perimeter of the concrete layer. Cover its bottom with cementmortar 3 cm thick. The solution must not be allowed to dry completely. It is necessary to install a curb stone along the perimeter of the path with a rubber mallet.
The last step is laying paving stones. The concrete solution is laid out in parts on the track and at the same time the tiles are installed. The gaps between the elements are filled with concrete.
The finished track is left unloaded for 3-4 days. Vehicles must wait at least 25 days to pass through it.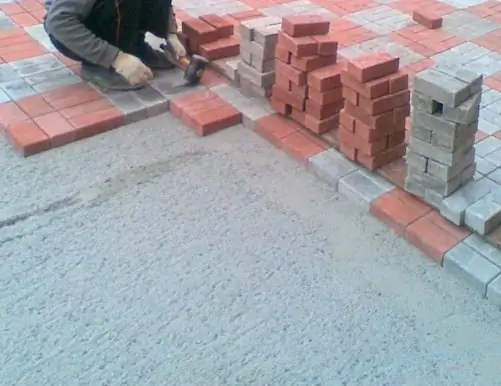 Dry mix
Dry laying of paving slabs is made on a special mixture, which is sold in hardware stores. Subsequent filling with water securely fastens the tiles together and does not allow moisture to pass inside. A step-by-step instruction for laying paving slabs with your own hands on a dry mix looks like this:
First, a pillow of sand and crushed granite is prepared. Geotextiles are laid between the layers. Don't skimp on pillow materials. Good drainage will ensure long-term use of the track.
Then the dry mixture is poured onto the site and carefully leveled. The thickness of the layer should be approximately 3 centimeters.
Then, curbs are installed in the trench on the cement mortar.
At the final stage, set the paving stones, level it with a rubber mallet.
When all the tiles are laid, the path is filled with water. Getting into the joints between the elements, it passes to the level of dry mortar and concretes it.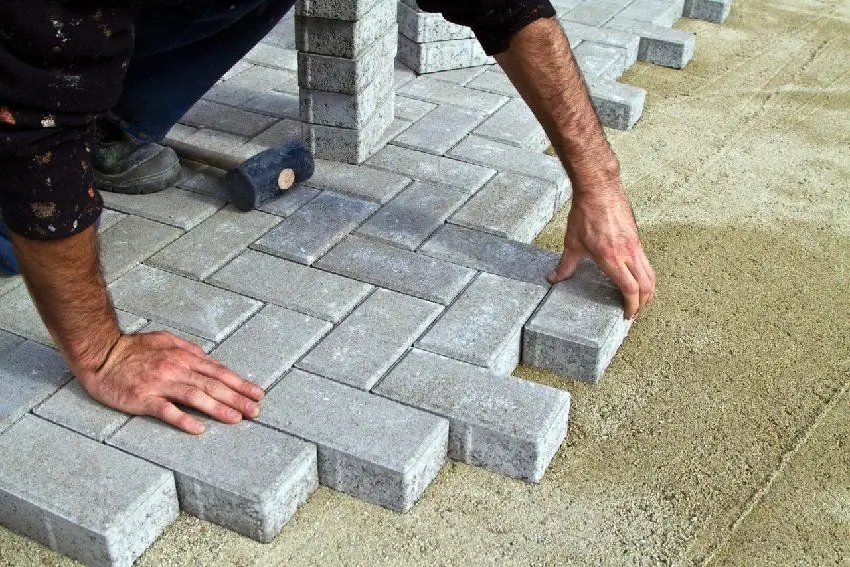 Laying on a sand base
Sand is one of the most accessible materials, so this technology is the simplest and cheapest. A layer of sand up to 15 centimeters thick is laid out on the prepared surface.
For the correct laying of paving slabs, the construction of slopes up to 5 degrees is required. They are necessary so that moisture does not linger on the track and does not blur the tiles.
The layer of sand is leveled, filled with water and compacted. Then curbs are installed on the concrete solution. Lay paving stones, leaving a distance of 5 mm between the elements.
The gaps between the tiles are filled with sand, and then the entire track is rammed with a vibrating plate. Proper laying of paving slabs is carried out while maintaining a slope so that moisture does not accumulate on the path. It is impossible to close paving stones. In that case, she won't hold on.
Pro Tips
When purchasing paving slabs, it is necessary to provide for possible waste that is inevitable when cutting. It is worth buying a little more so that you do not have to look for identical material later.
Too bright paving stone does not indicate its quality. The abundance of pigment can adversely affect the strength of the material.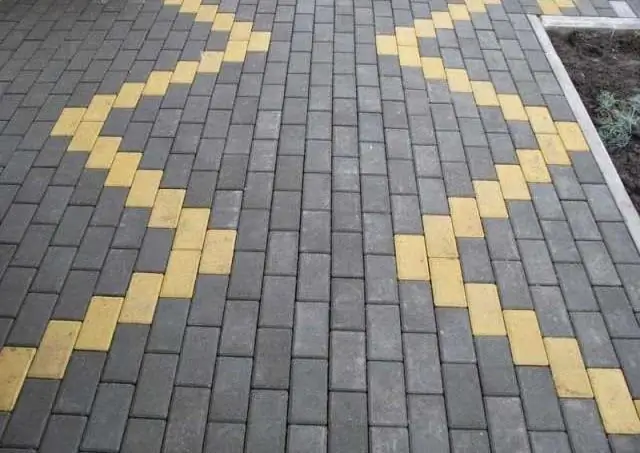 It is not always possible to cut tiles evenly and clearly. To make the cut neat, it is cut with a grinder, and then split. It is not recommended to cut it completely, as it takes too much time.
Preparing the ground forpaving depends on how the paving stone will be used. For the passage of people, you can lay tiles on a dry mix. A reinforced concrete base is being prepared for the passage of cars.
The choice of tile thickness also depends on the tasks that it will perform. For footpaths, paving stones 4 centimeters thick are sufficient. Bicycling requires tiles at least 6 centimeters thick. For cars, paving stones of 8 cm are required, and for trucks - 10 cm.
Proper laying of paving slabs is not as difficult as it seems. The main thing is to carefully prepare the base and carefully complete all the paving work.