A heating radiator for an apartment is a design that allows you to ensure the optimal flow of heat transfer from the carrier to the environment. These elements are assigned the task of space heating by transforming up to 90 percent of the total heat generated from boilers with different types of fuel. The first sectional heaters were cast iron. This material has good strength parameters and is little susceptible to temperature changes. Such systems had many disadvantages, ranging from heavy weight to flaws as a result of casting. Factory and current defects reduced the efficiency of fixtures and their rapid deformation.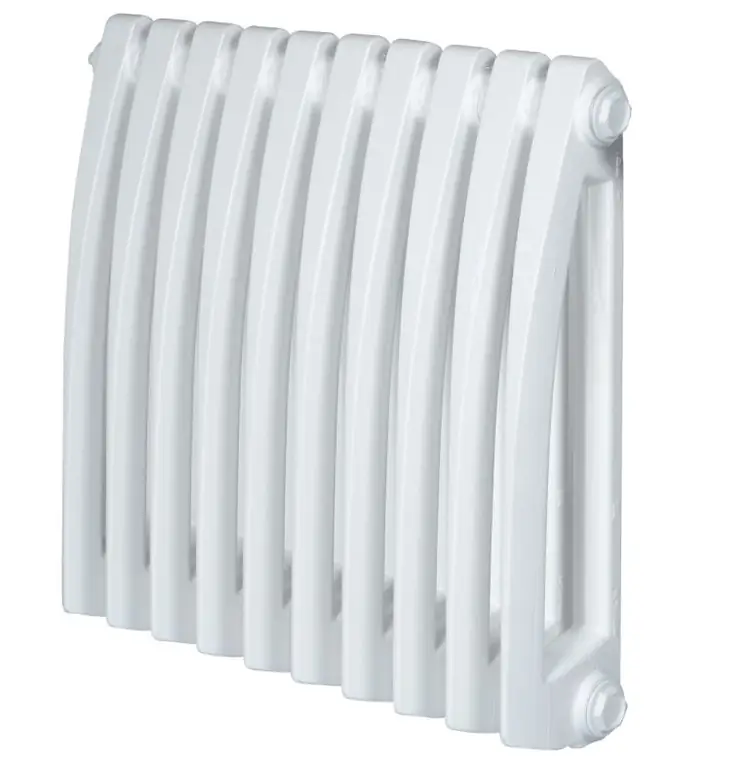 Selection criteria
In the modern market, heating radiators for an apartment are made of several types of materials. In addition to cast iron, these can be:
Aluminum structures, ranked as the most efficient type in terms of energy use, with a high degree of resistance to corrosion, coolant characteristics,having a small mass.
Bi-metal models also have high heat dissipation, light weight and high strength, resistant to chemical refrigerants.
Steel versions are made in panel design, have an average energy efficiency, are subject to corrosive processes due to exposure to water.
Which heating radiators for an apartment to choose? People who know the basic properties and features of existing materials have no problems with the choice of designs. When buying and installing, you should take into account the emergence of new modifications, the existing type of connection and pricing policy. In addition, pay attention to the recommendations of experts and user reviews. Below is a brief description of several popular modifications, which will help beginners and those who want to upgrade existing heating units to make a choice.
Rating of the best bimetal heating radiators for an apartment
The top three in this segment include the following versions:
Rifar Monolit. Working pressure - 100 bar, manufacturer - Russia, optimal ratio of "price / quality" parameters, cost - from 5 thousand rubles.
Global Style. The country of manufacture is Italy, it is distinguished by high build quality, is in demand among consumers, the estimated price is from 6.4 thousand rubles.
Sira RS. Excellent heat dissipation, low noise level, manufacturer - Italy, price - from 5.7 thousand rubles.
RIFAR MONOLIT 500
The main advantage of this apartment heating radiatoris an affordable cost compared to analogues with identical characteristics. The maximum heat transfer reaches 2.74 kW, which is enough to heat rooms up to 29 square meters in size. The advantage of the device is also considered its ability to operate at pressures up to 100 bar, which eliminates possible water hammer while maintaining performance over a long period.
In the responses about this model, a positive can be traced regarding the long-term warranty from the manufacturer (25 years). The company is sensitive to the control of all stages of production and values ​​its reputation. Other advantages include a working temperature of 135 degrees, a beautiful appearance, a volume of 210 milliliters of liquid per section, which allows the system to work normally.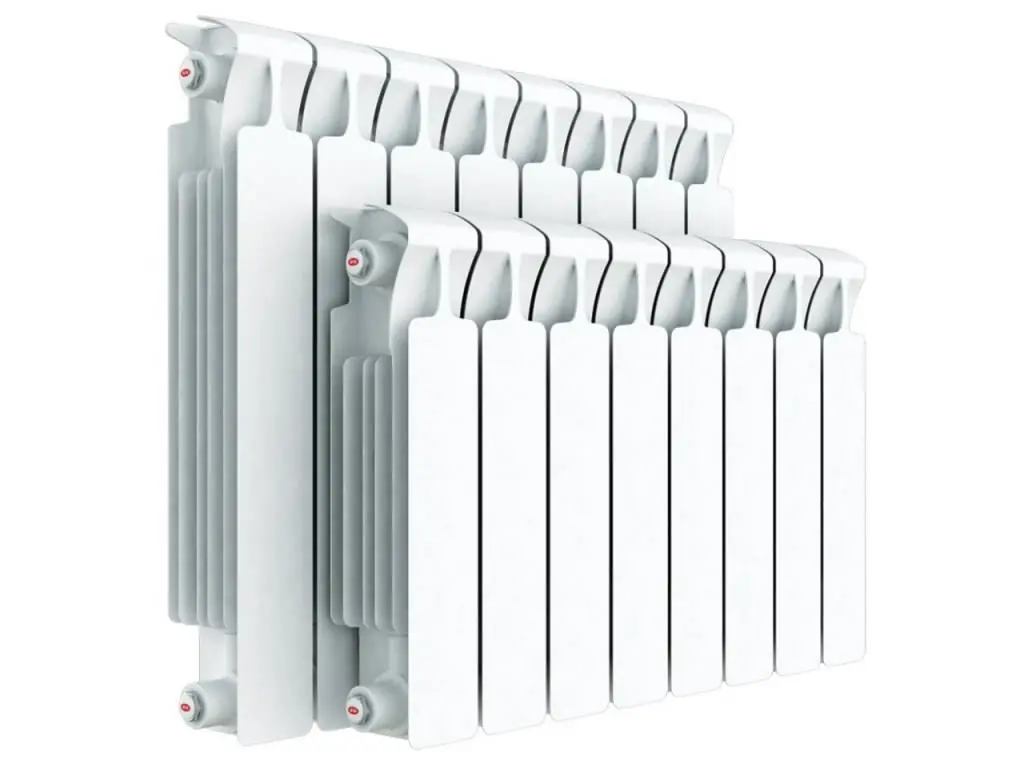 GLOBAL STYLE PLUS 500
This version made it to the list of the best heating radiators for an apartment due to its balanced performance and their perfect combination with the asking price. The product also has a 25-year manufacturer's warranty, which clearly confirms the reliability and practicality of the product.
Users note that in the standard assembly, the model is capable of emitting about 2.28 kW of heat to the environment, sufficient to heat an area of ​​37 square meters. The temperature limit of the refrigerant is 110 degrees, the allowable pressure is up to 35 bar. Due to the design features, experts recommend these modifications to operateexclusively in central heating units.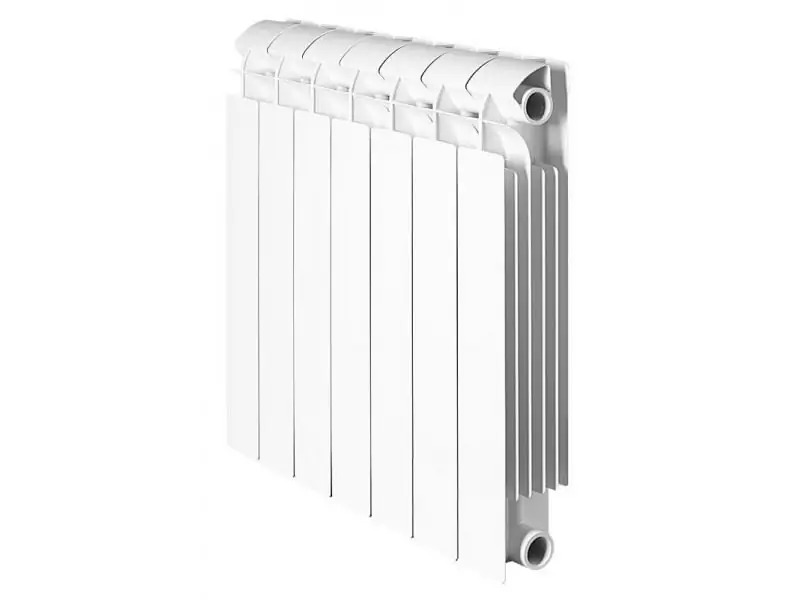 SIRA RS BIMETAL 500
A high-quality heating radiator for an apartment made of bimetal has a heat output of 201 watts. This feature is due to a successful structural configuration, in the assembly the system is able to heat up to 40 "squares".
Among the advantages of this option, consumers note the following points:
beautiful design;
good corrosion protection by powder coating;
operational reliability.
Withstanding pressure of 40 bar allows you to mount the sections, both in a centralized system and in heating units for private houses. Among the minuses, the sensitivity of the body to the composition of the working fluid is distinguished. Otherwise, this version is almost perfect in every way.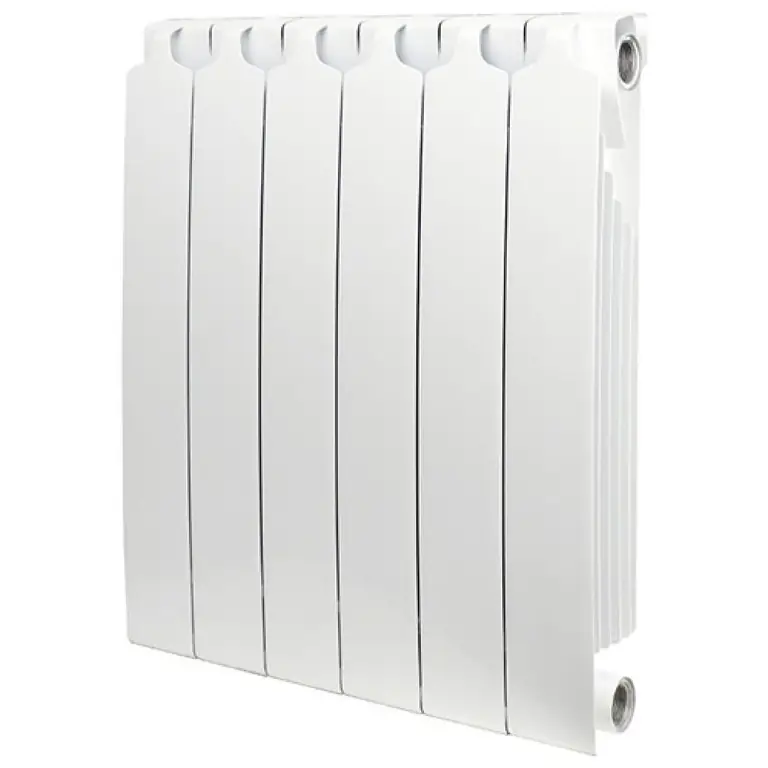 Aluminum heating radiators for apartments: rating
Heating systems made of this metal are resistant to corrosive processes, the minimum service life reaches 15 years. Such variations are considered the most popular in the domestic market. Heating radiators for apartments made of aluminum are light, have a beautiful exterior, but do not withstand such high pressure and are more sensitive to the composition of the heat carrier.
The top three brands include:
Royal Thermo. It has increased heat dissipation, the manufacturer is Italy, the cost is from 4 thousand rubles.
Rifar Alum. Capable of operating at temperatures up to135 degrees, country of origin - Russia, price - from 2.5 thousand rubles.
"Thermal RAP". The Russian model has a working pressure of 24 bar, is sold at a price of 3.2 thousand rubles.
ROYAL THERMO REVOLUTION 500
If you have not yet decided which heating radiators are better to install in the apartment, pay attention to the indicated modification. The design of this heater is unique in that it allows you to maximize the efficiency of heat transfer at minimal cost. Each section of the radiator has the ability to transform up to 181 W of heat into the environment. In a single design, this parameter can reach as much as 4 kW. This ability is enough to heat spacious rooms, the area of ​​​​which exceeds 50 square meters.
Other advantages of the equipment in question, the owners include:
high-quality body painting;
interesting design;
ease of maintenance and operation.
Among the disadvantages - the maximum working pressure does not exceed 20 bar, which reduces the possibility of using these devices in individual heating units. At the same time, the installation of the structure is carried out through the common ½-inch diameter standard.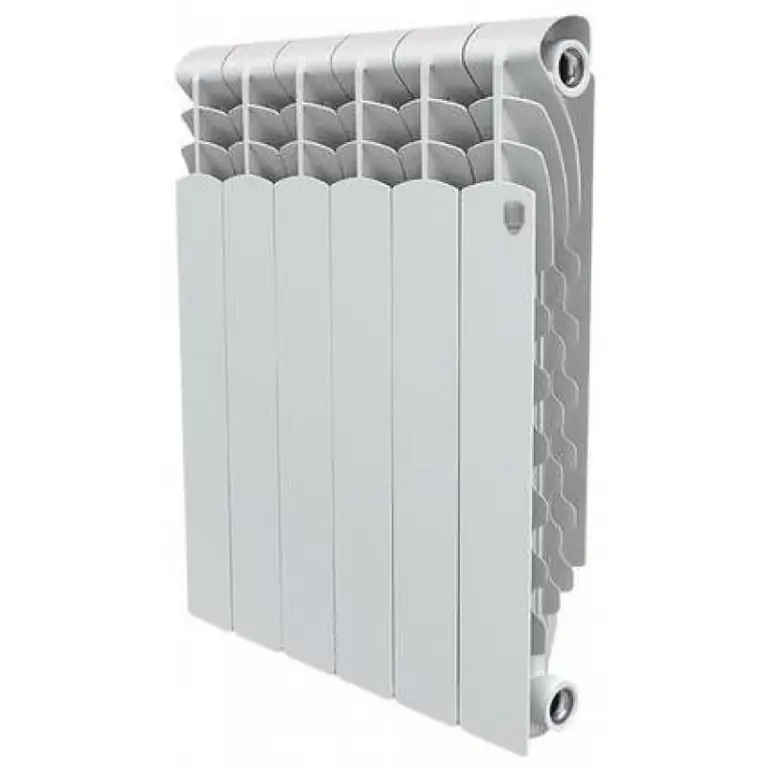 RIFAR ALUM 500
Many users, when asked which heating radiators to install in the apartment, unequivocally answer: Rifar. The model has excellent performance parameters, although it is not very cheap. The heater is designed for aggregation withrefrigerant temperature up to 135 degrees, pressure up to 20 bar. This combination of characteristics is optimally suited for installation in a centralized heating system.
In terms of heat transfer, the equipment in question is practically not inferior to its competitors, giving up to 183 watts of heat into the surrounding atmosphere. In an assembly of 14-16 sections, the radiator is able to effectively process an area of ​​26 "squares". It is worth noting that the minimum amount of fluid required for the normal operation of devices is 270 milliliters. In addition to a slightly underestimated efficiency, this design does not cause any particular complaints from users. They note the reliability, practicality and compactness of the equipment.
Thermal RAP-500
Unlike vertical heating radiators for an apartment and foreign horizontal variations, domestic products have a price much lower. At the same time, the models are not inferior in terms of performance. The main advantage of this heater is an increased specific heat output of a separate section (252 W). The assembled structure can effectively heat a room up to 50 square meters in size.
Despite the rather impressive parameters, consumers find a number of significant shortcomings in the radiator under consideration. Among them - poorly thought out design and not quite high-quality assembly. At the same time, the unit withstands a pressure of 60 bar and is able to work both in private and in public heating units.
Steel modifications
Similar designs are usually used in small cottages and apartment buildingsbuildings. The main advantages of this equipment are low price and a large assortment due to well-established manufacturing. In addition to this, steel versions require less thermal media and take up minimal space. At the same time, their heat output is lower than that of competitors from other materials.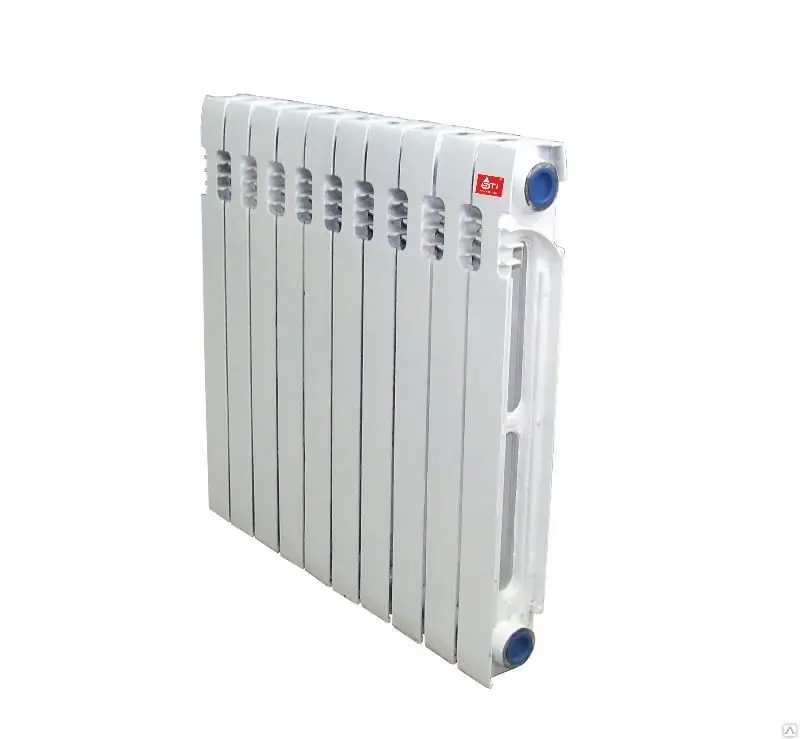 Which steel radiators are better for an apartment, consider further:
Purmo Compact. Manufacturer - Finland. One of the highest heat transfer parameters (5.57 kW). Cost - from 7.3 thousand rubles.
Buderus. Beautiful design, operating temperature - up to 120 degrees, manufacturer - Germany, price - from 4.7 thousand rubles.
Kermi FKO. An excellent combination of quality and price from a German manufacturer. Estimated price - from 4.5 thousand rubles.
PURMO COMPACT 22 500
The characteristics of this heater are comparable to those of other representatives of this segment. The differences mainly lie in the pricing policy and the nuances of design.
The following are the characteristics of the equipment in question:
section overall dimensions – 50/10, 2 cm;
pressure indicators (working / pressure testing) - 10/13 bar;
refrigerant temperature - 110 degrees Celsius;
thermal efficiency - 5.57 kW;
heated area - up to 50 sq.m.
BUDERUS LOGATREND K-PROFIL 22 500
These heating panels have the same dimensions as the previous version. Whereinthe equipment is much cheaper, operates at a maximum pressure of up to 10 bar. In the working configuration of the product, a coolant with a temperature of up to 120 degrees can circulate.
KERMI FKO 11 500
A panel heater can be called the most budgetary solution to the issue of arranging a heating system from metal elements. Despite the low price, the device has a very good energy efficiency parameter. The area of ​​the served room is up to 35 "squares", the dimensions are from 40 to 300 centimeters in length, the heat output is from 460 to 3440 W.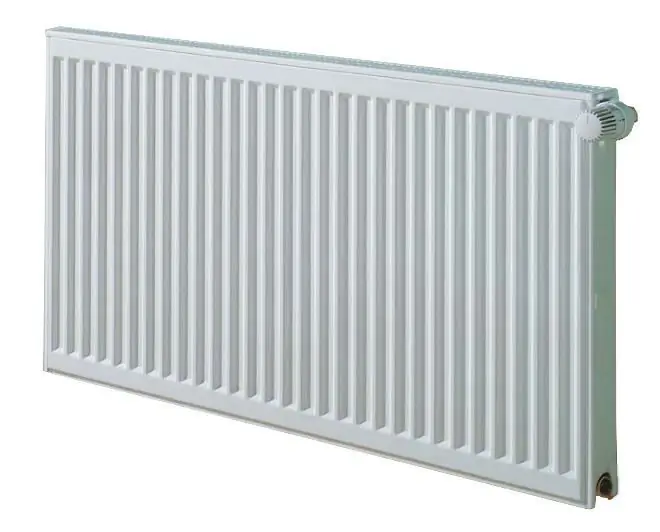 The longest panel of the indicated brand requires 8.1 liters of heat transfer fluid to use all rated capabilities. The maximum working pressure is 10 bar, which makes it possible to withstand water hammer in the system. The advantages of "Kermi" reviews include an interesting and attractive design, as well as a high-quality coating of the case.