Designers claim that a living room can be stylish and original when used in its design of a variety of colors. Despite this, the vast majority of apartment and house owners believe that a living room in beige tones is the most comfortable. Why? We will try to answer this question in this article.
Beige color features
This is the most neutral color. It does not irritate, does not bother, does not hurt the eyes. Usually it is used as a base. Against such a neutral background, both calm pastel colors and rich, bright colors look great. Versatility is the quality that so attracts beige. With it, you can create a bright interior, and monochrome.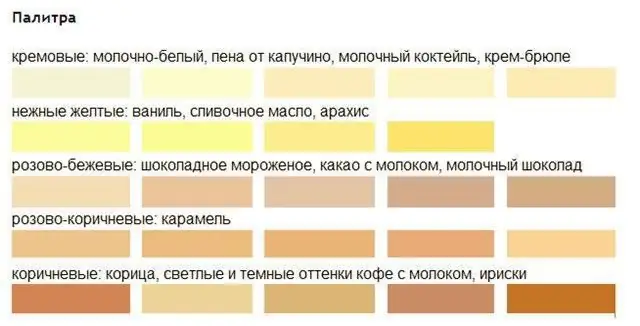 As a rule, the interior of the living room in beige tones is associated with we alth and luxury, it never goes out of style. In addition, such an interior is combined with absolutely any style - from pop art to classics. If the homeowners suddenly get bored with the familiar environment, then you can change it at any time,adding new accessories and bright color.
Combination of beige with other colors
Experts conditionally divide combinations with beige into three categories.
This is a classic, which includes shades close to beige: dark and light brown, white, sand, caramel, etc. This interior is exquisitely elegant.
Natural, which is complemented by shades often found in nature. It can be blue, gray, green, turquoise, pink.
Contrasting allows you to use catchy and bright colors in combination with beige - blue, black, purple, red, orange. Great solution for modern designs.
Living room in beige tones in a classic style
Strict and eternally young classics perfectly combine with neutral colors. At the same time, conciseness, simplicity, and symmetry must be observed. If the walls are wallpapered or plastered in light shades of beige, then the floors are best done in dark brown. The same rule applies to furniture (dark body and light upholstery) and accessories.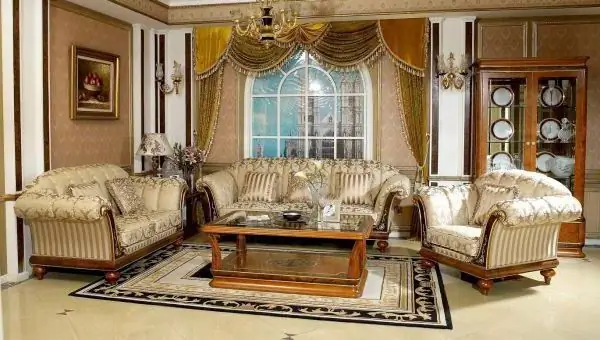 Classic style allows slight variations in shades, but the number of applied tones is usually limited. For example, it is better to decorate walls in one color without transitions.
Country style
Probably, many people know that this style is close to everything natural. Beige, with its many shades, evenly fills country-style interiors. They can be in the background finish, and in variousaccents. If you prefer dark furniture, then it is better to decorate the walls with wallpaper in light beige tones.
Do not forget that in this style it is important to emphasize the use of natural materials: stone, wood, dried flowers, etc.
Minimalism
This style is becoming more and more popular every year. It looks equally impressive both in very small rooms and in spacious rooms. In addition, this style is suitable for the design of studio apartments. In such a room, the kitchen-living room in beige tones looks original and stylish.
For owners of small apartments, the combination of beige and minimalism is undoubtedly the best option. The beige color will visually expand the space, and the rules of this style will force the owners to abandon unnecessary furniture and accessories. To end up with a not too boring living room design in beige tones, introduce an additional bright color. By placing the right accents, you can succeed.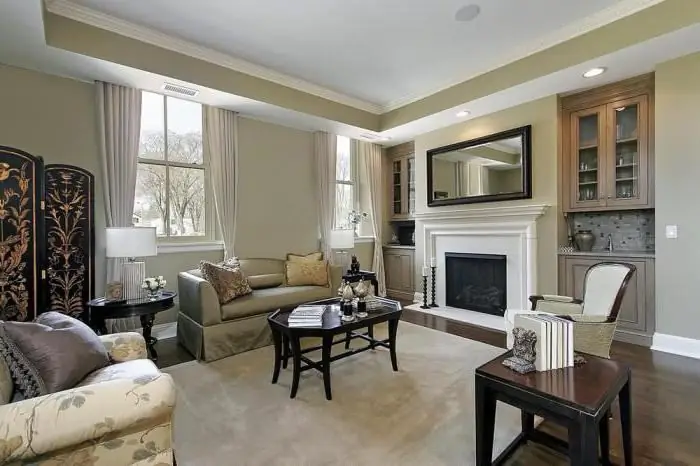 Modern
Beige Art Nouveau living room is the epitome of comfort and coziness. The soft and calm beige color creates an excellent background against which bright accents look original. It can be curtains or numerous cushions. Textiles are recommended to be used with floral patterns. Its variegation will be "calmed" by the basic beige.
Patterns and ornaments, original solutions and smooth lines - all this is modern style. The beige color in the interior of the living room will emphasize the beauty and individuality of the project.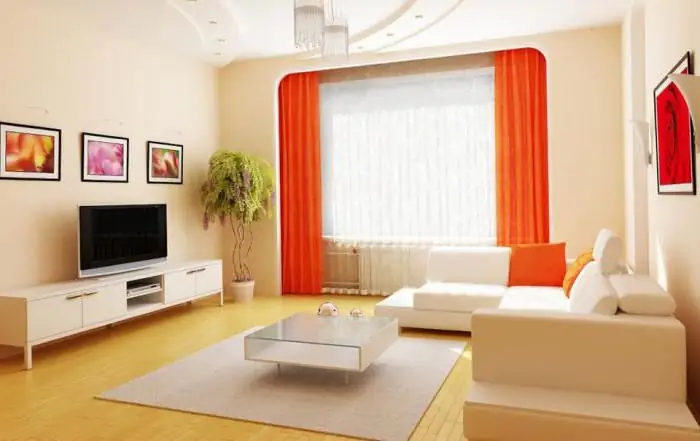 Provence
Serene and cozy Provence in an instant will take you from the bustling metropolis to the French village. The beige living room in this style features pastel tones and simple, straight lines that allow you to create a cozy interior. Since the use of natural materials is recommended for Provence, soft beige is considered one of the main ones. Meanwhile, in this style, white often becomes the background, with which beige makes an excellent combination.
Beige Living Rooms: General Requirements
Respectable beige that inspires calmness always looks great in the interior of a living room of any style. It has a good rest, open communication and peace. You can decorate the room both in monochrome and with the use of various colors. In the first case, several shades of beige are used. They are responsible for various details and levels of the interior (for example, a darker floor and a lighter ceiling). As a rule, the walls are left plain. For decoration, you can use wallpaper (including for painting), plaster, but a combination of different colors in such a living room is not recommended.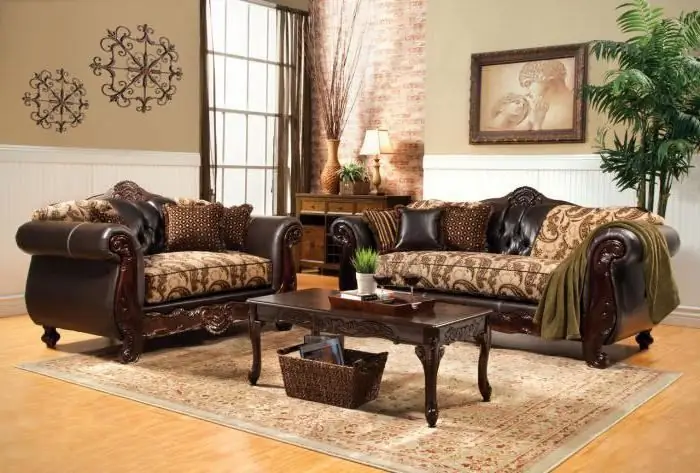 If you think that a monochromatic solution is too boring, use wallpaper with a discreet (geometric or floral) pattern.
Designers know another way to refresh the interior: use two shades of beige on one wall at once. In this case, the upper part is left light, and the lowerdecorated with a dark shade. This is a classic option that has been used by designers around the world for many years.
Ceiling
A white ceiling will help to complement the calm design of the walls. If the room is well lit with natural light, it may seem too bright. In this case, it is better to use a pearl or milky color. If your room is not too large, but its height allows, we recommend that you pay attention to glossy stretch ceilings. They will reflect the light and visually enlarge the room.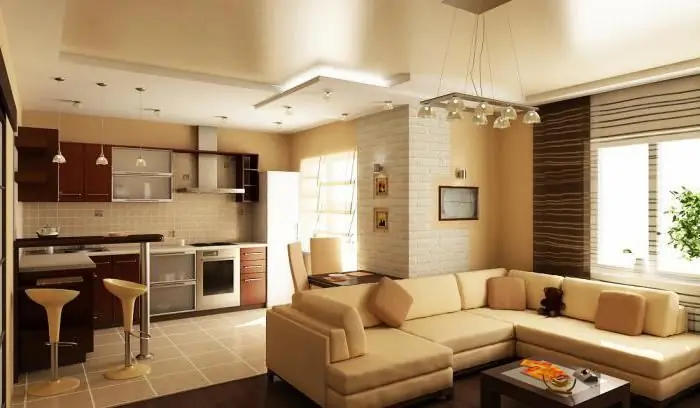 Gender
Decoration of the floor largely depends on the style you choose. But if you want a beige living room to be light and open, devoid of borders, opt for a light-colored floor. Carpet or laminate will look attractive and cozy.
If you need to create a contrast, you should make the floor dark. Dark brown or dark chocolate is best, but not black. If the border is too sharp, then you can soften it by using a small light mat.
Curtains and curtains
A living room in beige tones (you can see the photo in this article) will look calm and restrained, if you use curtains of delicate and light shades of beige, they should be several tones darker than the curtains. This window design looks natural and harmonious.
But sometimes you can experiment with beige color combinations in the interior. For example, blue curtains will become one of the main accents of the composition andattract attention.
Furniture
Cozy and low sets, which consist of a pair of armchairs and a sofa, look great in a beige interior. In addition, a comfortable corner sofa looks good in such an interior, which can accommodate both homeowners and their guests. If there are no other bright colors in the interior, then a salad or pink sofa will look very original.
If you have already applied a complementary color, then give preference to furniture in neutral tones.
Accessories
The use of accessories is an opportunity to transform the interior very quickly. As soon as you feel that the living room begins to bother you, change the rug and bedspread, pillow covers. The interior will instantly get a new sound.
Beige Brown Classic
Beige-brown living room is very popular. According to statistics, beige wallpaper is the best-selling wallpaper in the world. Light beige ceiling, brown carpet, chocolate-colored curtains can be combined with bright-colored furniture, accessories of different styles, modern appliances.
Features of the combination
Light tones contrasting with brown visually enlarge the room. Beige color refreshes a dark room. The combination of brown and beige colors will make the interior original and cozy.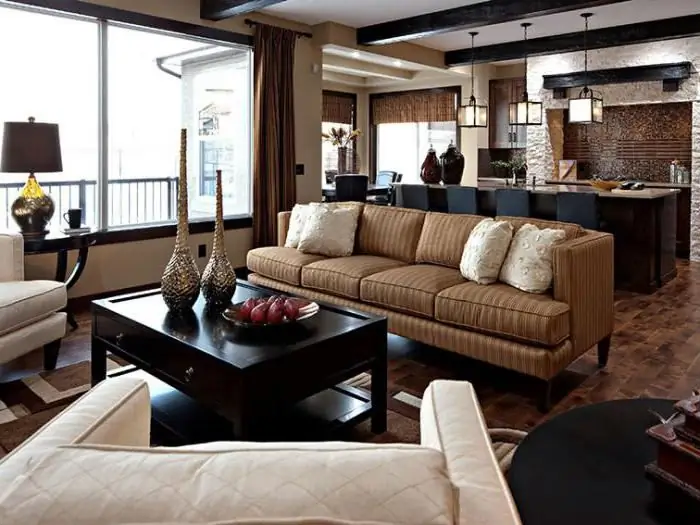 The advantage of interior design in these colors is that they can be used in rooms of any size and shape. This combination is especially suitable fornarrow rooms with low ceilings. Beige-brown tones can be used to decorate interiors in any style: empire and classic, country and provence, minimalism.
The interior in beige and brown looks presentable and moderately luxurious. The combination of these colors allows you to hide some of the flaws in the overall design.
Living room in gray-beige tones
There is a stereotype that the gray color in the interior looks plain and dull. But not everyone thinks that it is an ideal basis for various color schemes, it hides the flaws of the room well, and when used correctly, it looks noble and stylish.
If you prefer a more calm and natural environment, then choose very light shades of beige and gray (gray-blue and cream-beige). They look great in combination with stone, wood, any indoor plants.