Adolescence is a very difficult time for both children and parents. A teenager is looking for "his place", trying new hobbies, and his tastes are constantly changing. Because of this, the arrangement and design of a beautiful room interior for a teenager is difficult. It is necessary to functionally organize the space, take into account the preferences of the owner of the room and meet the budget. In this material, we will talk about the design features of a beautiful room for a teenager, the secrets of space zoning, the choice of lighting, furniture, decor and stylistic solutions.
Features
Adolescence is the time of the formation of the child's personality. The desire to feel freedom and show a rebellious spirit is felt especially acutely at this age. That is why, in the matter of designing personal space, it is important to take into account the wishes of the child and, gently guiding him, come tocompromise. You need to respect the choice of a teenager, so you show that you love and trust him.
The child should be comfortable in his room. It should have enough space for study, and for recreation, and for gatherings with friends, and for hobbies. Multifunctional and transforming furniture, proper lighting and competent zoning will help to make the space lighter and more open. A teenager's room should combine beauty and functionality.
Finish
Designing a beautiful room for a teenager begins with the choice of materials for decoration. The main requirement is safety and environmental friendliness. The second requirement is practicality. Teenagers are "yesterday's" children, and accuracy is not their strongest feature. Surfaces must be durable and easy to clean.
Laminate or linoleum is the best choice for finishing the floor. In the guest area and by the bed, you can lay a small rug. It is better to refuse carpet: it is difficult to completely remove dust, and accidentally spilled juice or paint will leave an indelible stain.
In wall decoration, preference should be given to wallpaper for painting. This is the most practical option. They can be easily repainted if you don't like the color. In addition, most contaminants are easily removed from them. Do not choose a finish that is too expensive, it should be the background and easily adapt to the changing tastes of a teenager.
When finishing the ceiling, you can use modern suspended structures: plasterboard and stretch ceilings. They aresafe, do not emit harmful substances, allow you to hide communications, install recessed lighting and decorative lighting.
Zoning
In a functional and beautiful room for a teenager, it is necessary to allocate an area for study, relaxation, receiving guests and hobbies. If the area does not allow, the zones can be combined, however, it is necessary to leave enough free space so that the room does not seem cluttered and does not put pressure on the child.
Functional zones are distinguished with the help of decoration, lighting, furniture, partitions. The guest corner can be emphasized with a fluffy carpet and a pair of pouffes; for the bedroom, use textile partitions.
It is better to organize the working area near the window. At the same time, it is important to consider which hand the child writes, and depending on this, position the table.
An interesting technique is zoning with podiums of different heights. Upstairs, you can place a study corner or a guest area, and the bed will slide out from under the podium.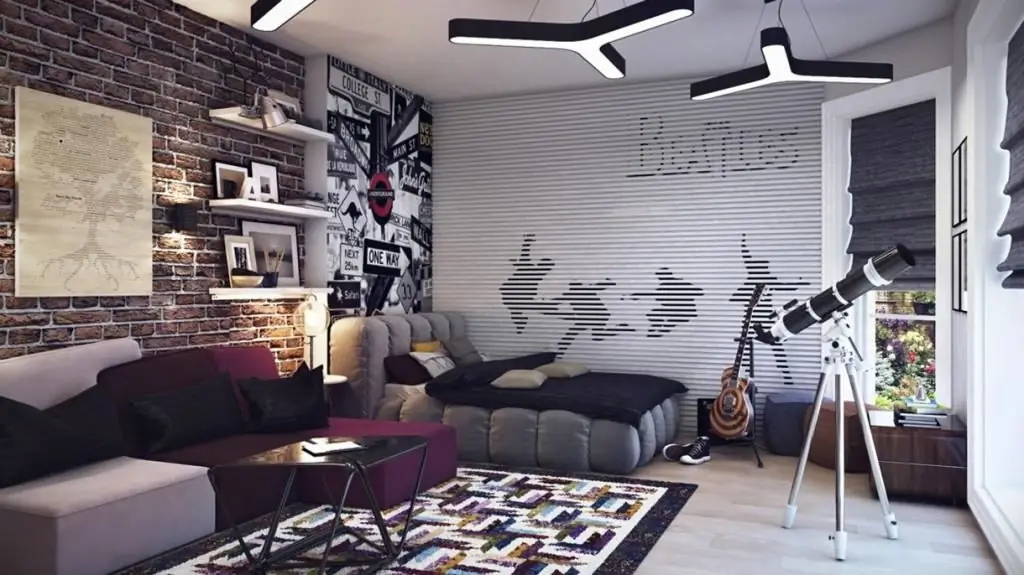 If the area of ​​the room allows, it is necessary to place a hobby area: a wall bars or a simulator for children who are fond of sports, a large TV for video game lovers, a mirror and a machine for those who are fond of dancing, an easel for an artist, a musical instrument, etc..
In a teenager's room there should be a place to store clothes, school supplies, sports equipment.
Color solution
The color scheme of a beautiful room for a teenager depends primarily on personalpreferences of the future owner. However, it is necessary to take into account the area, illumination and side of the world, which the windows face. If your child likes dark purple or black colors and the room is small, you can compromise and make one wall or ceiling dark, and paint the rest of the surfaces white or beige.
It is better if the room decoration is done in neutral shades: white, creamy, beige, gray. They go well with other colors and will be a good backdrop for a bright decor. Textiles and accessories are easier to replace if the color doesn't like it, and you don't have to do repairs.
For bright sunny rooms, cold shades are suitable: blue, mint, violet, white, gray. They will refresh the room and make it lighter. In rooms with low natural light, it is better to focus on beige, pink, peach shades. They will make the room warmer and cozier.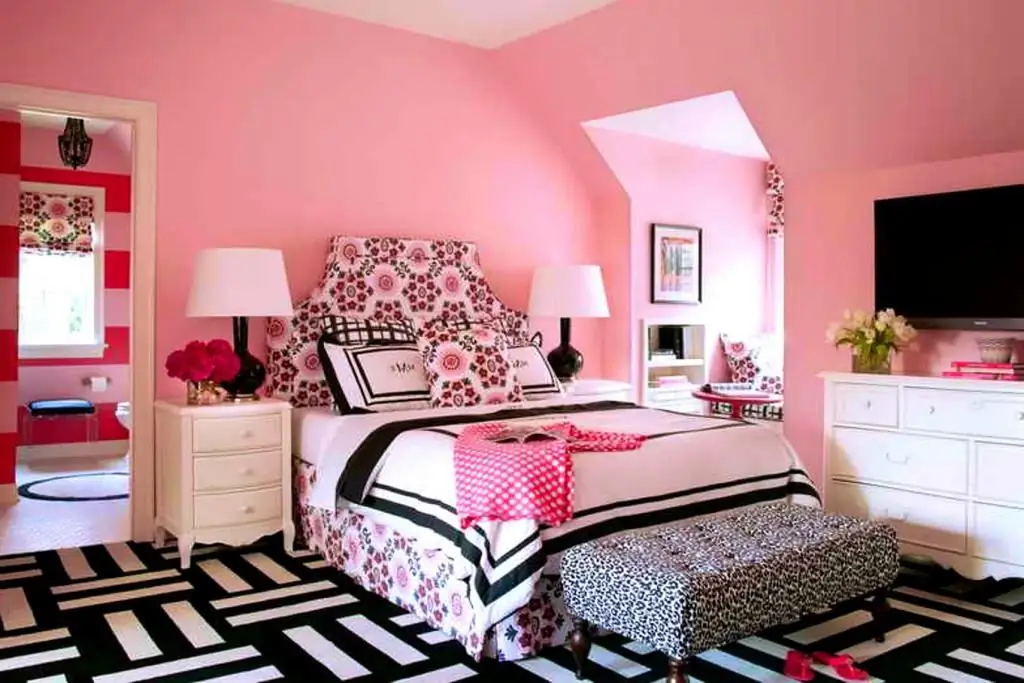 To organize a harmonious space, designers recommend using no more than 3-4 colors in the proportion of 60-30-10. You can complement a neutral background tone with any bright shade. In this matter, you can trust the teenager himself. However, it is worth considering the psychological impact of color on the emotional state of the child. So, turquoise and purple contribute to the development of creativity, red excites and stimulates communication skills, orange and yellow charge with positive, and green helps to focus.
If dark shades were used in the design of the room, a specialpay attention to lighting.
Lighting
Lighting in a teenager's room should be installed in general, as well as in functional areas. As the first, a chandelier corresponding to the chosen style direction, or a group of spotlights is suitable.
Wall sconces can be placed in the sleeping area. Models with a reading lamp are well suited. She will save the eyes of a teenager from overexertion when reading in bed. For the workplace, you need a high-quality table lamp with a flexible leg. It must be made of durable safe plastic or metal. For a table lamp, it is preferable to choose LED lamps. They emit a bright light flux, do not flicker and do not heat up. Thanks to this, the child will not get burned by accidentally hitting her with his hand. And if the lamp breaks, it will not cause harm, as it does not contain hazardous substances. In the recreation and reception area, you can use a cascading chandelier, spotlights, recessed and wall lamps. The main criterion is safety. Children should not be injured by accidentally hitting them while playing.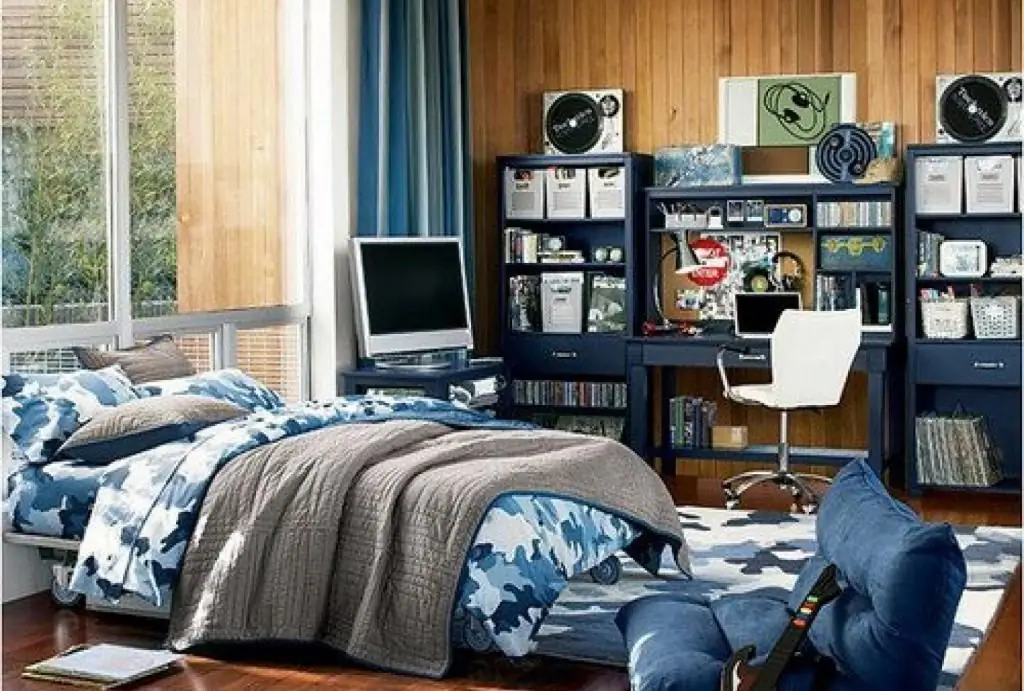 Decorative lighting is one of the answers to the question of how to beautifully decorate a teenager's room. Light decor can be used to illuminate the ceiling, shelves with little things dear to the heart and achievements in the form of diplomas and cups, as well as the space under the furniture. A cute and cozy LED string with clothespins, which can be used for photos, drawings and other small things.
Furniture
Furniture in a teenager's room should be durable and functional. It is better to give preference to simple shapes and neutral colors. The absence of carvings and complex decor will simplify cleaning. Furniture to match the finish will make it more inconspicuous, this is especially important for the storage system. In addition, merging with the walls, it will draw attention to accessories and decor. A good solution for a beautiful room for both a teenage girl and a boy would be a modular system. Such furniture is made in a single style, and modularity allows you to combine elements depending on the area and configuration of the room, as well as current needs.
In the work area, a spacious table is required so that a computer can fit on it and there is enough space for classes. It is better to choose a chair with height adjustment. You also need a cabinet for storing stationery and small things, as well as shelves for textbooks. If the child is fond of reading, the study area can be combined with a hobby corner. It is important that it has good natural light. The child will like a soft bench with pillows by the window, and below you can place a storage system. A bookcase and display of achievements is welcome.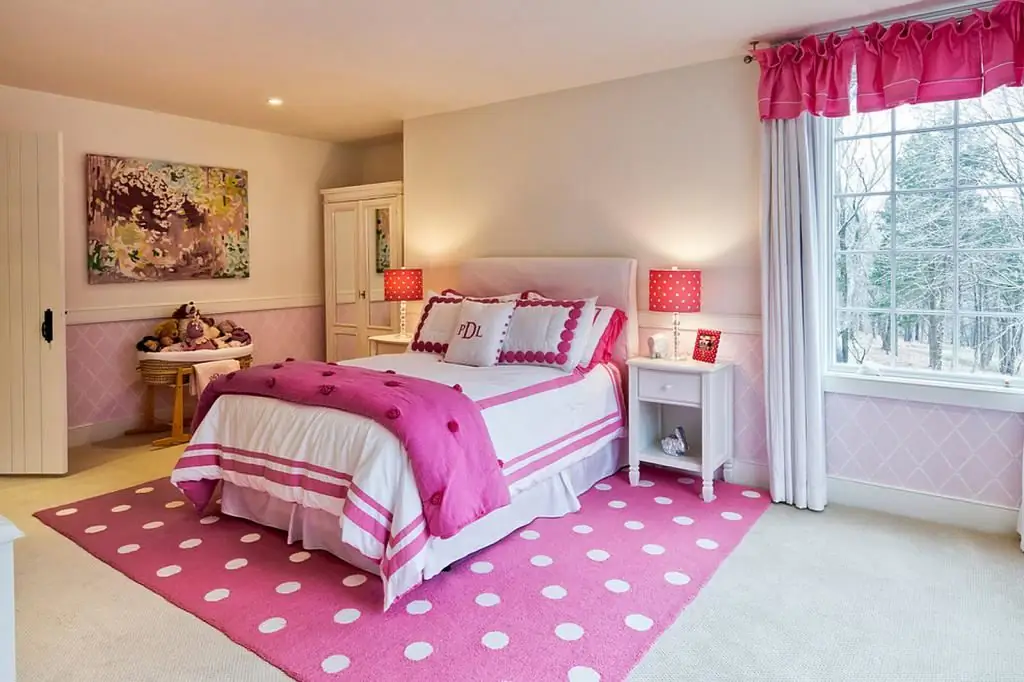 In the sleeping area, the main element is the bed. For both a teenage boy and a girl, it is better to choose a full-fledged "adult" bed. An obligatory element is a high-quality orthopedic mattress, because it is at this age that the child's skeleton is growing rapidly. If space is limited, considerversion of the loft-type bed, below you can place a work area or wardrobe. Another option is to use an ottoman as a bed.
In the guest area you can place a small sofa and a couple of poufs. If space is limited, you can stock up on a few floor cushions and only take them out when needed.
Beautiful room for a teenage girl
The girl's room will be somewhat different from the boy's room. Girls, as a rule, have more clothes and accessories, so the wardrobe will need a spacious one. A beautiful room design for a teenage girl is not complete without a large mirror. A psyche mirror will look stylish and original, and if there is not enough space, you can make the doors of the wardrobe mirrored or fix the piece of furniture on the door.
A bed in a room for a girl of 15 years old can be decorated with a canopy. This is especially true if the space is shared by sisters. Own isolated corner is very important at this age. If space permits, it is worth installing a dressing table. It is better to place it near a window or provide good artificial lighting.
Furniture for a beautiful room of a teenage girl should combine practicality and elegance. The design in a classic style with light furniture looks very attractive. You can add zest to the interior with the help of bright pillows, an original rug, stylish curtains. The main thing is that the young girl likes this design and feels comfortable in her room. Don't force your ideas on teenagers.beautiful.
Room for a boy
Boys have a slightly different perception of their room than girls. For them, the practical component comes to the fore. Convenience, functionality and space are the main criteria when decorating a room for a teenager. The emphasis in the design should be on hobbies: sports, music, travel, etc.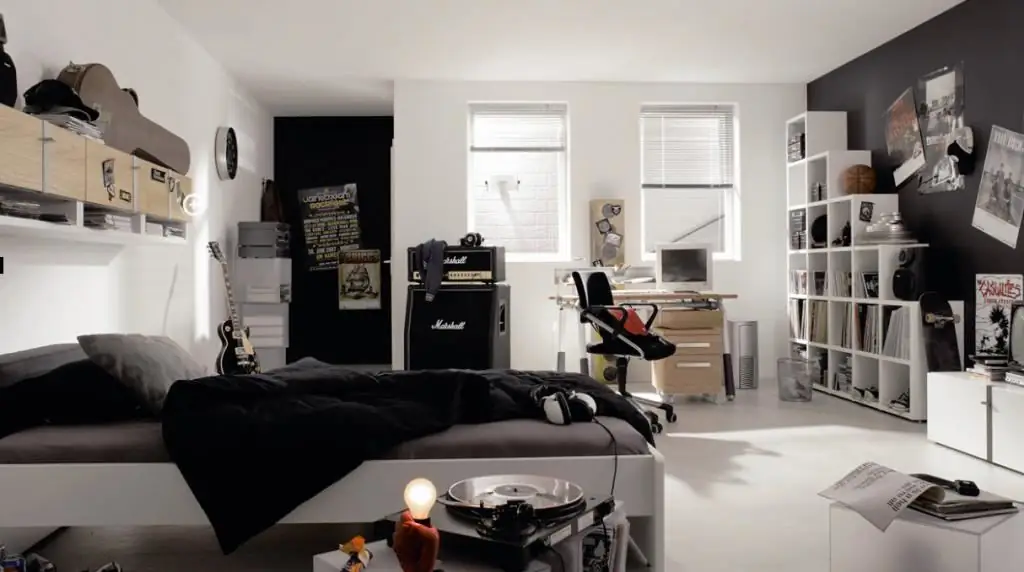 Young men gain height very quickly, so a bed for a teenage boy should be chosen with a margin in length. It is worth allocating space for a sports simulator, as well as for storing a skateboard or guitar. Teenagers really like contrasting color combinations, but parents should keep in mind that the design should dampen youthful aggressiveness, and not feed it. Poster décor will look better against a neutral background.
Style
For a teenager's room, such a modern trend as contemporary is best suited. The style combines neutrality, simplicity and functionality. It fits perfectly with any decor.
In the girl's room, modern, boho, provence, shabby chic will also be appropriate. Boho style will suit creative natures. Drawings and the first crafts will organically fit into such an interior, and Provence will suit romantic young ladies.
The Scandinavian direction and loft will look great in the young man's room.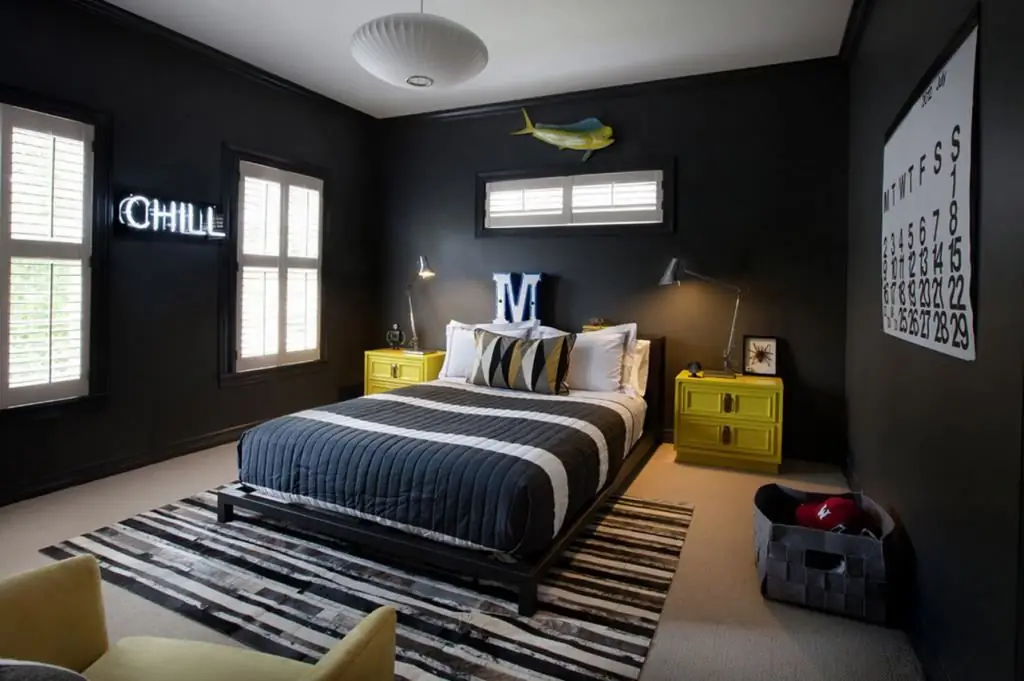 Conclusion
A teenager's room should combine comfort, functionality and beauty. Finishes and furniture are betterchoose neutral shades, and focus on textiles and accessories. Teenage nature is changeable, so when changing preferences and hobbies, it will be easy to change the design by decorating the room with new curtains, pillows and decor.