Underfloor heating is a comfort system that provides floor heating in any living space. They can be presented in different forms, but in any case, they are located under the finishing floor covering. They heat the floor, so it is important to choose the right coating that will cope well with high temperatures. Underfloor heating can be laminate, parquet or tile. Additionally, you can choose other coatings, but they must withstand increased loads well.
The concept of a warm floor
The warm floor is represented by a special floor heating system. It is laid directly on the concrete screed, after which it is again poured with concrete. Only after this is the final coating laid.
Flooring on a warm floor can be presented in different forms, but the most commonly chosen is laminate or tile.
Types of underfloor heating
The warm floor is presented in several forms:
Water system. It involves the use of small pipes, whichlaid on the entire surface of the floor. They can be connected to heating or hot water supply. It can be formed exclusively in a private house, as other types of system are selected for an apartment.
Electric. It consists in laying an electrical cable in the room. This option is considered easy to create, but expensive to operate, as you have to spend a lot of money on paying for electricity.
Infrared. It is considered the most economical, convenient and in demand. Installing infrared film does not require much time and effort, and there is no need to form a cement screed on top, which is considered important for rooms with low ceilings.
Regardless of which underfloor heating system is chosen by the owner of the premises, he must figure out which underfloor heating can be installed. It must be able to handle high temperatures easily, otherwise the material will deteriorate quickly.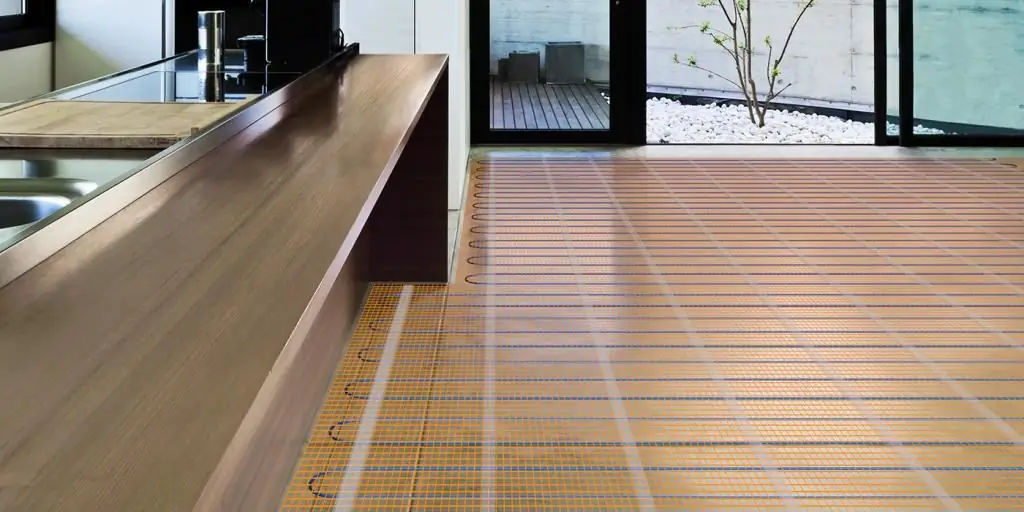 Coating thermal conductivity
Covering for underfloor heating in the house should have an optimal thermal conductivity. This is due to the fact that only in this case the heating system will be effective. The material from which the coating is made must conduct heat well.
Tile is considered to be the most thermally conductive, so it is most often laid on top of a warm floor. Additionally, porcelain stoneware is often chosen.
Many manufacturing companies produce a laminate that has the desired indicatorthermal conductivity and high temperature resistance. Therefore, it makes a good floor covering for underfloor heating.
Which materials are not suitable?
Initially, you should decide on materials that are not considered suitable for continuous heating. Underfloor heating should not be made from the following materials:
PVC or vinyl tiles. These materials have a high coefficient of linear expansion. Therefore, when the temperature rises, they begin to swell. Once the floor has cooled, unsightly gaps may remain between the individual tiles.
Cheap laminate. It is made from low-quality materials, and inexpensive glue is used during its creation. Therefore, such material will not cope with constant heating. It will crack quickly, and large gaps will also form between the planks. In this case, repairs will not work, so you will have to create a completely new coating.
Linoleum. Relatively recently, it was completely prohibited for use over the underfloor heating system. This is due to the fact that many types of linoleum are created using chemical components that release harmful substances into the air during heating. Therefore, the use of such material is strictly prohibited over the floor heating structure.
Parquet or parquet board. These materials have poor thermal conductivity, and wood does not tolerate constant temperature changes. Therefore, there is a possibility that she will simply warp and change herdimensions.
Carpet. It is considered the worst floor covering for underfloor heating. This is due to the fact that the material is a good thermal insulator, so people simply will not be able to feel the positive effect of having a floor heating system.
Some types of materials are completely unsuitable if floor heating is planned. People should choose their underfloor heating coating wisely in order to create really comfortable and pleasant living conditions.

Tile
It is considered the best coating for underfloor heating. That is why it is often found in baths or saunas. Benefits of using tiles include:
has excellent heat dissipation;
you can choose different types of tiles, for example, porcelain stoneware, ceramic or tile;
material gives off heat well, so walking on such a coating with a warm floor is actually nice and comfortable;
no increased loads are created, so the elements of the heating system will not overheat;
Direct coating is wear resistant and therefore has a long service life;
easily handle temperature changes;
withstands moisture, so can be cleaned even with wet cleaning.
But even underfloor heating tiles have some drawbacks. These include the fact that if the warm floor is turned off, then it will not be possible to move on a cold and hard tiled floor.too comfortable. The cost of direct material and its high-quality styling is considered quite complicated. It is almost impossible to cope with the installation on your own without experience and specialized skills. Additionally, this material is not very suitable for creating a covering in a bedroom or children's room.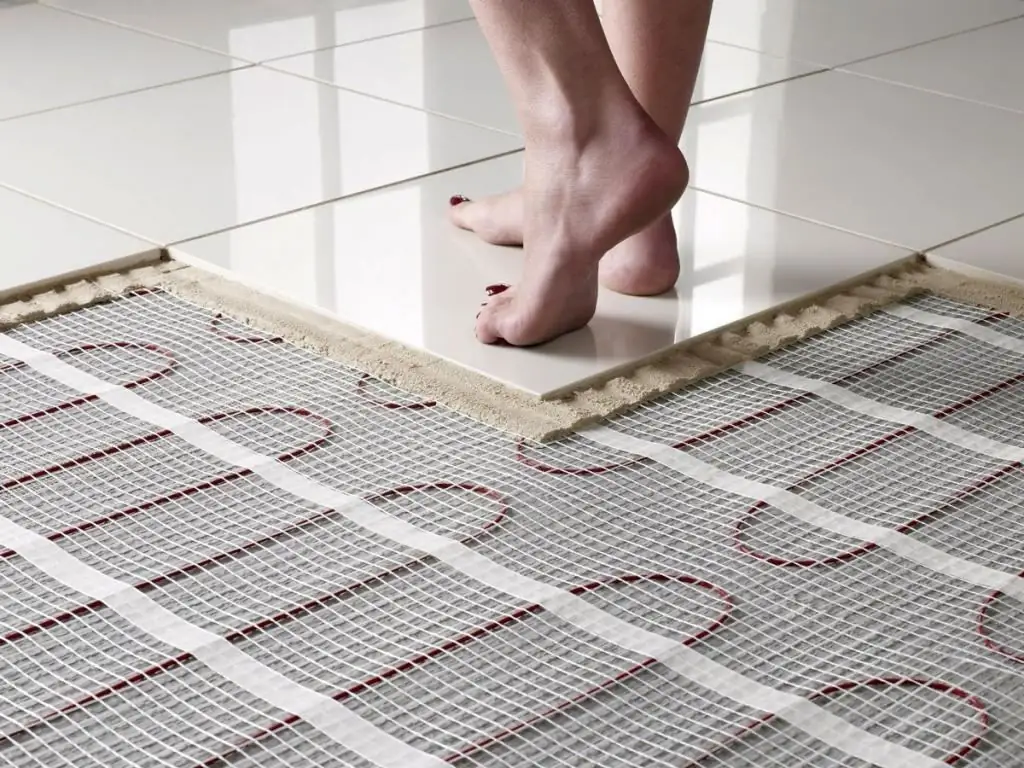 Laminate
It is almost impossible to say exactly which coating is better for underfloor heating, since each option has both pluses and minuses. The most popular flooring material is laminate. It has an affordable price, attractive appearance and good thermal conductivity. But you need to choose only material that is specially created for the warm floor. In this case, it will cope well with temperature changes. Only in this case it is possible to avoid scattering and cracking of the planks.
The positive aspects of using laminate include:
it turns out a beautiful and durable coating;
it will be comfortable for walking even when the floor heating system is turned off;
the material has a high inertia, therefore, heat accumulation is ensured, which allows you to enjoy a warm coating even after a long time after the floor heating system has been turned off;
You should only use laminate with Heating Underfloor on the packaging, as only such material can easily withstand high temperatures;
The stacking process is so easy theneach person can engage in this process even without work experience;
if necessary, repairs can be easily made by replacing damaged slats.
But laminate has some negative parameters. It has less heat dissipation compared to tiles. Additionally, on top of the warm floor, in any case, it will be necessary to create a reinforced cement screed, on top of which a high-quality insulating substrate is laid.
Laminate flooring is impractical in many areas, such as the bathroom or kitchen. Even if you choose special brands of laminate designed for underfloor heating, there are still restrictions on the temperature of the coolant, so you can only heat the floor to a maximum of 28 degrees.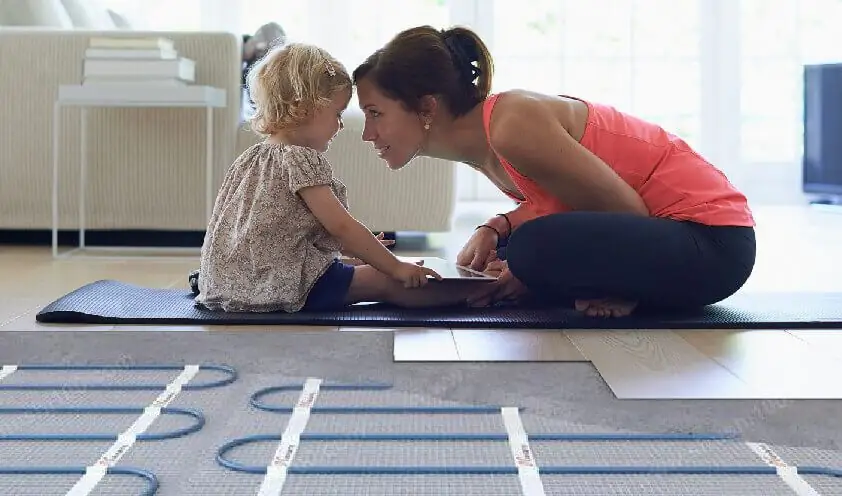 Cork coating
This material is warm, but can be used for underfloor heating. Therefore, if a person thinks about what kind of coating to choose for a warm floor, then you can stop at the cork flooring. It has the following undeniable advantages:
good heat retention, so if you turn off the floor heating system, the floor will only start to cool after 10 minutes, and the heat is retained for several more hours;
to create a high-quality coating, it is important to choose panels whose thickness does not exceed 15 mm;
on the packaging of the material there should be a mark that it can be used over heated floors;
walking on such a surface is always pleasant and comfortable.
Like laminate, cork has some downsides. It is not allowed to heat the material above 28 degrees. Additionally, the cork has a low heat transfer.
Linoleum
People planning repairs in their apartment should be aware of what kind of floor heating can be laid under. Linoleum is considered an inexpensive and common material, but it is not chosen in the presence of underfloor heating. This is due to the fact that with constant heating, harmful components are released that cause significant harm to human he alth.
It is not allowed to use linoleum in the children's room, as the child spends a lot of time on the floor. Therefore, it is advisable to refuse to use this material in the presence of a warm floor.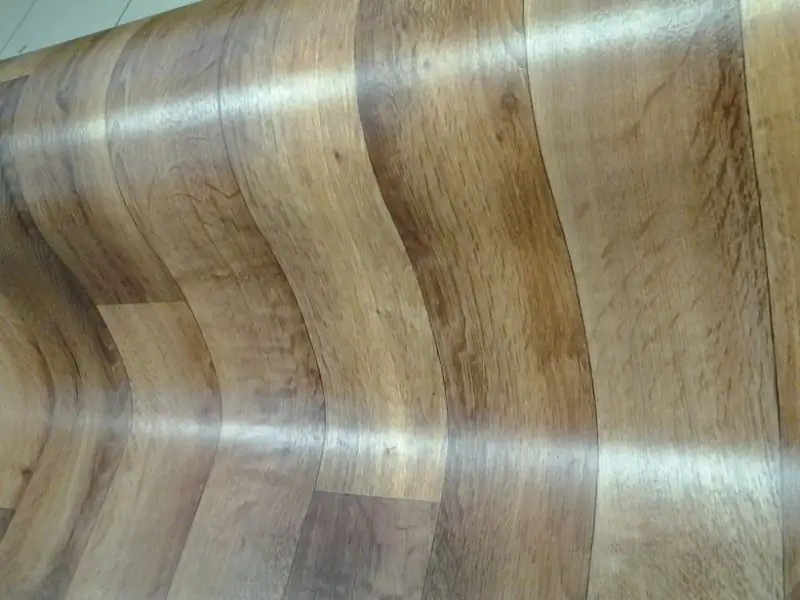 Parquet and parquet boards
These materials are created from natural wood, so they are incredibly attractive, environmentally friendly and durable. But the unique feature of wood is that it deforms when exposed to moisture or heat. Therefore, it is quite difficult to make a warm floor under parquet. If the material is regularly heated, this will lead to the formation of cracks and cracks. Additionally, the wood will begin to warp and swell.
If, nevertheless, a decision is made to lay this particular flooring, then you should use a thermostat, since the temperature of the coolant should not rise above 28 degrees. Even in this case, there is a possibility that the material will not last.too long, so the floor will need to be redone soon.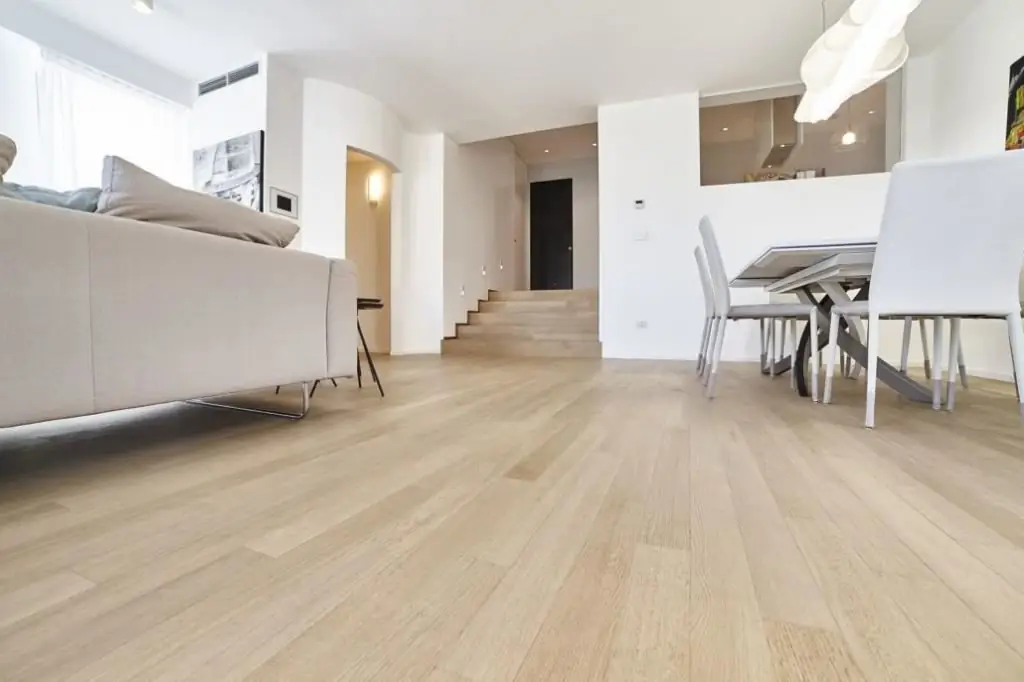 Polymer coating
It is formed using a special bulk mixture, which is distributed over a carefully prepared base. To create such a coating, you need to clean the base well, as well as create optimal conditions in the room, represented by low humidity and temperature. No drafts allowed.
Bulk floor may have different colors or patterns. It is well suited to the underfloor heating system, so any suitable system can be laid underneath. Such a floor is considered attractive, but not very pleasant to walk on. It is not suitable for children's room or bedroom.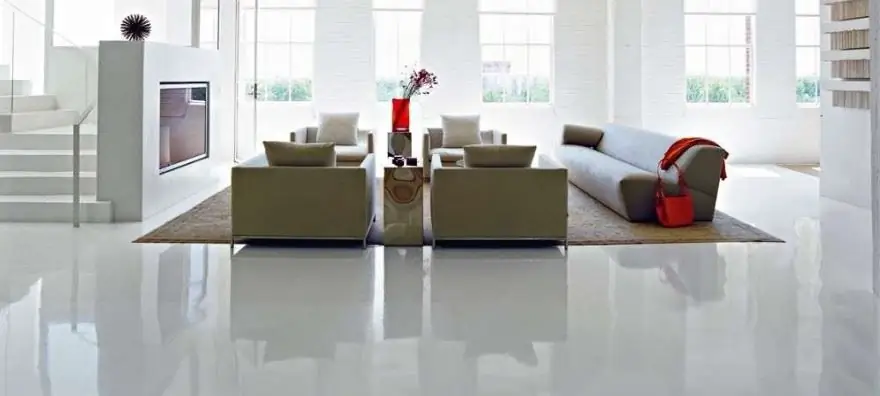 Which one to choose?
Choosing floor heating is quite difficult. In the process, you need to focus on the following factors:
financial capacity of the owner of the dwelling;
number of persons living in the apartment;
maximum coolant heating temperature;
personal preferences of property occupants.
Most often the choice falls on tiles or laminate. This solution is considered optimal, since these coatings are durable, easy to maintain and inexpensive. If you plan to lay a water-heated floor, then it is important to additionally use high-quality waterproofing materials.
Conclusion
The underfloor heating system makes it possiblesignificantly improve the comfort of living in any residential area. It can be presented in different versions, but it is important to correctly choose the floor covering that will be laid on top. It must conduct heat well and withstand high temperatures.
You can choose different materials to create a cover, for which the amount of money available, the preferences of future users and the features of the selected floor heating system are taken into account.