Beautiful curtains for the kitchen are the key to a great mood and atmosphere. They are able to turn an ordinary room into a cozy and attractive room. A lot depends on the color, tailoring, the chosen style. Considering that all households run to the kitchen for something tasty, you need to select the curtains so that everyone would be even "tastier".
By what criteria to choose
Of course, an invited professional designer will immediately and easily match the curtains to your room. However, each hostess herself is able to make a choice. You just need to consider a few important points:
1. Room size
Massive curtains - only for a large kitchen. Generous decor, antique styling, pretentiousness in decoration is acceptable if there is space. For small kitchens, elegant curtains are best.
2. Window shape
If the window is standard rectangular, how to choose curtains for the kitchen? There are no limits to fantasy. But in the presence of an asymmetric opening, the decorator should be puzzled and think about howpick up curtains for the kitchen.
3. Material selection
Give preference to natural canvases. This universal advice is given by all professionals. From an environmental point of view, this is a win-win option. The only catch is that linen is hard to iron, and cotton quickly loses color saturation. However, these problems can be avoided if the fabric contains some synthetics, which increases durability.
4. Color scheme
How to choose the color of the curtains in the kitchen? If you correctly choose the palette and geometry of the picture, then you can visually correct the perception of the kitchen space. Psychologists note that our mood is affected by the dominant color of the room. Each shade has its own purpose. For concentration of attention - yellow, blue, green. If you want to relax, choose blue and purple shades. Red and green colors will help increase efficiency.
5. Overall design
It is important that the curtains complete the interior. Even an insanely beautiful fabric can bring disharmony if miscalculated with a combination of interior.
Trends
Designers recommend replacing curtains every five years. Even if you are on a tight budget, you can update old curtains. Of course, if their appearance allows. For example, you can put a trim from another fabric along the edge. Alternatively, consider other ways of decorating.
Photocurtains are gaining popularity. This is a canvas that shows a 2D or 3D drawing.
If you choose a fabric, then satin is in trend,blackout, gabardine. Curtains made of such fabrics look especially stylish in the living room.
Naturality is in fashion today. Simplicity and no congestion in decoration. Only natural shades of brown, gray, blue, hazel, green. Uniformity always looks harmonious and elegant.
Bamboo curtains are a novelty that is now in great demand.
Curtains with geometric or floral patterns, imitation snakeskin and wide stripes remain relevant.
Notice the colorblock style. The game of contrasts fits perfectly into any interior.
Types of curtains
In order to decide on the design of curtains, you need to know what models are available.
1. Tulle.
Transparent plain tulle is the perfect solution for a kitchen with access to a balcony. The discreet monochrome design will suit almost any style. It is important to pay attention to the quality of the kitchen tulle. Since it will often be erased, and therefore wear out quickly.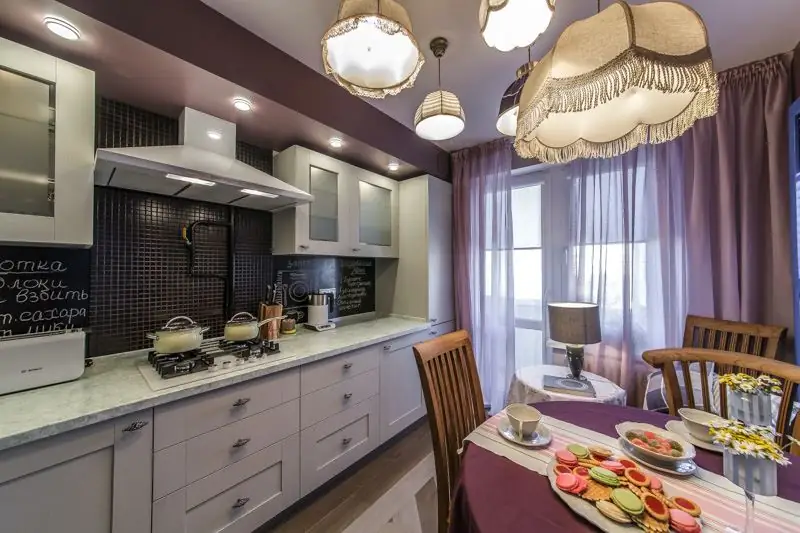 Tulle is divided into the following types:
Grid - perfectly transmits sunlight and air, but absorbs pollution strongly.
The veil is durable and drapes well.
Organza is very strong and durable. Washes easily and dries quickly. This is a budget option for the kitchen. The only downside is that it doesn't breathe well. In order to ventilate the room, you will have to move it away.
2. Short curtains.
Lightweight fabric that can be easily gathered and secured in a comfortableposition.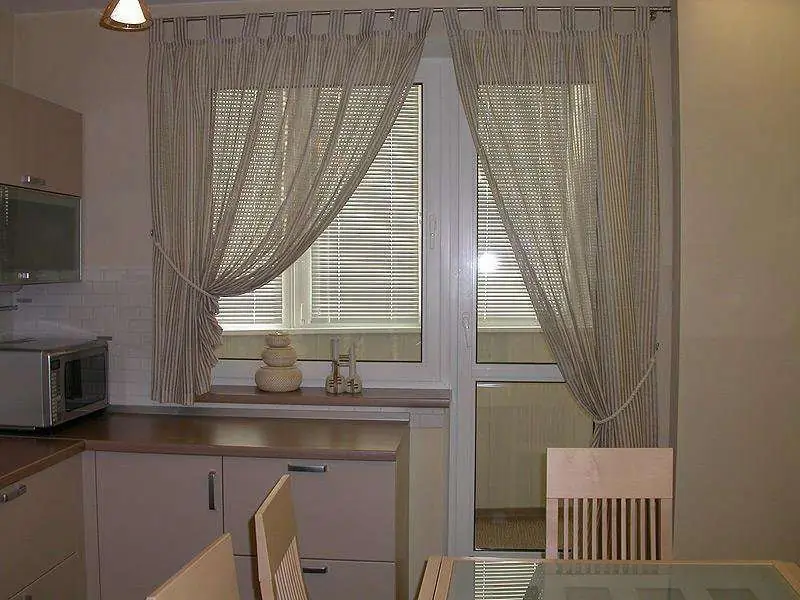 This type of curtain can be made from any material.
3. Blinds.
If the kitchen is in the style of trendy minimalism, loft or Scandinavian style, then blinds are the most common option.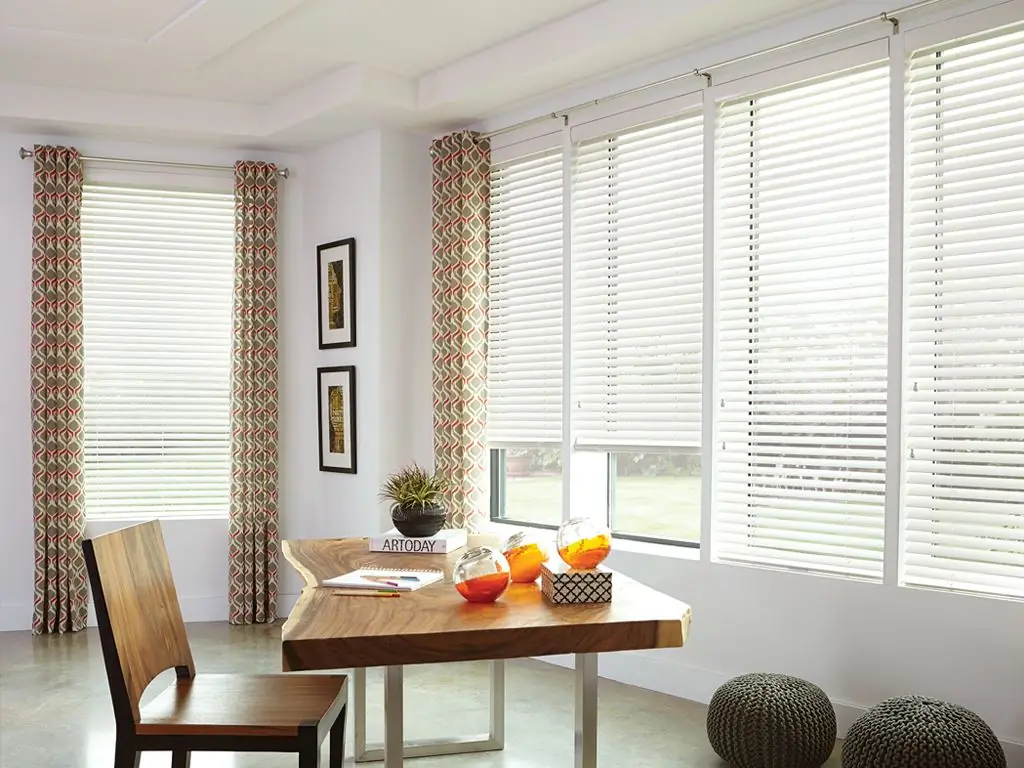 However, they quickly absorb dust and dirt. They are inconvenient to wash. Another drawback is dimming. They take in too much light.
4. Roman shade.
The most popular type of curtains, which is actively used. The Roman shade is short and can be easily adjusted in length.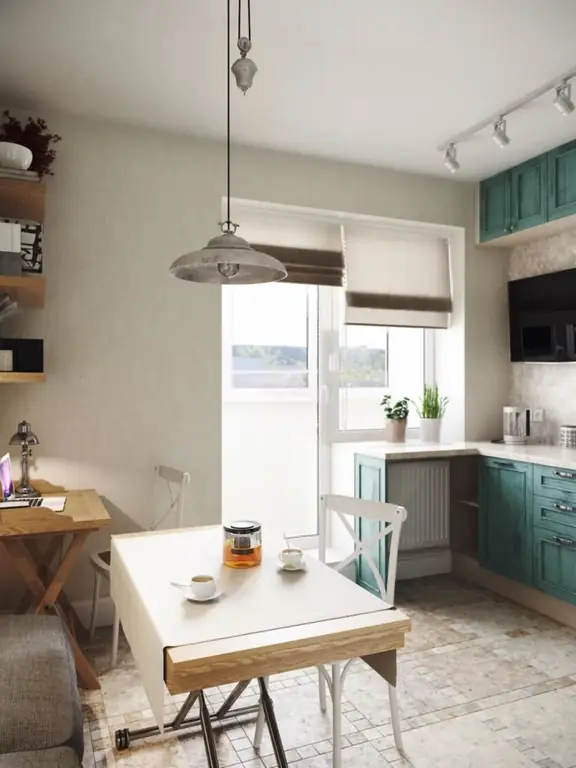 This is the perfect solution for small kitchens. They are not capricious in care and fit perfectly into any interior style.
5. Roll.
These curtains function almost the same as Roman blinds. In a collapsed state, it seems that they do not exist at all. And in the evening, half-open, they look stylish.
6. With eyelets.
Stylish pleats form eyelets. It is important to choose a fabric that lends itself well to drapery. This type of curtain is ideal for a kitchen in a modern neoclassical, Scandinavian or high-tech style. By the way, it is curtains with eyelets that are selected for a kitchen with a balcony door, since they slide well along the cornice.
7. Japanese curtains.
A long canvas with hints of the East looks stylish and impressive on windows and doors with panoramic windows. Such windows are most often found in modern buildings.
8. With pelmets.
Frankly, in a modern interior you rarely see such a window design. However, for a kitchen with a balcony, this option is not entirely practical. "Expensive - rich" - many people like to say. But it looks tasteless and cheap.
If you already have lambrequins and it's hard for you to say goodbye to them, then leave them. A good example of how to choose curtains for the kitchen is in the photo below.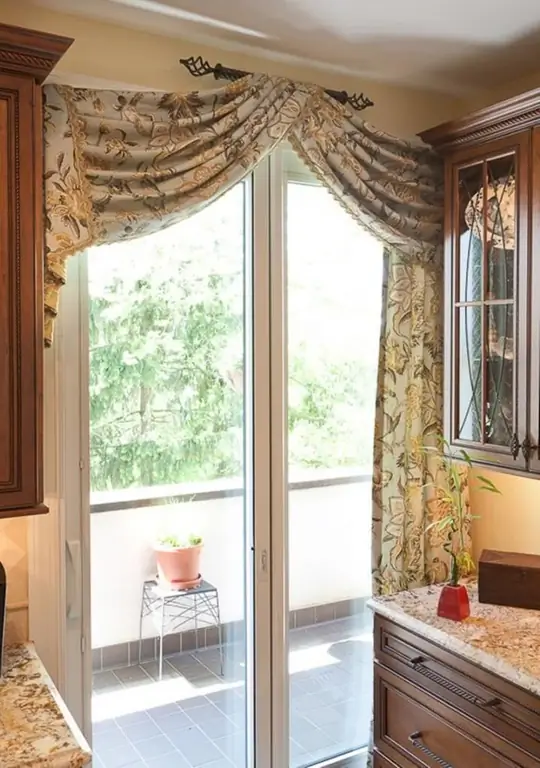 Due to the fact that the door works on the principle of a sliding mechanism, the fabric does not interfere with free opening.
9. Filament curtains.
This kind of curtains is also called "kiseya". Peculiar threads look spectacular and attract attention.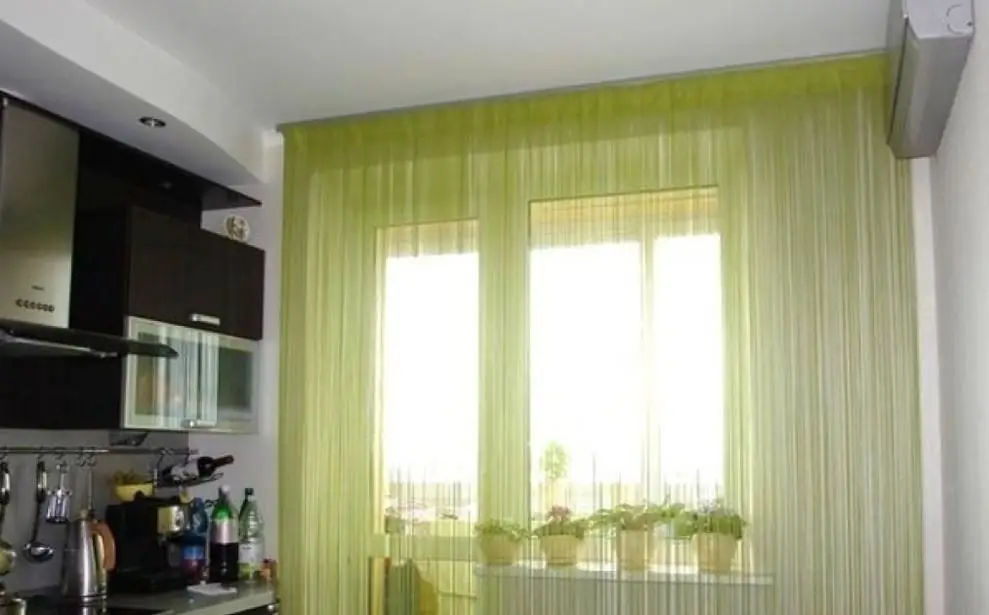 They are rightfully considered universal. For the kitchen, the ideal option is light monochrome.
10. Curtains without tulle.
Opaque classic colored curtains are simply pushed aside in the daytime, and after sunset they cover window openings. Previously, few designers dared to use curtains without tulle. However, in a classic interior design, you can't imagine a better design.
Choose curtains depending on the style
How to choose curtains for the kitchen? When determining with the material, natural or blended fabrics should be preferred as they are easy to care for. Curtains made of such material transmit light and air well, while creating an atmosphere of comfort.
With the help of the cut of the curtains, you can easily emphasize the original window opening orhide existing flaws.
Curtains for the kitchen are usually chosen short. However, this advice should not be strictly followed. Fancy curtains with various accessories will not look good in the kitchen.
Modern curtains
In modern style, choosing furniture and other accessories for the kitchen is quite simple. Such an interior does not limit the choice. You can purchase short curtains (Japanese, Roman).
Draped options look spectacular. Slightly light sheer fabrics accentuate the airiness, adding light to the kitchen.
You can safely choose canvases with a pattern. This way you will create a mood for yourself every day.
Classic style
Comfort, tranquility, peace - all in the best traditions of the classical style. Such curtains will favorably emphasize expensive furniture without introducing bright accents.
Oriental style
East is a delicate matter. This belief applies to the choice of curtains for the kitchen. If we talk about the east, then associations of brightness, chic, luxury, multicolor immediately pop up. If the soul is east, then feel free to choose exquisite curtains with ornaments.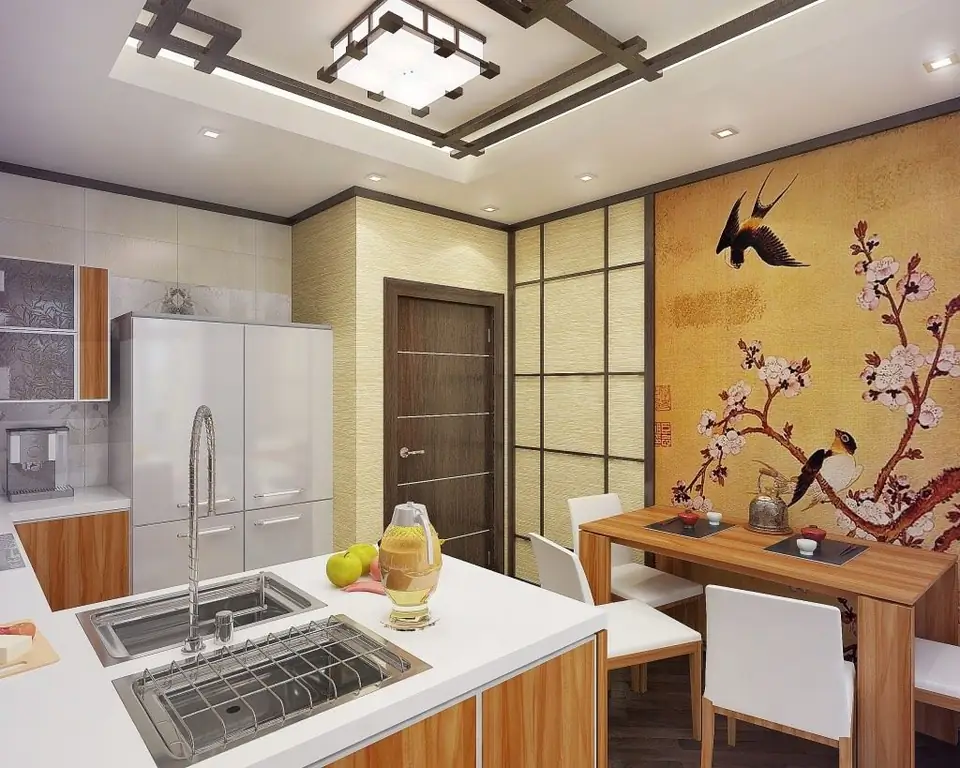 Photocurtains look great. Designers recommend in this style to pay attention to jabot, lambrequin, veil cascades with golden embroidery and even fringe. Details play an important role in oriental style.
Trendy Provence
If Provence is chosen, then there is no place for restraint. However, draperies, excessive splendor and luxury are not good. Lightweight English-themed fabric100% hit in Provence style.
If you want to get a little French touch, then take care of the drawstrings, loops, ties in advance.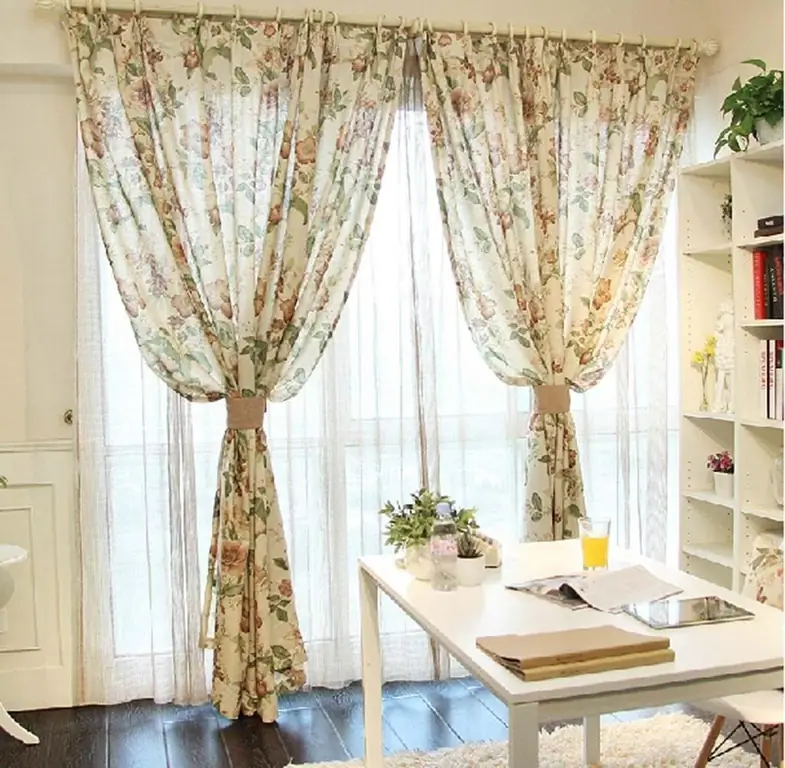 The fabric on the curtains in the Provencal style should be as light as possible and let in light. The cornice must match the selected curtains. It cannot be too massive or heavy. Simple and with French taste - the main motto of the Provence style.
Country
How to choose the color of the curtains in the kitchen? More textiles! The design of curtains in country style involves a large amount of fabric. Napkins on the table, tablecloth, curtains should not only be in the same color scheme, but also made of the same material. Such a mono-connection will emphasize the atmosphere of comfort and warmth. Pay attention to cream color shades, but always with a print. It can be a drawing of animals, flowers, vegetables, fruits.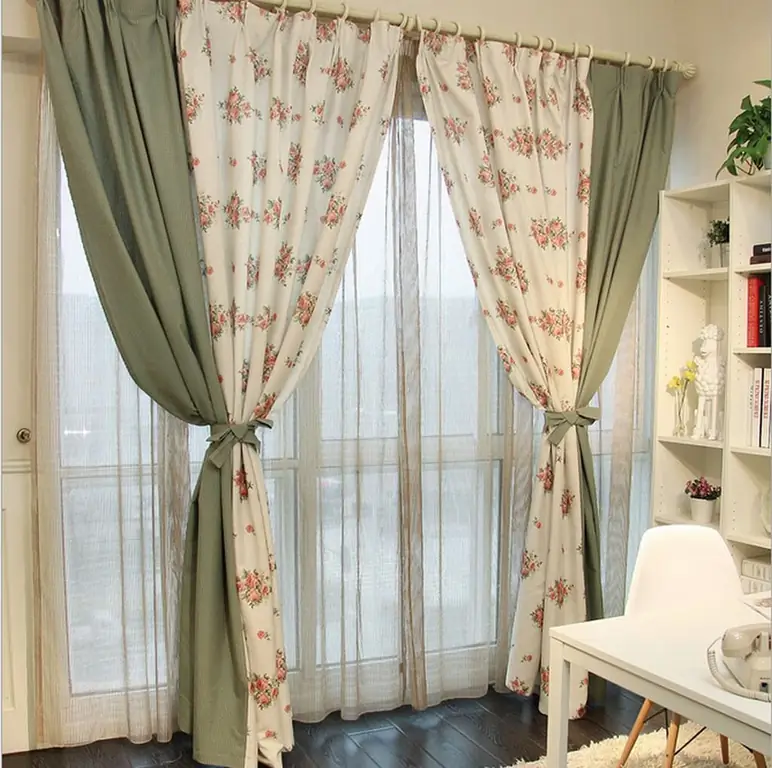 If the soul does not lie in light colors, then designers recommend choosing shades of pale blue, yellow, pink, red. Shuttlecocks or a lambrequin will complement the choice.
Hi-tech
In modern high-tech, you can combine chrome parts.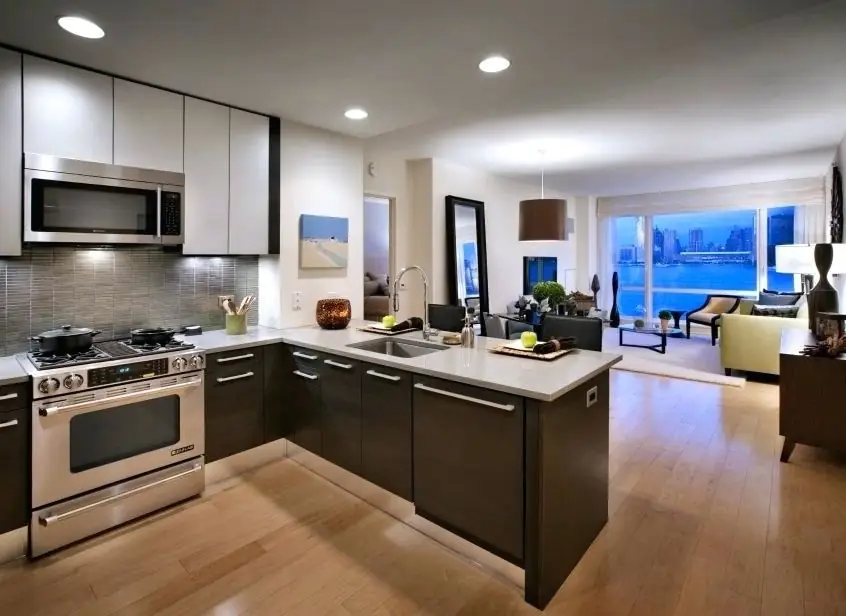 It's practical and original. You can not apply textile design at all.
Trend minimalism
Minimalism means lots of breathing space. Airiness and simplicity are the two main criteria to follow.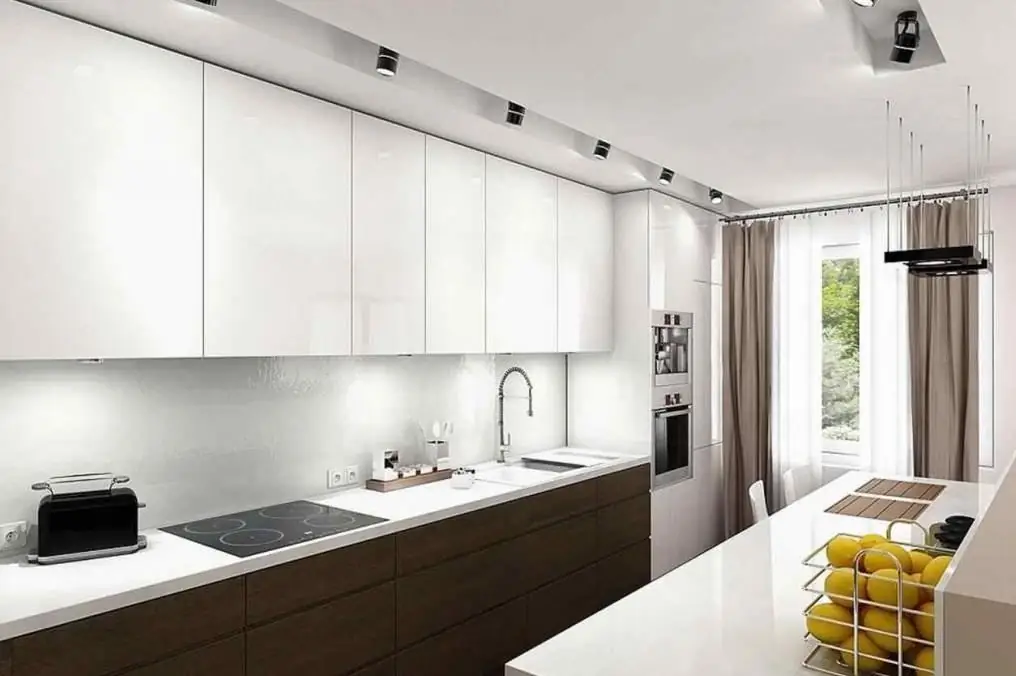 To darken the window - blinds or roller blinds. They may be translucent.
How to choose the right color for curtains in the kitchen
Through color our dreams come true. Did you know? With the help of a shade, any fabric is embodied in the most complex style. Color is visually able to expand the space, emphasize or hide certain elements in the interior.
If you are choosing curtains for a small kitchen, then designers recommend paying attention to light shades of curtains. Pearl, pale blue, light green - these colors work wonders. Any kitchen is transformed with them.
If there is a balcony
How to choose curtains for a kitchen with a balcony? Difficult, but doable. Due to the peculiarity of the window block, the curtains to the kitchen with a door must be practical. But there is also an aesthetic component, we must not forget about it.
What is sold in specialized stores does not always fit. The best option is to order individual tailoring.
Before going to the master in the studio, you must decide in advance on the model, material and design of the paintings.
Light shades of light curtains are the perfect choice for a kitchen that has access to a balcony.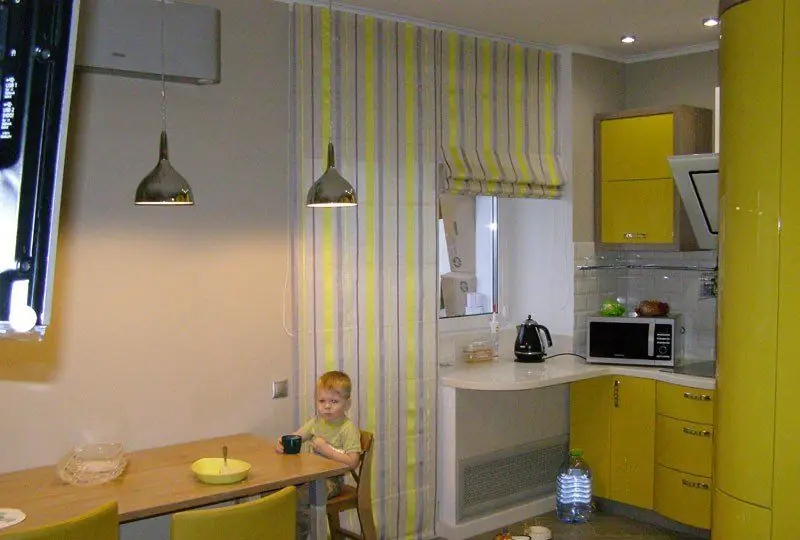 How to choose curtains for the kitchen? Curtains with a balcony in the complex should not violate the uniform style. Many choose expensive fabrics, wanting to hide the ugly window trim. However, it would be better to spend money on the design of the block and leave it without curtains. Since blackout curtains let in little light,the kitchen turns into a basement in this case.
Another important nuance is the area of ​​the room. Lush lambrequins, lace decor always attract the attention of lovers of the classics, but in a small kitchen, such options are out of place. The simpler the design, the better.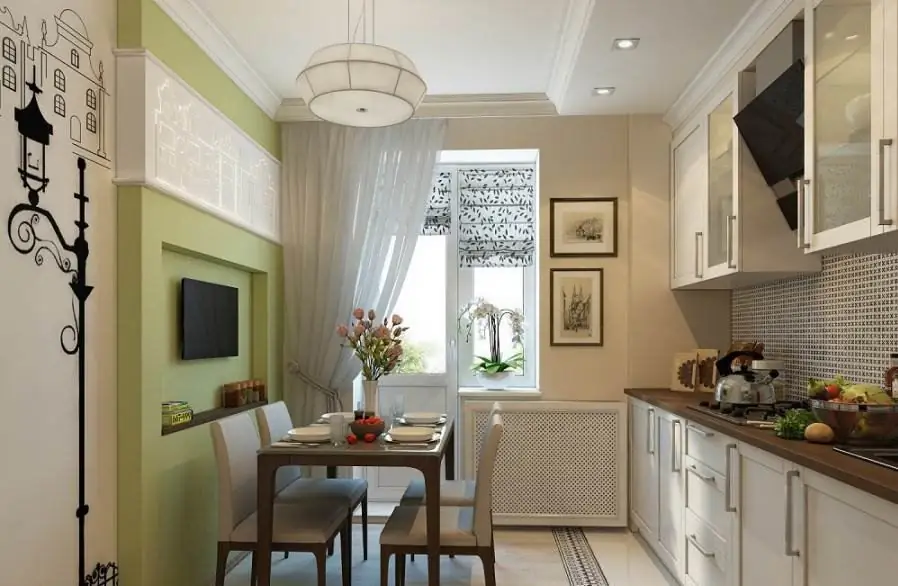 Professionals advise not to be afraid to experiment and combine materials with different textures. Non-standard looks especially good in the interiors of kitchens, which have access to the balcony.
How to choose the right curtains for the kitchen? Prerequisite: stick to one color tone. Otherwise, you will achieve a motley defiant room. If the fabric of the curtains combines different textures, then make sure that their color is approximately the same.
Today, designers prefer brown and greenish shades. In fashion - Scandinavian style, hi-tech and minimalism.