Indicator lamps are predominantly cold-cathode gas discharge cells. During the working process, an independent glow discharge occurs, which is accompanied by a glow. Its color depends on the composition of the filler. For indicator analogs, most often it is an orange-red color scheme. Nickel, aluminum, molybdenum or iron can act as electrodes.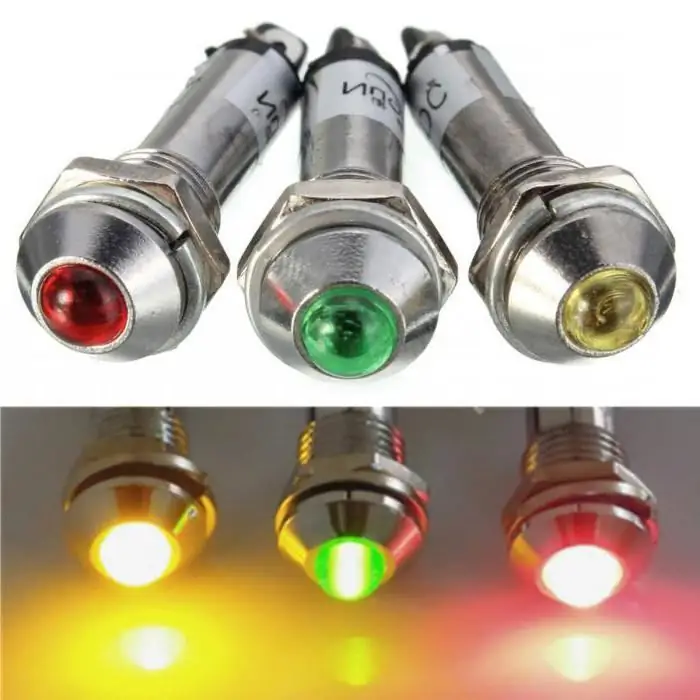 Indicator lamp connection
To connect the light element, a transformer is selected along the length of the lamp, taking into account the composition of the gas filler. Secondary voltage is calculated according to special tables.
Further manipulations:
Electronic type voltage converters are mainly suitable for enclosed spaces, unless otherwise stated in the technical accompanying documentation.
Neon indicator lamps must be earthed when installed outdoors.
Next, you should choose a high-voltage wire of the desired section with a minimum margin in length. PVC tubes are used to protect wiring from metal elements.
The lamp is placed in polycarbonate clamps according to the scheme indicated on the transformer. Connection points are isolatedusing electrical tape and polymer tubes.
All conductive parts must be grounded.
Since glass is used in the design of neon light elements, it is necessary to install additional protection made of polycarbonate or plexiglass.
When installing, follow the safety rules: do not throw or shake the lamp. This may lead to depressurization, resulting in the element not working.
If you add a pair of mercury or phosphor, the glow will change color.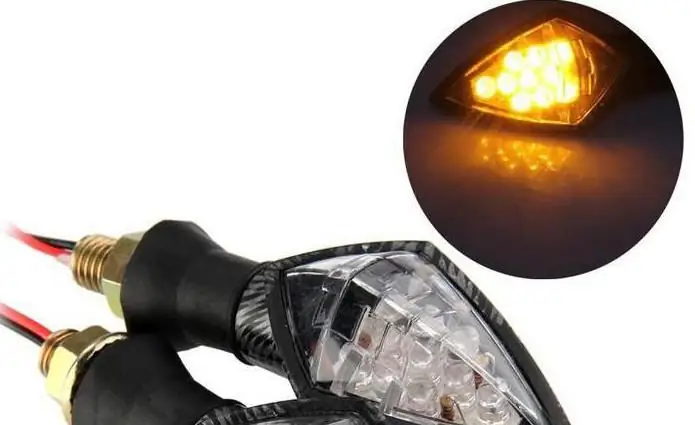 Features
Neon indicator lamps are divided into three main types:
A fluorescent electrical appliance is an element of daylight, which is mounted in special lamps. The disadvantages of this model include frequent burnout.
Signal modifications are designed for light indication of electrical impulses. The design includes a pair of electrodes in the form of cylinders, disks or rods, which have a different configuration and are placed in a glass flask. The bottle contains a special mixture that gives off a red or orange glow.
Decorative indicator lamps are designed for installation in a conventional E14 or E27 standard socket, operate from a 220 Volt network. The elements include a ballast resistor, which allows them to be connected directly to the lighting network.
It is worth noting that green fluorescent analogues are used as a signal light source. The inside of the glass tank is coated with a specialcoating that turns the red color into green. Small neon bulbs can act as a backlight when paired with an LED element.
Key Features
When choosing indicator lamps, the following basic parameters are taken into account:
Outer diameter.
Linear length.
Chroma index.
Color rendering index.
Light flux in the ranges of 50-80 A.
Power consumption at the same current strength.
Electric length.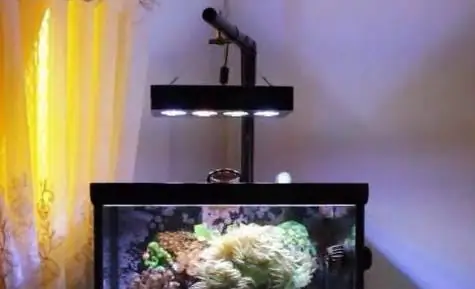 Let's take a closer look at the characteristics using the example of the MH-7 modification:
The discharge voltage limit is 87 V.
The same indicator for maintaining the discharge (maximum / minimum) - 67/48 V.
Estimated brightness - 50 cd/sq.m.
Operating current (maximum/minimum) - 2.0/0.5 mA.
Ballast resistance - 60 kOhm.
Indicated running time - 500 hours minimum.
The flask is 40 mm in diameter.
Weight - 9 g.
Plinth – B15d/18.
LED indicator lights
These light elements are divided into several categories. Let's start the review with the DIP modification. These LEDs are a crystal with or without a convex lens, which is located in an output package. The base may be cylindrical or rectangular. The lamps are available in the widest color range, including up to IR and UV versions. There are single-color and multi-color versions on the market that combineseveral different crystals. The disadvantages of this group include a small scattering angle (no more than 60 degrees).
Super Flux Piranha Model
The design of these LEDs includes high-brightness elements placed in a rectangular housing equipped with 4 pins. Such a solution makes it possible to securely fix the light bulb on the board. "Piranhas" are produced in red, blue, white and green colors, the lens size is 3 and 5 mm. The dispersion index ranges from 40 to 120 degrees. The main scope of these elements is the illumination of car dashboards, advertising signs, running lights.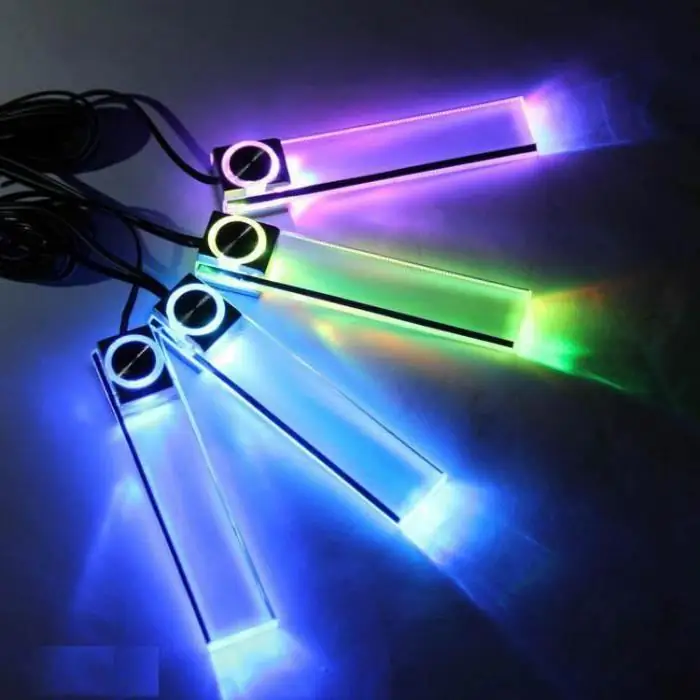 Straw Hat
The incandescent indicator lamp with LEDs of this type has a significant dispersion angle. Its configuration resembles externally standard LED counterparts with a pair of pins, however, it has a lower height and an increased lens size. The working crystal is placed closer to the front wall of the lens, which differs in its characteristics, depending on the purpose. Information about this is available in the accompanying documents. Beam angle reaches 100-140 degrees.
On sale you can find white, red, green, yellow and blue models. LEDs are capable of producing a non-directional glow, which makes them suitable for decorative purposes and other applications where uniform illumination with low power consumption is required.
SMD
This group of LEDs includes the brightest color and whitelight elements with a power of approximately 0.1 watts. They fit in standard surface mount cases. Models are available with and without a convex lens. Given the ease of installation of these light bulbs, LED strips are produced based on them. One of the most popular in this area has become an element of the type Cree SMD 3528.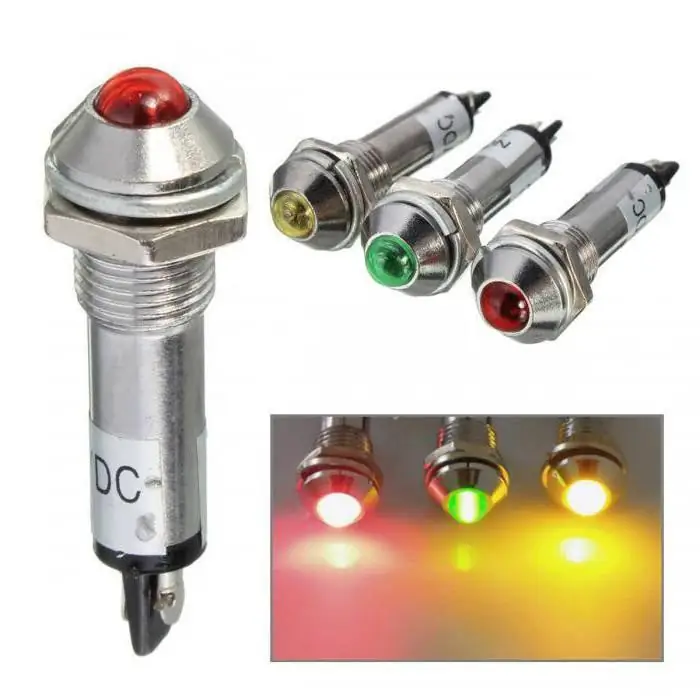 Analogues
Alternative light sources discussed above are incandescent indicator lamps. In this class, the SKL modification is popular. The elements are used as a replacement for standard incandescent lamps in automatic systems. This allows you to increase the life of the part by optimizing the regulation of its work and low power consumption.
The following are the main parameters of the 220 V indicator lamp type SKL:
Consumption current - from 2.5 to 20 mA.
Rated voltage - 220 V.
Protection rating – IP54.
Operating temperature -40 to +60 degrees Celsius.
Frequency on alternating current - 50 Hz.
Glow - green, yellow, white, red, blue.
Panel mounting hole is 30mm in diameter.
Radiation strength - 20 mCd.
How to check the he alth of the lamps
Control testing of signal neon elements is carried out by means of their visual inspection and testing directly under voltage. The second way to control the operation of the indicator lamp in question is a test in a radio broadcasting network using a low-frequencytransformer. If there are no radio broadcasts or alternating current supply nearby, you can check the light bulb by connecting to a battery and a power transformer or its inter-lamp counterpart.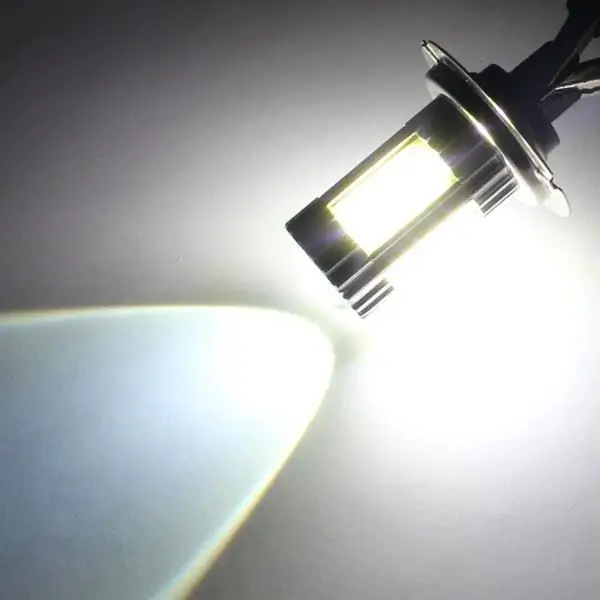 The luminescent light element is activated by an electromagnetic or electronic ballast. To check the LED or neon version, you need to take a similar serviceable device and connect it in series according to the diagram to the control sample. If it is lit, then the problem is in the main unit. Modern designs mainly use electronic ballasts.